Bordeaux is an incredibly complex wine region. While red wines dominate as Bordeaux's most famous, they aren't the only wines produced in the Bordeaux wine region. In fact, there are 65 Bordeaux Appellations d'Origine Contrôllées (AOCs) with more than 7300 châteaux making approximately 10,000 different wines across the Bordeaux wine region. Arguably one of the least known appellations is the small Bordeaux appellation of Cérons, which produces a sweet white wine just a stone's throw away from its more famous neighbors of Sauternes and Barsac.
Created in 1936, the Cérons appellation is made up of just a handful of producers across the three communes of Cerons, Illsats and Podensac (Podensac is where the French spirit Lillet is produced). One of the best producers to discover the Cérons appellation of this particular sweet white Bordeaux is Château de Cérons.
A visit to Château de Cérons is well worth it to discover this little known Bordeaux appellation. And this is even one of the Bordeaux châteaux easily accessible on public transportation with hourly trains departing Bordeaux for Cérons.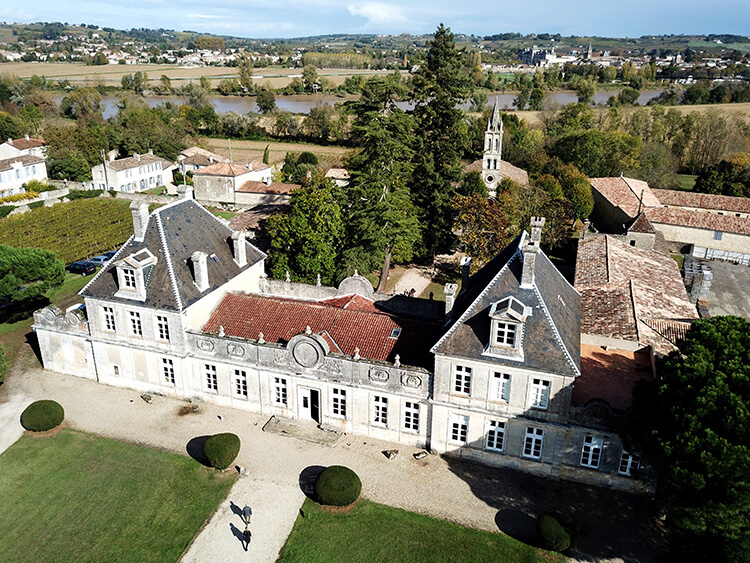 The History of Château de Cérons
A listed historical monument since 2008, Château de Cérons was built in the 17th century and has always been a wine producing estate. It sits right in the heart of the port village of Cérons, and the 12th century village church is on the château's doorstep. Château de Cérons was named for the Ciron River, which once upon a time flowed directly adjacent to the village of Cérons.
It was built as a holiday home by the Marquis de Calvimont, a prominent member of the Bordeaux parliament, because of the proximity to Bordeaux and the location near the port. At the time that Château de Cérons was built, it would have only taken one day to travel there from Bordeaux by horse.
The château was purchased by the Perromat family in 1958. As a wine producing family, they already had much experience with wine making from the generations before them. The Perromats used their knowledge to catapult their château to one of notability among the Graves and Cérons appellations.
Xavier Perromat and his wife, Caroline, took over Château de Cérons from his parents in 2012. He's the 7th generation wine maker in his family. It was also in 2012 when Xavier took over that he and Caroline opened the château for wine tourism.
Still today they welcome visitors in to their private family home for a visit and tasting of this relatively unknown Bordeaux appellation.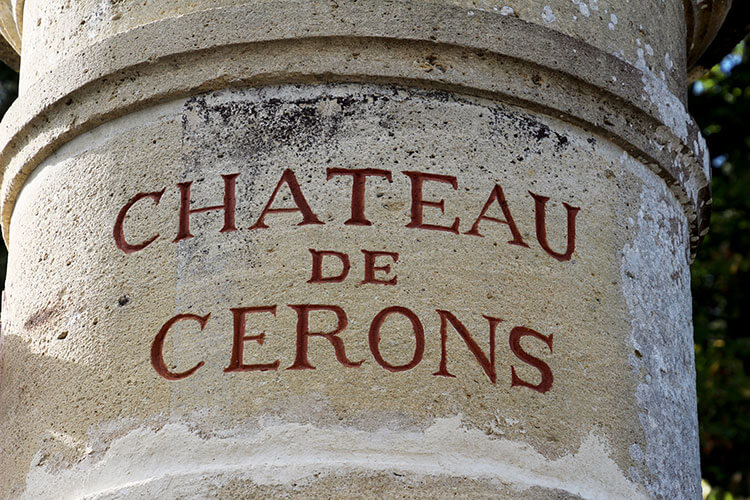 The Visit at Château de Cérons
As a listed historical monument, it's impossible to visit Château de Cérons and not talk a bit about its history. The visit begins in the front to admire the architectural style of the château.
Châteaux are not simply little castles or manor houses. There are all kinds, and Château de Cérons is the type of châteaux known as a chartreuse. It's a particularity of the South West of France, described as "a country house built between approximately 1650 and 1850, often elongated and one-story in the South West of France".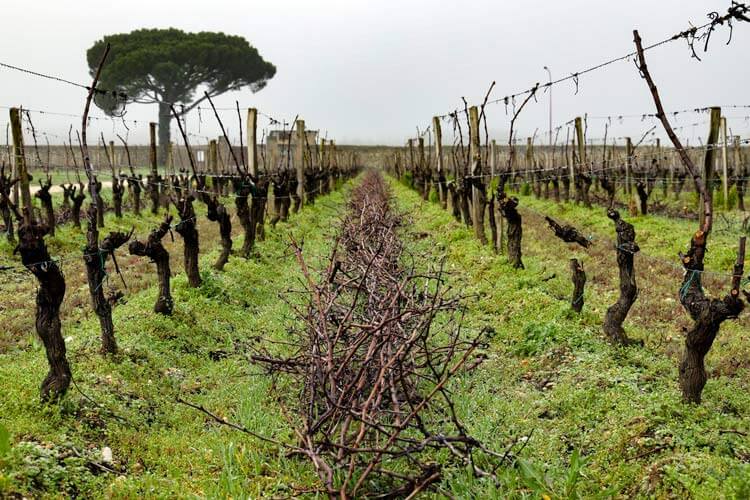 Of course, you've come for the wine. Before heading back inside for a peek in to some of the reception rooms that have hosted many intellectuals and artists over its history, we need to learn about the grapes, terroir and particularities of the Cérons AOC out in the vineyards.
As we mentioned, the Ciron River once flowed almost directly behind Château de Cérons. The Ciron River is a tributary of the mighty Garonne, and as the two rivers converge, the mixing of the two different water temperatures creates a mist. That mist helps facilitate botrytis, or noble rot, and transforms the Semilion grapes into something found no where else in the world. The super concentrated sweetness of the botrytis grapes is the key component of producing Bordeaux's sweet wines.
Prior to 1921, Cérons was included with the Sauternes and Barsac appellations. But Cérons was removed in order to make room for the commune of Fargues to join the Sauternes appellation, probably like due to the influence of the Yquem family. Cérons could not be beat down, though, and in 1936 it was awarded its own appellation.
Though Cérons is located just north of Barsac and the white wine grape varietals are the same as those planted in Sauternes and Barsac, Cérons is something entirely different.
First, it's worth noting that the Ciron River has changed course over the centuries. It now meets the Garonne between Barsac and Preignac. Second, the distinct soil composition of limestone and seashells not only brings a freshness to the grapes, but also lends to more consistent temperatures than in Sauternes and Barsac. Finally, the flatter landscape means that the morning mists are trapped less often than in Sauternes and Barsac.
All of those factors come together to create the unique wine that is Cérons. Here there's a distinct freshness and orange aromas that make Cérons easily identifiable.
Just five of Château de Céron's 30 hectares of vines is dedicated to producing the sweet Cérons AOC. They also produce red, white and rosé Bordeaux wines under the Graves appellation.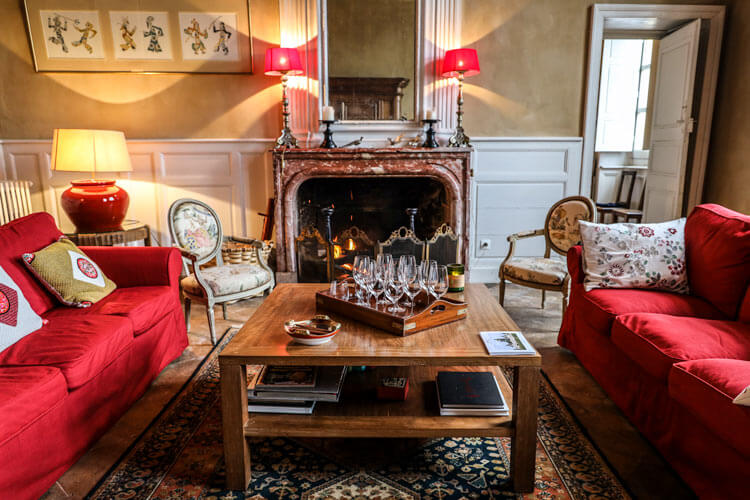 Heading back inside, we make a detour through one of the wings of the chartreuse-style château. The other wing on the other side of the main entry hall is the Perromat's private residence.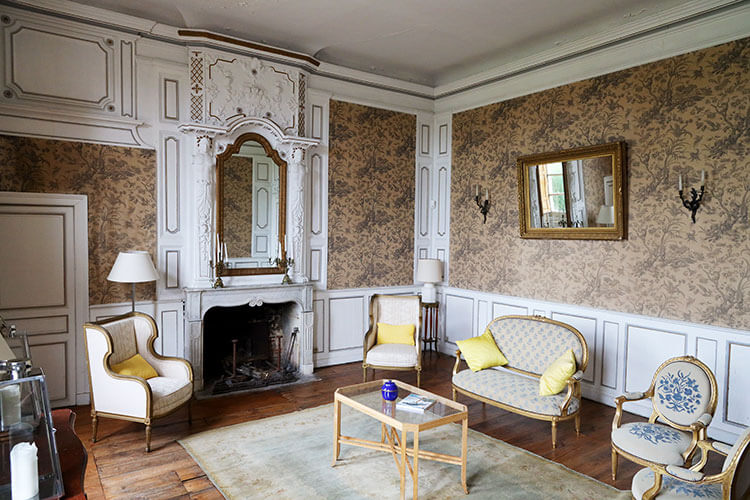 There are several different rooms where visitors like us are invited for tastings. Generally, most tastings are in the boutique following the end of the visit in the chai (pronounced "shay" and meaning wine-making facilities). But private visits can request to have their tasting in one of the salons, such as the Salon Beige.
You'll find that each of the salons is uniquely decorated and the Perromat family has kept them in their original styles with period furniture. One contrast is the modern art-sculpture light fixtures that are on exhibit from a local artist in Cadillac that Château de Cérons collaborates with each year.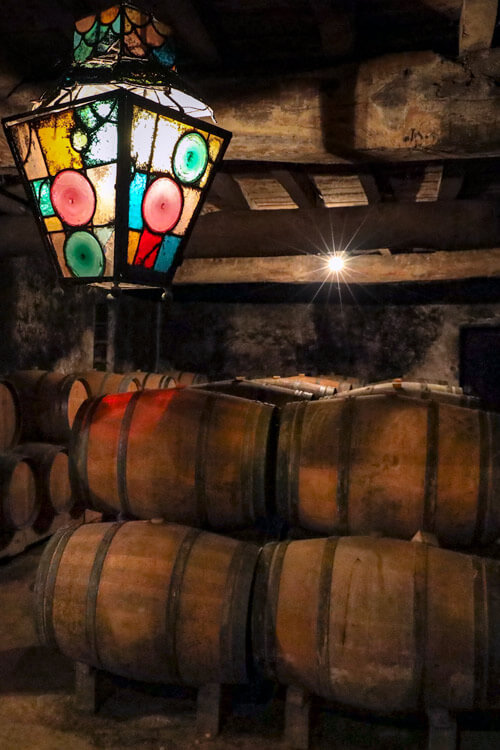 One of my own favorite parts of any château is its barrel room. Château de Cérons has two different barrel rooms, each located on either side of their interior park. You'll visit the original, and a look inside the Cérons AOC barrel room is something truly special.
This barrel room is the oldest part of the château and it remains in the original condition. The position and dirt floor both work together to create the perfect conditions for aging Cérons wine. You won't find many barrel rooms in Bordeaux that are anything like it these days.
There's an entry room to the barrel cellar, and it was here that workers actually made the barrels for aging wine onsite many moons ago. The workers also slept and lived in the loft above where barrels were made in the hot fireplace.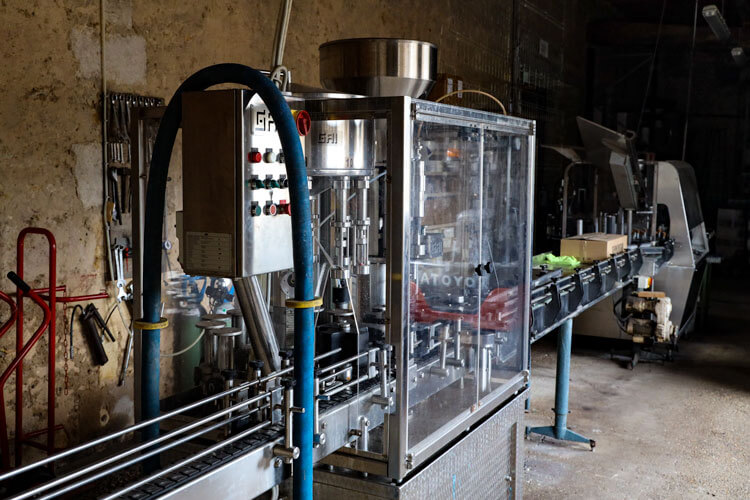 Across the courtyard are the vat rooms, an onsite bottling facility, storage and yet another barrel cellar for storing the Graves wine produced by the château. The bottling facility is another rare sight in Bordeaux, as here it's typical for châteaux to hire a mobile bottling company that come and bottle everything onsite.
The wine making facilities are also fairly unique for Bordeaux. Château de Cérons uses gravity-flow, which is not only environmentally friendly but also believed to be a wine making technique that preserves better aromas and flavors. It's interesting to stand and see the multi-level wine-making facilities. The grapes arrive on the top and go directly in to the machines, where gravity does the rest without the need for pumps or mechanical force like in single-level wineries.
This is only part of their EMS (Environmental Management System) scheme. And in 2019 Château de Cérons earned their HEV (High Environmental Value) certification.
The storage area for Château de Cérons is also exceptionally large, and that's because one of the unique things they do is to age their Cérons wines for a total of eight years before selling them. The wines spend 24-36 months in the barrel and then age an additional 5-6 years in the bottle. So the youngest Cérons AOC you will taste is a minimum of eight years old.
Finally it's time to taste. The classic visit, or Discovery Tour as it's called by the château, includes three wines of the château: the Château de Cérons Graves (red), . And while prior booking is recommended, in tourist season from May to October the château does welcome drop-ins without prior appointment.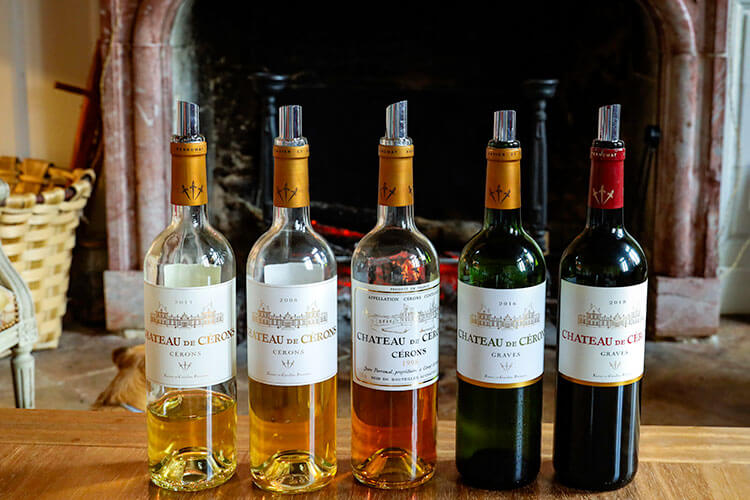 As Time Goes By Tour
The As Time Goes By visit is a the same tour of the estate as with the classic visit, but this exceptional visit ends with a vertical tasting of three different vintages. It's with this tasting that you can truly appreciate how Cérons wine changes as it ages moving from an 8-year old vintage, on to a 10-year old vintage and finally finishing with a 20-year old vintage.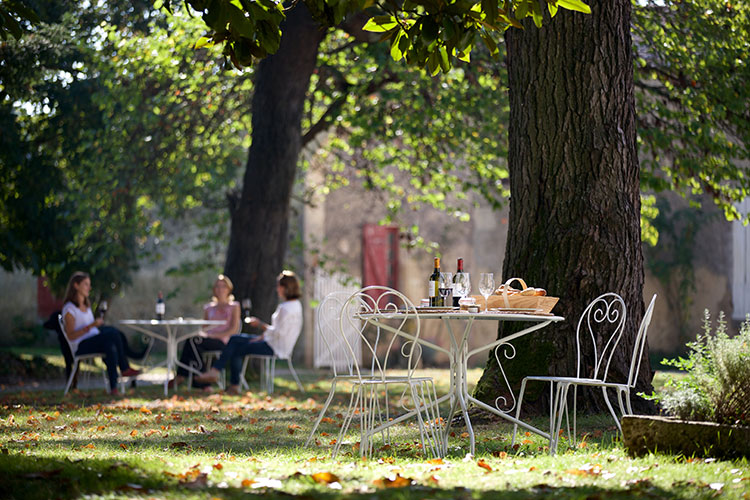 Picnic Under the Magnolias
Château de Cérons is such an exceptional setting with its courtyard park and the view of the towering 12th century Romanesque church. Fragrant magnolia trees and a giant Sequoia, which was brought back to the château during the time that nobility went on their grand tours and brought home things like exotic trees, provide shade during the hot Bordeaux summers.
A French picnic with local products like charcuterie from the Landes, cheese, seasonal veggies, fruit from the château's orchard and desserts await after finishing the classic visit and tasting.
The Rôtisserie
If ever you needed a reason to travel to Bordeaux with a group of friends or family, it's definitely Château de Céron's rôtisserie – since you need a minimum of six people for this dining experience. As though a French rotisserie chicken couldn't get any better, Château de Cérons takes it a step beyond.
Their chef prepares a rotisserie feast of local suckling pig, Landes chickens and the Bordeaux specialty of wood pigeons right over the open fire of the fireplace in their rotisserie house. You can choose to dine either inside the rotisserie house or outside under the magnolia trees. And you might be surprised to hear that a sweet wine like Cérons actually pairs perfectly with savory roast chicken, but it's that unexpected discovery that makes this such a memorable experience during your trip to Bordeaux!
Know Before You Go
Getting There
Visits and Tasting
Château de Cérons is easily reached from Bordeaux Centre in around 40 minutes by car, and is even easily accessible by trains departing hourly from Bordeaux Gare Saint Jean to Gare de Cérons. If arriving by train in Cérons, it is then a 10-minute walk from the train station to the château.
BOOK A TRAIN TICKET
Château de Cérons
is open for visits year round by appointment. To reserve the Picnic Under the Magnolias, 24 hour advance booking is required. To reserve the Rôtisserie, 8-days advance booking is required for a minimum of 6 persons.
🍷 BOOK YOUR VISIT

This article contains affiliate links. When you book on Rue des Vignerons or Trainline through our affiliate partner sites, we earn a small commission at no additional cost to you.