Known around the world for its prestigious wines, Bordeaux is much more than a wine region. Situated perfectly along the Garonne Estuary and between the Atlantic Ocean, lush lands of the Dordogne and just north of the Pays Basque, Bordeaux is a gastronomic paradise. It's surely why the vibrant South-West city has attracted young chefs from around France and the world, and why Bordeaux is one of the best French cities to eat it.
Bordelaise cuisine is firmly tied to the local terroir, a word meaning the land that you'll hear about a lot when visiting Bordeaux. While the many talented chefs in Bordeaux these days aren't afraid to cut away from the classics, there are a number of Bordeaux specialties that will just never go out of style. They are specialties that have stories tied to the history of this bustling port city. And for the fact that these products are the embodiment of Bordeaux, you won't want to miss trying these Bordeaux specialties on your next visit.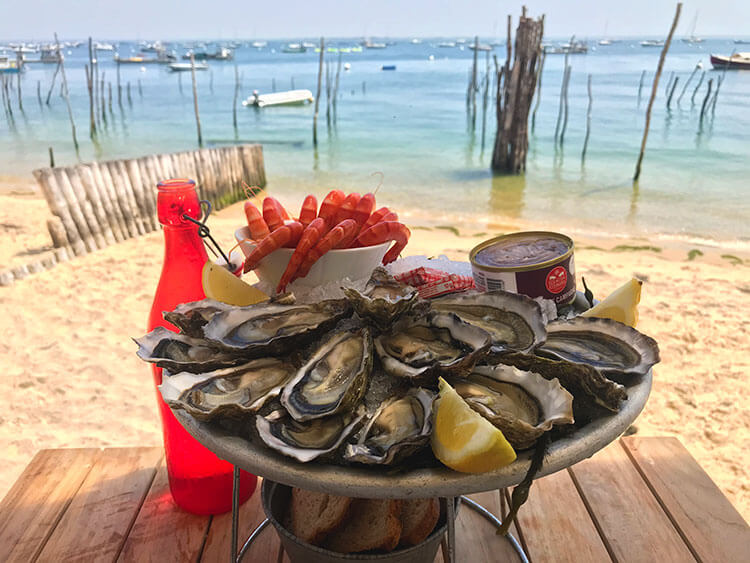 Cap Ferret Oysters
While you definitely think of wine when it comes to Bordeaux, nearly everything here revolves around water. Bordeaux itself is built along the Garonne River, and the Bordeaux wine region lies along both the Garonne and Dordogne Rivers. The Atlantic Coast is just 30 miles away from the city.
With all that water, it's too surprising that the Nouvelle Aquitaine region is home to one of France's seven distinct oyster growing areas: Arcachon. Oysters have actually naturally grown in the Bassin of Arcachon since Roman times, and as France was the first European country to produce oysters on a large scale, modern oyster farming in the Arcachon Bay has been alive and well since the 19th century.
You might associate Brittany with oysters, which is where the majority of France's commercial oysters come from, but the Bassin of Arcachon has around 350 oyster farmers producing 8000 – 10,000 tonnes of Pacific cupped oysters per year. As they are all small scale oyster farmers, or ostréiculteurs in French, it's truly something special to taste Cap Ferret oysters. You won't find them sold in grocery stores, they aren't exported and it's pretty rare to find Bassin of Arcachon oysters in restaurants outside of the Nouvelle Aquitaine region.
Where to Find Cap Ferret Oysters
The best place to enjoy Bassin of Arcachon oysters is in Cap Ferret itself. One of life's little luxuries during summer in Bordeaux is having your toes in the sand while slurping up a dozen oysters in Cap Ferret's no-frills oyster shacks. Our favorite is Emile et une Huître in Village l'Herbe.
Otherwise, in Bordeaux you can find Cap Ferret oysters sold by the plate with bread and butter at the Marché des Capucins daily, at the Sunday Marché des Quais, and on the menu at many Bordeaux restaurants.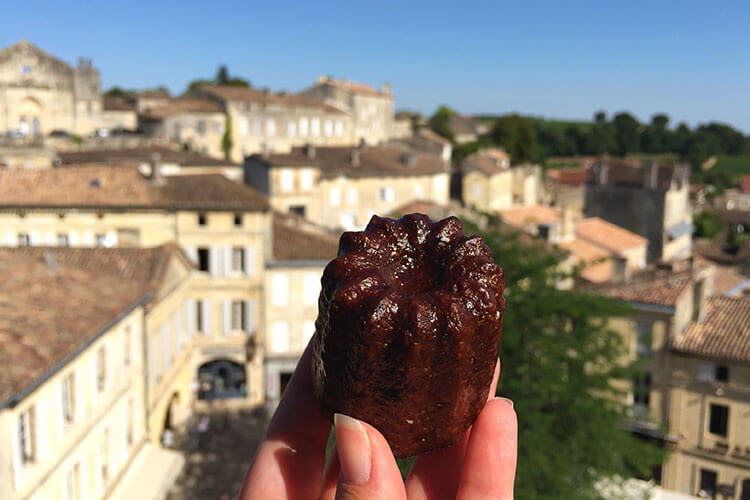 Canelés de Bordeaux
The most beloved Bordeaux pastry is the canelé. Canelés are flavored with vanilla and rum, and the perfect canelé has a soft, custard-center while the outside is caramelized to a dark color. The name canelé comes from the fluted copper molds that the pastries are baked in.
Though the origin of canelés has never been able to be confirmed, they are part of Bordeaux and the Aquitaine's heritage. One theory of how canelés came to be is that the nuns of the L'Annonciade monastery in Sainte-Eulalie wanted to use up the left over yolks that were separated from the egg whites during the wine clarification process, and came up with the recipe around the 18th century. It's probably plausible since a similar story is how the Saint-Émilion macaron also came to be.
Modern canelés come from the 20th century and canelés de Bordeaux officially became protected as a Bordeaux specialty in 1985. The Confrérie du Canelé de Bordeaux (Brotherhood of the Canelé of Bordeaux) was founded to protect the recipe. Originally spelled with a double n, cannelé was also changed to canelé with the creation of the brotherhood.
Where To Find Canelés de Bordeaux
Since the founding of the Confrérie du Canelé de Bordeaux in 1985, only members creating the original recipe can call their pastry a canelé. If you see it spelled with the double n as cannelé, it's an indication that other ingredients have been used in the recipe. Most found in Paris are a cannelé.
Two pastry shops in particular specialize in canelés de Bordeaux. The main one is Canelés Baillardran, which are nearly as common on every corner of Bordeaux as a Starbucks is in New York City. Their canelés are good, and the copper molds are also sold in their shops. The other "chain" is La Toque Cuivrée, which is the one we prefer of the two main canelé producers.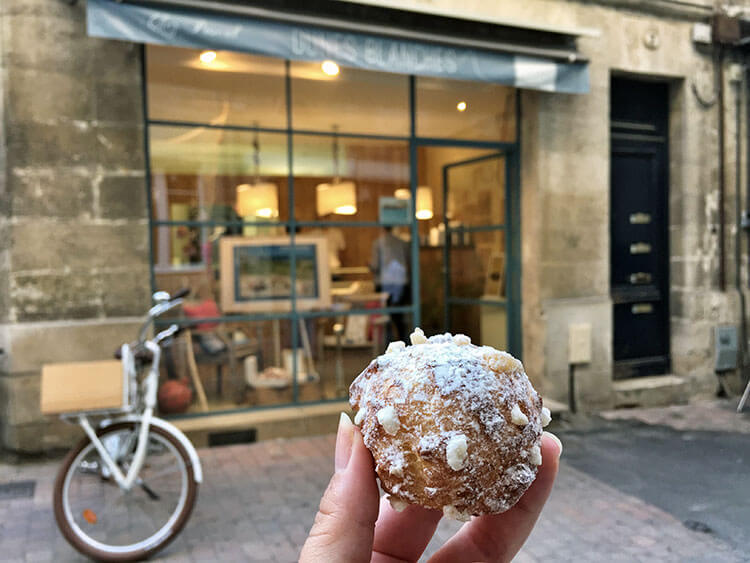 dunes blanches
You've probably had a cream puff at least once in your life. Growing up as an Italian-American, I consumed many at every wedding, graduation and excuse for a family gathering. But the cream puffs, or Dunes Blanches, are the best I've ever had in my life.
Created by Pascal Lucas in Cap Ferret back in 2007, the story of Dunes Blanches is a result of a night out with a little too much wine. Supposedly Pascal's son arrived home in the early morning hours when Pascal was already up and baking goods like his chouquettes for the day. A little experimentation with his son lead to Pascal's secret cream recipe. The little puff pastries were filled with the cream, dusted with powdered sugar and sugar crystals, and named for the white sand dunes that dot the Gironde's Atlantic coast.
The pastries were such a success that Pascal trademarked the name, opened a shop in Bordeaux's Golden Triangle in 2016 and a Paris shop in 2019.
Where to Find Dunes Blanches
There's only one place to find the true dunes blanches, though you will see copy-cat recipes at some other pâtisserie by different names. Only Chez Pascal can call his little cream puffs Dunes Blanches, and you should definitely go for the original.
Find Dunes Blanches chez Pascal Bordeaux at 7 Rue de la Vieille Tour right in the heart of Bordeaux. Or head to Cap Ferret for Pascal's original pâtisserie at 46 Route de Cap Ferret.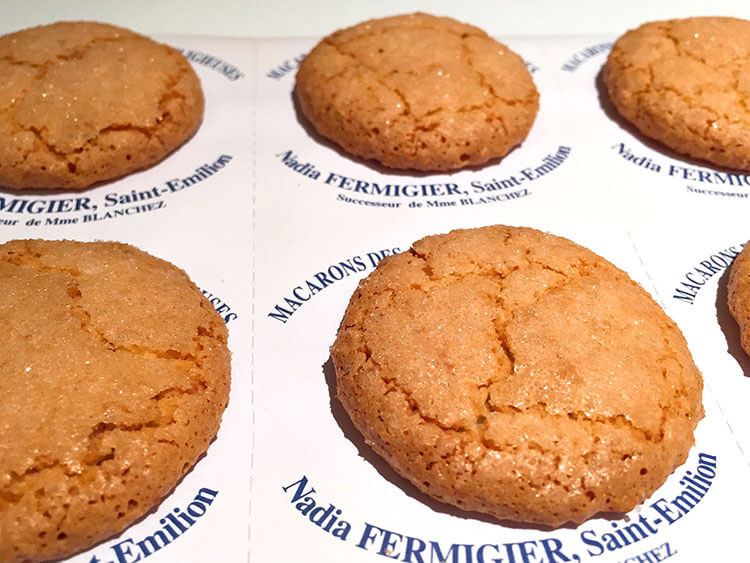 Macarons de Saint-Émilion
The now-crumbling remains of the convent of the order of the sister of Saint Ursule is a reminder that the nuns had settled in Saint-Émilion in 1620. Though the main objective of the nuns was to bring education to the girls of the village who couldn't afford to go to school, the Saint Ursuline nuns left another legacy: macarons de Saint-Émilion.
The Ursuline nuns invented the Saint-Émilion macaron in 1620, making this traditional recipe that uses just three ingredients much older than that of the macarons of Pierre Hermé or Ladurée. A Saint-Émilion tradition of more than 400 years, the macarons perfectly accompany a glass of Saint-Émilion wine or Crémant de Bordeaux.
Where to Find Macarons de Saint-Émilion
After Les Ursulines were disbanded during the French Revolution, a single family became guardians of the original recipe. For many years it was Madame Blanchez located on Rue Guadet, and the tradition has since been passed to Nadia Fermigier. Visit her shop for a blue and white box of the Saint-Émilion macarons.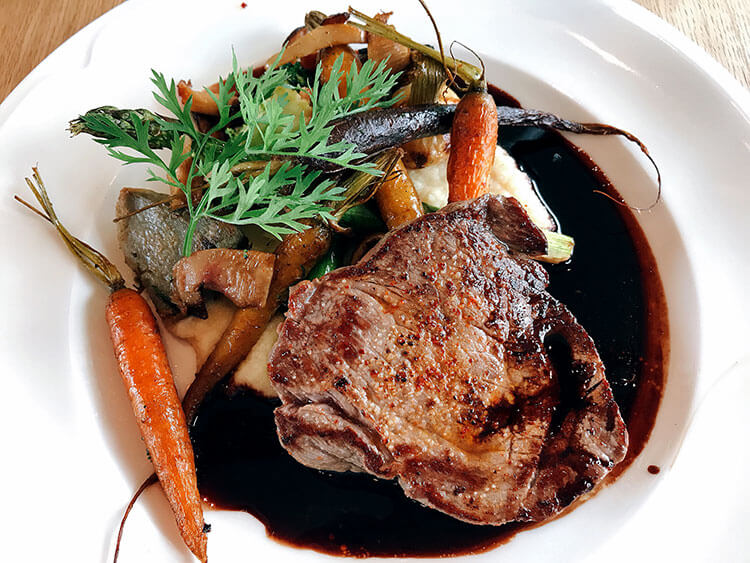 Boeuf de Bazas
Bordeaux's excellent location between the sea and mountains played a role in our choosing Bordeaux as our home. Well, that location similarly is great for sourcing the Gironde's top-notch products. One of those is Bazas beef, or Boeuf de Bazas, which is renowned for its tenderness and flavor.
The beef comes from an ancient breed of cow known as the Bazadaise, which are raised around the town of Bazas about 37 miles from Bordeaux. The cattle have a "Label Rouge," which a quality assurance and a strict set of guidelines under French law.
Bazadaise only come from 280 farms, are free range and are grass-fed. Only 13 butchers are approved to age and sell the meat from Bazadaise. It's not sold in supermarkets and it's rare to find boeuf de Bazas outside the region. So when you see it on the menu, order it.
Where to Find Boeuf de Bazas
Maison Lascombes specializes in meats and products of the region. In Bordeaux, head to La Brasserie Bordelaise on Rue Saint Remi to try this locally produced beef that has been described as the "Kobe beef of France."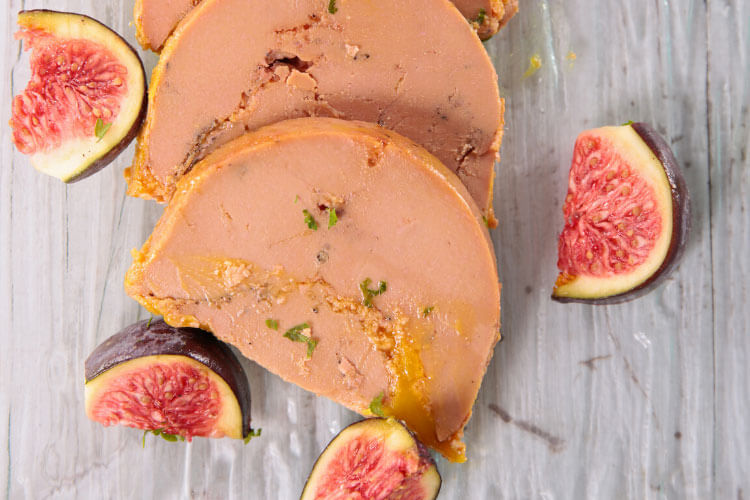 foie gras
While not specifically a Bordeaux specialty, foie gras is a regional specialty of the Nouvelle Aquitaine and a staple of Bordeaux cuisine. Considered the holy grail of French dishes, around 90% of foie gras consumed in France is produced in the Dordogne – and specifically the Périgord. The Dordogne is France's capital of foie gras.
You might raise your eyebrows at the thought of foie gras, but it's an ancient tradition with a long history as a part of French gastronomy. In fact, foie gras dates back more than 4000 years to the Ancient Egyptians, who discovered the fatty liver of the goose was a delicacy. It was the Ancient Egyptians who invented gavage, or the fattening up of the bird. The Greeks adopted the technique, then the Romans and it spread across the Mediterranean.
Though goose was consumed all through the centuries particularly because of the nutritional value, foie gras really became popular in France in the 16th century. Louis XIV was quite the gourmand, and he influenced cook books of the time. Louis XIV's passion for haut cuisine trickled down to the middle class. It's still popular today with the French consuming 78% of the world's foie gras.
And you practically can't step foot in Bordeaux without coming across foie gras. It appears at every party we attend from casual gatherings at friends' houses to formal events. Classically paired with Sauternes, it's really no wonder foie gras is a staple of Bordelaise cuisine.
Where to Find Foie Gras
As you might have already guessed, it's not hard to find foie gras in Bordeaux. Any restaurant serving Bordelaise cuisine will have foie gras on the menu. You can try it at wine bars like Bar à Vin, with a glass of Sauternes if you'd like to try the most classical pairing. And you can find foie gras for sale in any grocery store or epicurean shop.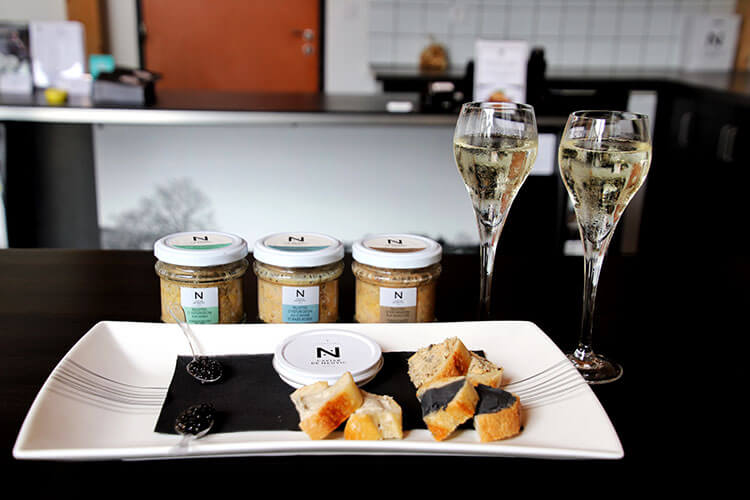 Aquitaine Caviar
Did you know that the Bordeaux area is the biggest producer of French farmed caviar? Or that France even produces caviar? In fact, France is the world's third largest producer of farmed caviar after China and Italy.
Fisherman had been catching wild sturgeon in the Gironde Estuary for centuries, but it wasn't until the 1920s that a Russian visitor introduced them to caviar. The fisherman had simply been eating the sturgeon without harvesting their eggs, and had no idea what they were missing.
Sturgeon fishing has been banned since 1982 in order to restore the sturgeon population. Around that same time, ethical sturgeon farms popped up along the Gironde Estuary. One we highly recommend visiting to learn about the history of caviar in France, sturgeon farming and ethical caviar production is Caviar de Neuvic.
Where To Find Aquitaine Caviar
We highly recommend visiting the Caviar de Neuvic farm located about 50 miles from Bordeaux. The visit of the 20 hectare domaine is a fascinating look at fish farming and how this farm gives back to the environment surrounding it. You can attempt to catch a sturgeon just as they do at the farm. And of course, the visit ends with a tasting of products including caviar butter, sturgeon rillettes and caviar.
If you don't have time to head out to Caviar de Neuvic's farm, visit their boutique in the center of Bordeaux. Opened in late 2019, you can purchase Caviar de Neuvic products in the boutique located at 14 Passage Sargent. Look for a restaurant coming in early 2020.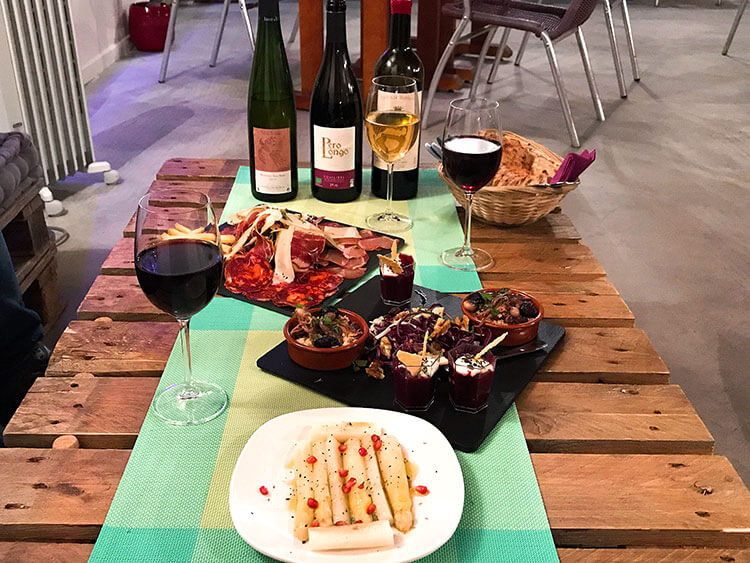 Blaye White Asparagus
Perhaps you've heard of Blaye, which is known as one of Bordeaux's 65 wine appellations and for its beautiful Citadel overlooking the estuary of the Garonne River. But Blaye is known for something else you probably didn't know about: asperges du Blayais, or Blaye white asparagus.
We love asparagus and wait every spring for the regionally famous white asparagus to start appearing on the markets. The appearance of the white asparagus signals spring here in Bordeaux, and it's delicious. Even Louis XIV thought so.
It's said that Sébastien Le Prestre, the Marquis of Vauban, introduced Blaye white asparagus to the table of Louix XIV. It was grown on small family farms along the estuary, and its the soil – or terroir – that gives asperges du Blayais it's sweet and smooth taste.
Where To Find Blaye White Asparagus
Blaye white asparagus is harvested from February to May, so you'll have to visit Bordeaux in the early spring to taste it. Of course, the best place to taste it is in Blaye itself. Every April Blaye celebrates its asparagus with the Fête de l'Asperge du Blayais.
Blaye is always worth a visit for a stroll around the beautiful Blaye Citadel, but if you can't make it out to the Citadel you can still find Blaye white asparagus in Bordeaux. La Tupina, one of the restaurants we recommend for your Bordeaux trip, hosts an annual 1-day gastronomic festival to celebrate the delicious asparagus. The owner of La Tupina also has a house in Blaye and his community ties allow him to receive fresh Blaye white asparagus daily during the season, so you can find it on the menu in spring.
Lamprey À La Bordelaise
Many lists about Bordeaux specialties out there will tell you about entrecôte à la bordelaise, or a cut of steak with a red wine sauce. We only know of a few very touristy restaurants that serve it, and wouldn't call it a Bordeaux specialty. The true specialty à la bordelaise is lamproie à la bordelaise.
Lamprey are a kind of fish that resemble eels and are caught in the Gironde Estuary. They have an ancient lineage. The jawless fish can actually be traced back over 530 million years without any significant genetic change.
Lampreys were once reserved for kings and queens and the dish dates back to the Middle Ages. It eventually made its way to the tables of the middle class. Today lamprey à la Bordelaise is a very traditional dish found on restaurant menus around the Bordeaux area, and is consumed by locals. It is not a dish for the faint of heart, though.
It was, and still is, quite the process to catch a bottom feeder and turn it into something edible. Lampreys must be caught and hung by the head while still alive. The tail is then cut and the blood is collected. The lamprey is cooked in a kind of stew with potatoes, leeks, shallots, onions, red wine and some of the lamprey's blood. Depending on where you have it, Armangac or Cognac may also be added to give the dish additional flavor.
Where To Find Lamproie À La Bordelaise
Lamprey have a season when they can be fished in quantity and that is from December – May. So it's in the winter and spring when you especially see this dish on restaurant menus. And it's much more common than you might think.
Lamprey à la bordelaise can even be found in a can so you can take it home with you. You'll find this in the local specialty section of many local French grocery stores and on stands at markets, in December at the Marché de Noel de Bordeaux (Christmas Market) and on stands at the twice annual Brocante des Quinconces (Antique Market on Place Quinconces).
There's also a festival in Saint-Terre usually the last weekend of April each year. As the Capital of the Sea Lamprey, Saint-Terre celebrates this more than 500-million year old fish annually with animations, a flea market and, of course, lamproie à la bordelaise.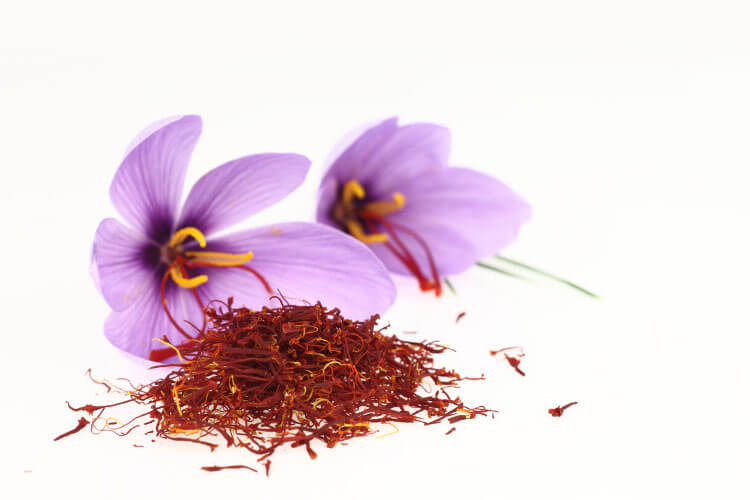 Saffron de Bordeaux
You might associate saffron with Iran, Morocco and India, but few people know that France was a significant saffron producer and exporter for several centuries. Phylloxera didn't only kill off the vineyards; hardly any saffron was left in France after the epidemic. And that it why it is so special that saffron is actually still grown in Bordeaux.
You can even visit the Saffron de Bordeaux farm, located just 15 kilometers from Bordeaux. Saffron producers Jean Noël and Chantal Pelette welcome you to the farm to see the production, learn how to identify real saffron and for a tasting on a 1 hour 30 minute educational visit. You can also buy saffron de Bordeaux direct from their shop.
Where To Find Saffron De Bordeaux
You can get saffron de Bordeaux direct from the source at the farm located in Ambarès et Lagrave. But if you don't have time to head out to the farm, visit the spice shop Dock des Espices at 20 Rue Saint James near the Grosse Cloche.