If there's one thing the French have – without a doubt – figured out, it's the celebration of food and drink. In November there's Beaujolais Nouveau Day on the third Thursday, which is a day entirely dedicated to drinking red wine. Every January 6 there's gathering with family and friends to eat a galette des rois with its hidden fève and see who will be "king" for the day. And every other June, Bordeaux celebrates wine in a massive 4-day festival with hundreds of wine producers from the Bordeaux wine region at Bordeaux Fête le Vin. So it's not too surprising that there's Fête de la Chandeleur, aka France's crêpe day, every February 2.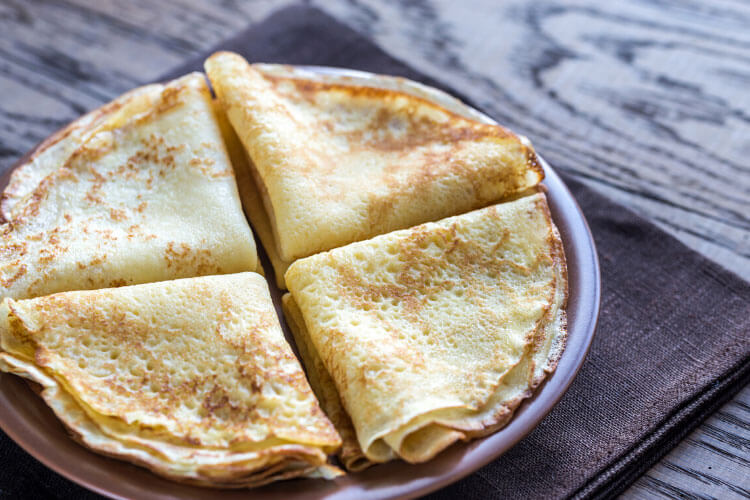 What is La Chandeleur?
So what's the big deal about eating crêpes on a specific day? You see, February 2 falls exactly 40 days after Christmas and is also known as Candlemass, or the Feast of the Presentation of Jesus Christ. This account of the presentation of Jesus in Luke 2:22–40 is considered as the end of the Christmas Season.
La Chandeleur isn't just a Catholic holiday, either. The origin of Chandeleur dates back much further to a pre-Christian pagan feast that celebrated the bounty of the harvest and marked being halfway through the winter.
Why crêpes? Supposedly it was very practical to use up any extra wheat laying about before the next harvest. And the crêpe also looks like a sun, so it was also symbolic to celebrate the days now getting longer again.
The Chandeleur traditions have been carried on for thousands of centuries. Today in France, Candelmas and February 2 is mainly known as Crêpes Day.
I remember when I first moved to France over four years ago now, my friends asking me if I would eat crêpes for Chandeleur. Of course, celebrating Fête de la Chandeleur properly isn't as simple as just going out to a crêpe restaurant, eating some crêpes and calling it a day.
This is France, after all! There are some Chandeleur superstitions to abide by. Most importantly, la Chandeleur crêpes must only be eaten in the evening after 8pm.
That's not the only Chandeleur superstition, either. If you want to try cooking your own Chandeleur crêpes a go, you should hold a gold coin in your left hand and try flipping your crêpe with your right hand. If you can successfully flip the crêpe with only your right hand on the first try, your household should surely prosper in the new year.
If you're looking for a spouse, you need only successfully flip six crêpes in a row. Doing so should ensure you'll be married off within the year.
Another Candelmas tradition involves hiding the first crêpe away in a wardrobe. Supposedly keeping the first crêpe will ensure a bountiful harvest or prosperity this year.
No matter what you believe or don't believe, it definitely doesn't hurt to eat a crêpe for dinner if you find yourself in France on February 2!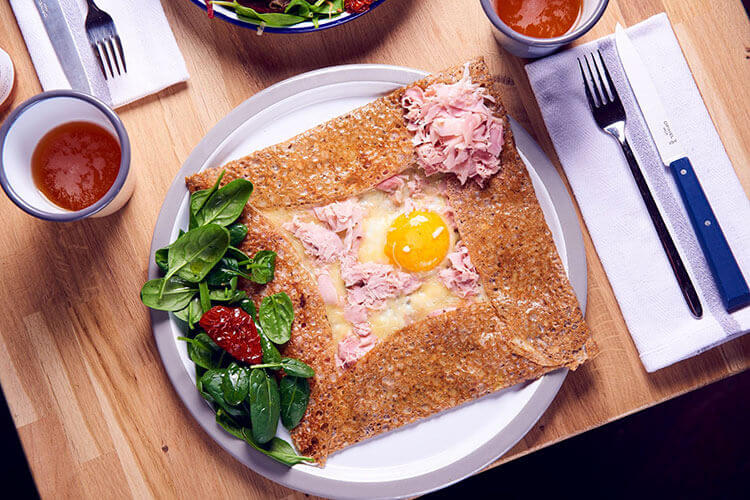 Where to Find the Best Crêpes in Bordeaux
If you don't know what a crêpe is, it's a very thin type of French pancake made from wheat flour. Crêpes originate from Brittany, and there are two kinds: the sweet crêpes sucrées and the savory called galettes ( and also sometimes crêpes salées). Even though crêpes come from Brittany, a region in the far north of France, crêperies can really be found just about anywhere in France – even Bordeaux.
But just because it says crêperie on the door, it doesn't mean it's good. It's probably hard to fathom since you practically can't throw a rock without hitting a crêperie in Paris, but you can in fact have a bad crêpe. Certain aspects of crêpe making have been near constant since their invention, and there's a few characteristics to look out for.
First, a crêpe should practically be paper thin. Then it should have some nice crispy edges, yet a soft center. But it should never be soggy.
There are actually far less crêperies in Bordeaux than you might imagine, and especially truly good ones. Here are some suggestions for where to find the best crêpes in Bordeaux:
Ballet Christophe
A meal at Ballet Christophe, a chic little crêperie on the recently-becoming-trendy Rue du Palais Gallien, is like being transported to Brittany. The restaurant itself is a chic, modern space with a handful of tables inside and a terrace with outdoor seating in the nicer months.
The menu features savory galettes with a variety of fillings from the traditional ham, cheese and egg to more elaborate like the rich cider flambeed scallops. A lunch menu is offered with a selection of classic galettes which come with a small side side, a 1/4 liter of cider and your choice of a sweet crêpe for dessert.
The restaurant is more often filled with locals than tourists, and is truly one of the best places to eat crêpes in Bordeaux.
Ballet Christophe, 50 Rue du Palais Gallien
Gourmands
Gourmands is a crêperie located on Rue Sainte-Catherine, Bordeaux's main pedestrian shopping street. If you can brave the crowds that are inevitably on this main artery of Bordeaux Centre, then this modern little crêperie can be a good stop – especially to refuel from a shopping spree.
The menu is much more simple than at Ballet Christophe with just a handful of savory and sweet options. It's worth noting that Gourmands does offer gluten-free options and take-away.
Gourmands, 172 Rue Sainte-Catherine.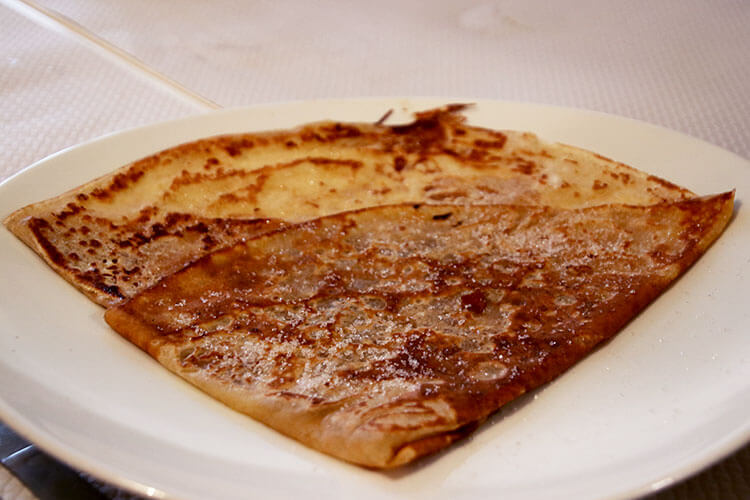 Chandeleur Events in Bordeaux
There are a number of special events happening around Bordeaux for Chandeleur.
Galeries Lafayette Bordeaux will have a Crêpes party on February 1 from 3pm – 6pm. Head up to the 4th floor in the Espace Maison (housewares) to try a mini sweet crêpe. There will also be chances to win a gift card.
Les Halles de Bacalan is having an entire weekend dedicated to Chandeleur on February 1 and February 2. Mousses & Chocolats and La P'tite Boulangerie de Bacalan will be presenting their best crêpes recipes.
Ô Sorbet d'Amour at Promenade Saint-Catherine is having a Chandeleur party from 3pm – 7pm. They'll be offering Nutella crêpres or crêpes with sugar.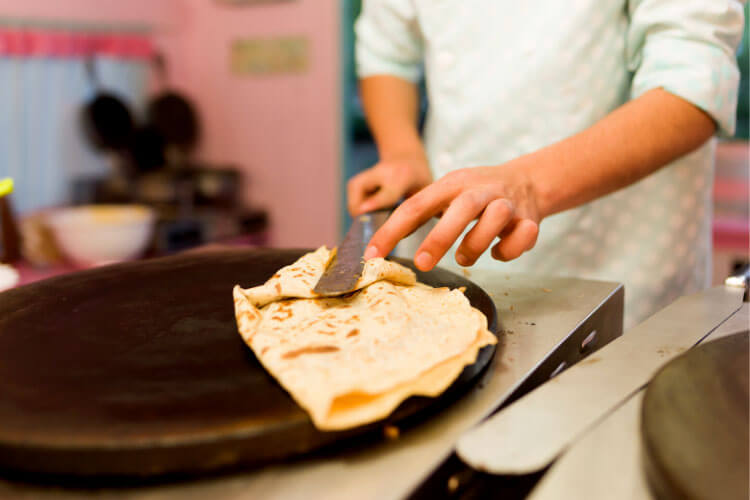 How to Celebrate La Chandeleur at Home
If you don't happen to be in France for La Chandeleur, you can still celebrate by eating crêpes at home. Crêpes are actually incredibly easy to make, and are a lot like making pancakes. You only need a few tools and a few good crêpe recipes for sweet crêpes and savory crêpes like brie and butter crêpes.
The easiest way to make crêpes is on an electric crêpe pan. You can use these to make good ol' fashioned American pancakes, too. Or a non-stick crêpe pan to cook on the stove top will work just fine, too.
There's no rule as to whether you have to eat sweet or savory crêpes on Chandeleur, so have fun turning it in to a crêpe themed feast.
Shop This Post