With regular trains from Paris to Bordeaux, you can be easily be sipping Grand Cru Classé in the blink of an eye. Paris to Bordeaux travel is a cinch thanks to the high speed trains in France finally linking the two cities as of 2017. The TGV Paris Bordeaux route reduced the formerly 3.5 hour journey to a fast 2 hours and 4 minutes. It's such fast trip between Paris Montparnasse and Gare de Bordeaux-Saint-Jean that you barely have time to settle in and queue up in the bar car for a snack, in the best way possible.
While Bordeaux does have the Bordeaux–Mérignac Airport, it's often less expensive and there are far more flight options when you arrive to France in Paris. Living in Bordeaux, we ourselves often fly to international destinations off the European continent from Paris. The 2-hour fast train to Paris and the fares on low-cost OUIGO make flying in/out of Paris easy and affordable.
If you're arriving for your trip to Bordeaux via Paris and then taking the train, read on. We know train travel, which never really caught on in the US, can be a bit complex. But train travel is alive and well in France, and it's the most environment-friendly way to travel these days. We've put together this guide with everything you need to know about the Paris to Bordeaux train route and using trains in France.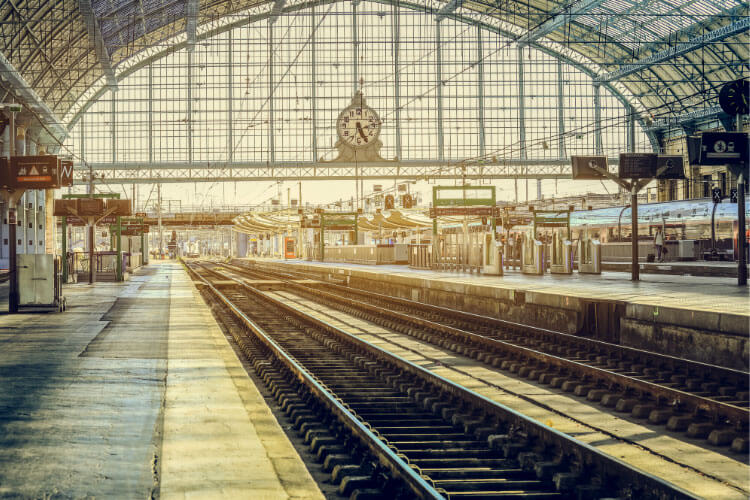 Booking Trains in France
We really recommend buying tickets in advance, particularly when traveling TGV routes and OUIGO trains. Other trains like regionally operating TER trains aren't necessary to book in advance and fares don't fluctuate, as they have only one fixed fare for the route. But when it comes to the TGV lines like the Paris to Bordeaux train and vice versa, fares are just like airfare. The fares fluctuate, increase in price the closer you get to your date of travel, and fares can vary widely in price depending on the popularity of the route, day of week, and even hour.
A reservation is compulsory on all TGV and OUIGO trains as you have an assigned seat, just like on an airplane. Once you book your reservation, you're committed to a specific train on a set day and time.
Reservations for SNCF train tickets open 92 days in advance, and a little longer in advance for July and August trains. In a logical world, there would be one website where you can buy all French train tickets since nearly all the trains are operated by SNCF. But that would be too easy! No, there are a number of websites you have to navigate through when looking for the best fares, and they aren't often easy to use even if you are French.
If you're a foreigner without a French phone number and French bank card, you can almost certainly forget about using SNCF's multitude of websites for TGV online booking. I can't even say how many desperate emails I've gotten and people I've helped navigate the SNCF and OUIGO sites. OUIGO in particular tends to reject foreign credit cards, and foreigners often have trouble with SNCF accepting cards.
In fact, three entrepreneurial French guys thought that they could sell SNCF tickets better than SNCF. They weren't wrong. They created the website Capitaine Train in 2009, raised over €2.5 million in funds by partnering with SNCF and a number of other European train lines including Deutsche Bahn, Eurostar and Thalys, before selling their start-up to Trainline in 2016.
We like to use the Trainline to book train tickets in France. Trainline shows all of the different types of trains and fares in one place at the same prices as SNCF, OUIGO and the like. Otherwise, when searching for train tickets from Paris to Bordeaux for example, you might have to jump around to various sites like SNCF and OUIGO. When looking for the cheapest Paris to Bordeaux TGV tickets, Trainline just makes it simple to find the best fare.
You can also book TER trains on Trainline. Just be sure to pay attention because you may have to print out your ticket at a self-service machine at the station when e-tickets aren't available on the route.
BOOK NOW
Note that on some routes like purchasing a TGV online ticket, Trainline does charge a small fee of around 3%. It's totally worth it though, because of the hassles usually experienced with the SNCF and OUIGO sites.
We also like Trainline because we can use it to book train routes all over Europe, not just in France. We've never had an issue using any credit or debit card, and we use cards from both our American and French banks. It's definitely our go-to site when it comes to train travel in Europe.
The Types of Fares
TGV train tickets are sold in three fare classes: Standard (second class), Premiere (first class) and Business Premiere. Standard and Premiere fare classes have the same exchange rules since May 2019, which allow exchange or refund up to 30 days before departure for a fee of €5. From two days before departure until up to 30 minutes before departure, the fee increases to €15. Difference in price between the old and new ticket is added to the fee.
Business Premiere fares are totally flexible, allowing the ticket to be exchanged or refunded free of charge until up to 30 minutes after departure. Typically only around €10 more in price from the Premiere fare, it's totally worth it to purchase Business Premiere for this flexibility alone. But you do get a few other perks with the fare including lounge access prior to departure, a complimentary beverage and newspaper delivered to you on the platform, express priority lanes for boarding, complimentary wifi onboard, and ability to pre-book a meal and collect it from the bar car with priority service.
With the OUIGO trains, prices start from €10 each way. There's only one class, which is all second class. The tickets are sold as Standard, with a outlet to charge a phone or device for a few Euros more called Avec Prise, and a seat with an outlet in a quiet car called Tranquille for an additional few Euros. All fares include 1 carry-on and 1 cabin bag. Bicycles, boxes and large packages aren't allowed on these trains.
TER trains have two fares, a tariff normal for the standard second class fare and first class. The fares are fixed, though depending on the region, you may find that off-peak trains are a little less in price. You don't have an assigned coach or seat on TER trains beyond first or second class coaches; you simply validate your ticket in the machines and hop on board to find a seat. You may have to stand, though you're typically only traveling short distances. The ticket is valid for travel on any train on the date the ticket is validated up until 11:59pm.
Children aged from infant to 3 years of age are free on all French trains, but only if they sit on your lap. If you want a seat for the child aged 0-3 years of age, there is usually a small and very reasonable fee for the seat of just a few Euros.
Dogs of all sizes can also ride on all French trains, with one exception. Eurostar does not allow any animals on their trains with the exception of guide dogs. All dogs, no matter whether they are in a carrier or on a lead, need a ticket. The fares vary depending on the train company, but you can expect to pay €7 per pet on SNCF and TER trains, €10 for a dog on a lead on OUIGO and €20 for a dog on a lead on TGVLyria trains. The pet fares are the same regardless of which fare class your tickets are booked in, and there are no designated pet seats or carriages.
Purchasing a ticket for your dog is very easy. You can't purchase pet tickets in Trainline, but I personally still book my own train tickets using Trainline and then purchase my pet ticket either online or in the station.
The Various Types of French Trains
There's more than one type of train in the French rail network, and if you're travel around France by train it's good to know about the various types.
SNCF is the French National Railway company and is state-owned. It operates nearly all trains the trains in France, including the TGV and OUIGO high-speed trains. You can see a map of the French rail network with all the destinations served in France.
The TGV train network is France's high-speed train and currently contains more than 2600 kilometers (over 1600 miles) of lines connecting major cities in France and Europe. You can see a map of the TGV destinations served by high-speed train.
TGVLyria trains are specifically the trains connecting France and Switzerland.
OUIGO is France's low-cost high speed train network. It's operated by SNCF and runs at the same speed of 270-320 kph (160-199 mph) as the TGV trains, but for a fraction of the cost with fares from Paris – Bordeaux and Bordeaux – Paris starting from €10 each way. OUIGO offers only one standard fare class. You can see a map of OUIGO destinations.
Intercités trains are simply the routes not served by the TGV high-speed train. All Intercités journeys are operated by SNCF.
The TER train, which stands for Transport Express Régional, are the regionally operated trains. They are still operated by SNCF. These trains don't have assigned seating and have fixed-pricing, so there's no advantage to pre-booking tickets.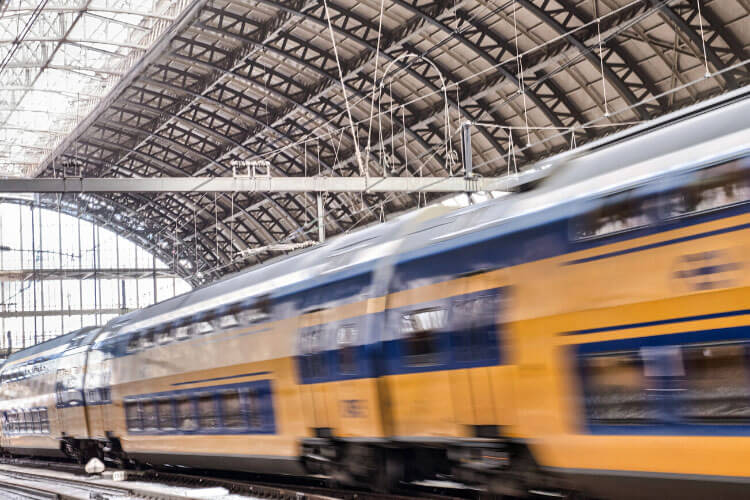 What To Expect When Taking the Paris – Bordeaux Train (And Vice Versa)
As Americans, we're typically don't travel by train in the US. The US isn't that well connected by train even though we do have Amtrack, and travel times can be even up to several days. But train travel in France is generally good, inexpensive and fast. We know it can be a bit daunting using the French railway system. Heck, we regularly even observe other Europeans and French confused about various aspects of using the French rail network, particularly when they don't use it regularly.
We travel around France and the Nouvelle Aquitaine by train regularly, so using the French train system is practically second nature at this point. We documented a recent Bordeaux – Paris train journey step-by-step from when you arrive at the station through finding your seat on the train to help you understand exactly what to expect.
You should arrive at the train station from 30 – 60 minutes before the departure time of your train. In Gare Bordeaux-Saint-Jean, arriving 30 minutes prior to your train's departure is plenty. It's only a couple minutes walk to even the furthest tracks and your train won't be assigned a track (think of a track like an airport gate) until 20-30 minutes before departure for TGV trains. In Paris, the train stations can be much larger and somewhat confusing. If you're unfamiliar with the station in Paris, you should arrive from 45 – 60 minutes before departure time.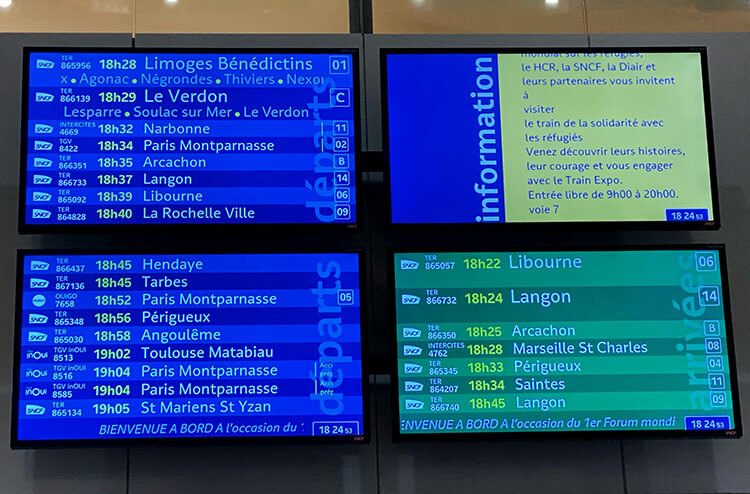 Just like in an airport, there are arrival and departure boards. These boards list the train number, which is like a flight number that you can use to verify you're looking at the correct train. Next to the train number is the departure time. The final destination of the train is listed after the departure time, for example: Paris Montparnasse. Finally the track number will be listed, typically 30 minutes before departure for TGV trains.
If you've purchased your ticket online, you may be able to download and print it. Or if you've purchased through an app like Trainline, you may have an e-ticket right in the app. With print-at-home tickets that have a QR barcode and with e-tickets in your app, you can proceed straight to the train track.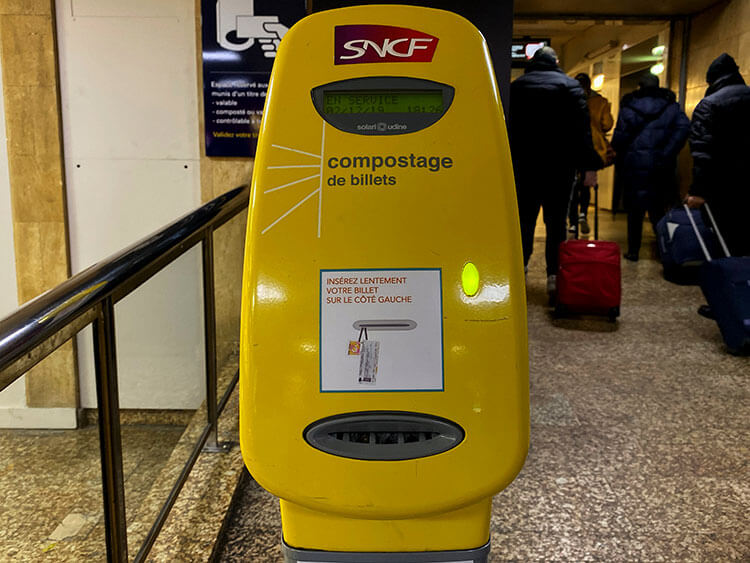 TER trains typically require you to print your ticket from one of the machines in the station. Or if you've purchased a ticket from the counter or self-service machines in the station, you need to validate your ticket. You validate your train ticket at a validation machine, which are located around the station. In Bordeaux and Paris Montparnasse stations, the validation machines are bright yellow. Simply insert your ticket and the machine stamps a date and time on it. Without this validation stamp, you can be fined when the controllers come around to check your ticket.
With the Paris to Bordeaux high speed train, a controller checks your ticket before even entering the track. It's not a security scan like airport security, but just ensures that everyone boarding the train does in fact have a ticket.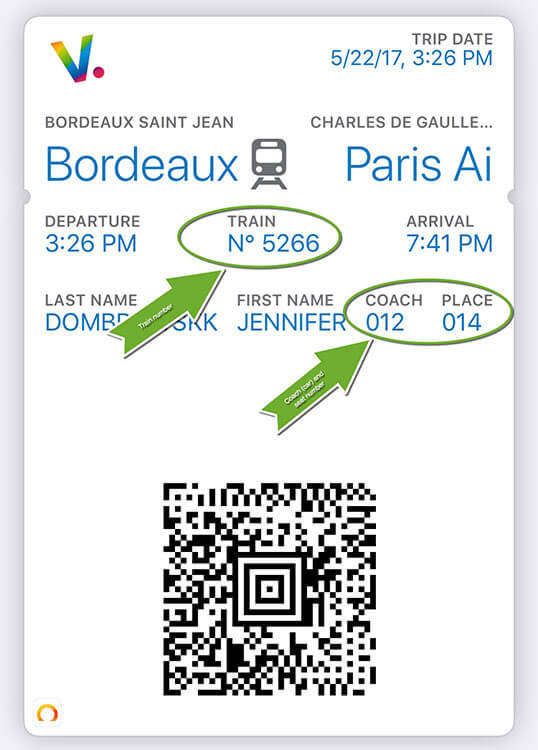 Your ticket has the information about your train coach number and your seat number. It's generally easier to board the train at your coach (car), otherwise you may need to walk up and down stairs and between cars.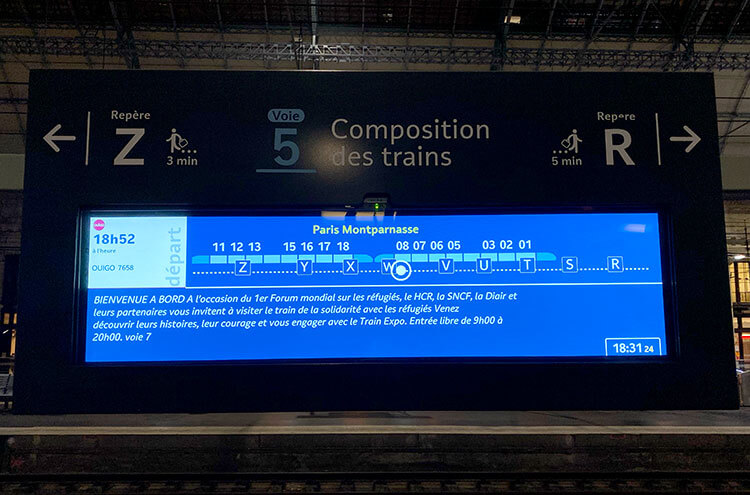 Once on the track platform, you'll see another digital display showing the layout of the train. While it might seem like it would make sense that coach 1 would be the very first car and then each coach number would follow in numerical order, the train isn't always laid out like that. The digital display shows where the coaches are, making is easier to know where your assigned coach is located.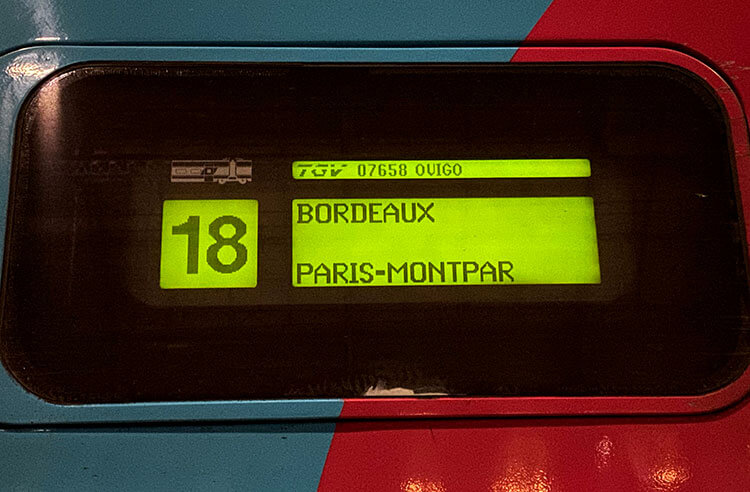 Each coach also has a digital display showing the coach number, the train number, and the departing and final arrival destinations. Verify your coach number before boarding the train.
A little sign in the car either on the wall or on the doors themselves will show which seat numbers are to the left, right or upstairs. Also pay attention for these signs to easily find your seat. Then the seats themselves are again numbered. As in the example above, seat 863 is the aisle seat and 864 is the window seat.
Once you've found your seat, you can sit back and relax for the short journey with a Paris to Bordeaux train time of just 2 hours 4 minutes. A controller may come around again to check your ticket, so always have it handy.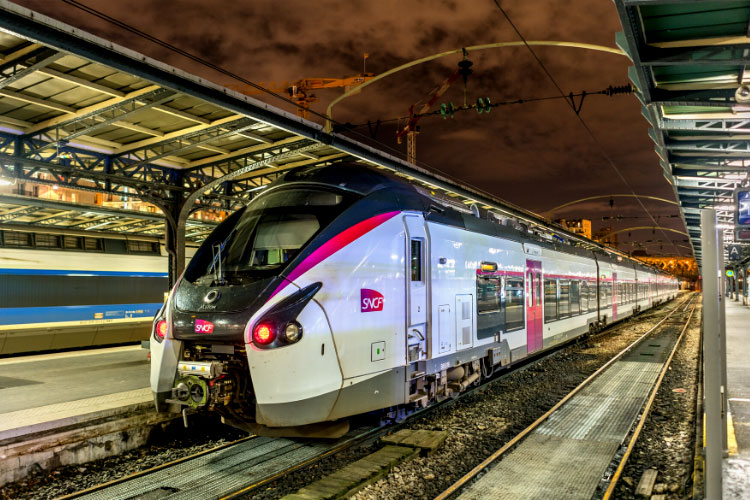 Tips for Train Travel in France
Now that you generally know how to book train tickets and how to use trains in France, there are a few final tips for making train travel in France a breeze.
Print your print-at-home tickets out or download an app like Trainline to use e-tickets on your smart phone in advance.
Some tickets like for TER trains are not available to print-at-home or as e-tickets. You'll need to collect these tickets at the self-service kiosks in any French train station. If you booked on Trainline, you only need the reference number and the lead passenger's surname to print the tickets from the kiosk.

If you booked on SNCF's website, you need the original credit card in order to access the booking. The kiosk's only work with European-format chip and PIN cards, so if you've managed to book on SNCF with an American card you'll likely need to visit the ticket counter to have an agent print your tickets for you.
Don't forget to validate any tickets you had to print at the kiosks in the yellow validation machines. You simply put the barcode end of the ticket face up, which looks very similar to an airplane ticket, in the gray "mouth" of the machine. It will stamp a time and date code on to the ticket. You may be fined by the controller if you don't validate your ticket.
Most TGV trains have a bar car serving snacks, sandwiches, coffee and beer and wine. TER trains do not have a bar car.

You can bring any food and drink on to the train with you, and many people do this. There are usually a selection of cafes and shops selling take-away food items and drinks in the larger train stations. And yes, you can even bring a bottle of wine if you like!
There are no baggage fees, size restrictions or weight limits when traveling by train as there are with airlines – with the exception of OUIGO. But remember that you don't check bags in and there are no baggage handlers to manage your bags for you. So be sure you can easily lift your bags up the stairs and into the cars on your own.
Regional TER trains allow you to travel with a bicycle for no charge. There are several Bordeaux châteaux you can reach by regional TER trains, and some we recommend taking a bike with you to easily travel between the train station and wineries.

There's a small fee for taking bicycle's on TGV trains and some routes you're even required to place your bike in a bike bag. So be sure to check restrictions when traveling longer distances with bicycles.
Dogs are beloved in France and they are allowed on all French trains. Smaller dogs that fit in a carrier bag pay just a small fee starting from €7 depending on the train company. Larger dogs must wear a muzzle and be on a leash. After a successful petition in 2021 to make pet train travel more accessible to all, larger pets now pay a small fee starting from €7 depending on the train company. Find all the regulations for traveling with your pet on the SNCF site.

Pet tickets aren't available to book on Trainline. You have to book pet tickets directly on the various train company websites, at kiosks in the station or in the boutique at the station.
Helpful Words and Phrases to Know When Taking Trains in France
Here's some helpful terminology to known when using trains in France. But don't worry: train stations in France, especially in major cities like Paris and Bordeaux, are like international airports. There are usually signs in both French and English.
Gare: train station in French
SNCF: France's state-owned national railway network, which is short for Société Nationale des Chemins de Fer
TGV: France's high-speed train network, which is short for Train à Grande Vitesse, and operated by SNCF
OUIGO: France's low-cost high-speed rail network operated by SNCF
TER: France's regionally operated rail network servicing villages, and short for Transport Express Régional
Compostez votre billet: validate your ticket, which you do at the yellow machines
Coach: the train car
Place: your seat number
Billet: ticket in French
How to Navigate Train Strikes in France
While the French rail network is very well connected and generally a fantastic way to explore France, protesting is also the national sport. Sometimes trains in France go on strike, and it can be both stressful and a hassle for tourists and locals alike.
Though a major inconvenience, you generally don't have to worry about if and how a French train strike might affect your trip to France. The most important thing to know about train strikes in France is that they are scheduled in advance, with dates and times posted online in advance. Generally train strikes are announced at least 10 days in advance, and train strikes in France don't always affect all French trains.
Be Informed of Upcoming Strikes in France
If you're planning a trip to France, and especially if protests have been making world news recently, you'll want to bookmark the website C'est la Grève. This website lists most scheduled strikes and protests. The website is in French, but you can pop the site in to your Chrome Browser to translate. You'll want to be aware of any "grève générale et nationale" as these are national general strikes, and typically some trains such as SNCF and RAPT (regional Paris trains) and public transport is affected. You can also search for transport specific strikes.
The C'est la Grève website is a good start, but you'll also want to look at the Traffic Info section of your specific train company website. The Traffic Info section will list upcoming disruptions. You can find the most up-to-date Traffic Info for SNCF and TGV trains within France, TGVLyria and Thalys trains to see if your trip is affected.
What To Do If There is a Train Strike in France During Your Trip
So what do you do if there's a train strike in France and your trains are affected?
Train strikes generally last only one day on the planned strike day. Train strikes in France also do not affect all trains operating in France.
Once a strike is scheduled, SNCF blocks any further booking for the strike day in their reservation system. If your travel plans are flexible, just book your trains for either the days before the strike or the days following the planned strike. Know that trains will more full and busy on the day immediately following a strike.
If you've already booked and are mid-travel, a train strike could be much more of a hassle. Generally, SNCF informs customers about the trains or train lines impacted 1-2 days before the strike date by email. Passengers are notified by email and given opportunity to re-book at no additional cost or get a refund if your train is cancelled due to a strike.
If your train is not cancelled, you don't have to worry. The train will operate (there may be some delays or disruptions), but you won't just be left stranded last minute.
If your train arrives at your destination late due to a strike you may be entitled to compensation. This even includes your dog, as they also require a ticket to ride all French trains! For TGV, Intercités, OUIGO, and international lines, passengers are entitled to compensations ranging from 25% to 75% of the ticket price depending on the length of the delay with a minimum delay for compensation of 30 minutes.
You can make your requests for compensation for delayed TGV and Intercité trains on this website: https://garantie30minutes.sncf.com/s/?language=en_US
This article contains affiliate links. When you book on Trainline, SNCF or OUIGO through our affiliate partner sites, we earn a small commission at no additional cost to you.