Saint-Émilion is simply a must-see when visiting the Bordeaux wine region. Saint-Émilion is one of Bordeaux's 65 wine appellations, a medieval village and a UNESCO World Heritage Site. Wine has been produced here since Roman times, it's home to Europe's largest monolithic church and the landscape is just beyond exceptional. Worth far more time than just a day tour, plan to spend some time leisurely wandering Saint-Émilion's cobbled streets and biking to the world-class vineyards that stretch out from the village's fortifications.
Of course, you'll need to know where to refuel with all that exploring. We spend a significant amount of time in Saint-Émilion as Bordeaux locals both visiting Saint-Émilion wineries and hanging out with local friends living in or around Saint-Émilion. And we know good food. From classic south-west cuisine to bistronomique experiences dining among the vineyards, don't miss these best restaurants in Saint-Émilion.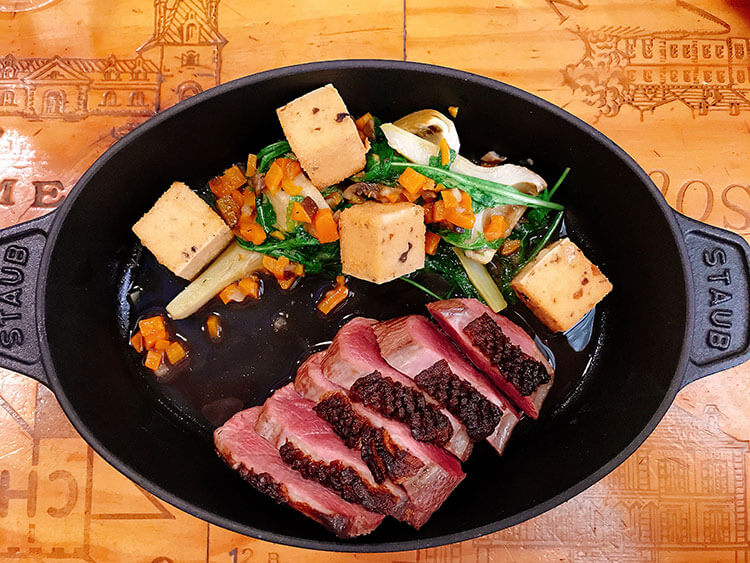 L'Envers du Décor
L'Envers du Décor is a Saint-Émilion institution. It's hard to imagine these days when you seemingly can't throw a stone without hitting a wine bar in the charming medieval town, but L'Envers du Décor was Saint-Émilion's very first wine bar when it opened in 1987. Locals and visitors alike have long loved this Saint-Émilion restaurant, and it was the very first restaurant we ourselves ever visited in Saint-Émilion. Since 2017 it changed hands and has been owned by the same family that owns Château Pavie.
It's a classic choice in Saint-Émilion with the seasonally changing menu featuring local cuisine and products from the region. Some classics regularly part of the menu are the beef rib served for two and the Grand Marnier soufflé. The lunch menu is good value with a starter, main and dessert. And the wine card is impressive with over 500 references.
In winter, the ambiance in the dining room around the fireplace is cozy. In summer months, L'Envers du Décor also has a private garden where you can dine outside.
L'Envers du Décor, 11 Rue du Clocher. Reservations recommended.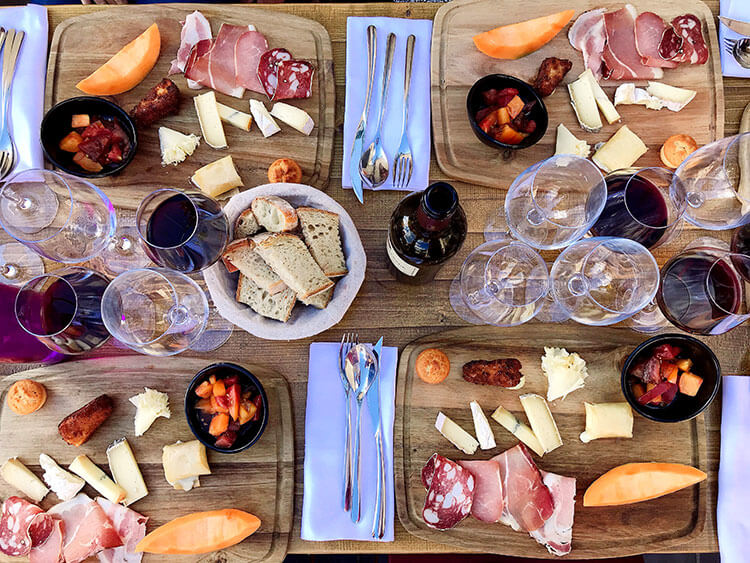 Le Bis By Baud et Millet
Is there anything better in life than wine and cheese? And with France boasting more than 400 listed types of cheese, you could spend a lifetime indulging. Look no further than Le Bis by Baud et Millet in the heart of Saint-Émilion, where you've died and gone to cheese heaven.
Baud et Millet is a Bordeaux institution that has been serving up cheese from their cave to cheese-hungry Bordelaise for more than 30 years. Now with their Saint-Émilion location, a cheese cupboard of 50 different types of PDO cheese from all around France entices locals and visitors alike.
In summer, a lighter menu of cheese boards with charcuterie and melon hits the spot. Or in winter, try a melt-y Mont d'Or or a traditional Savoyard fondue. Honestly, no matter what you choose your tummy will be happy.
Le Bis by Baud et Millet, 49 Rue Guadet. Reservations recommended.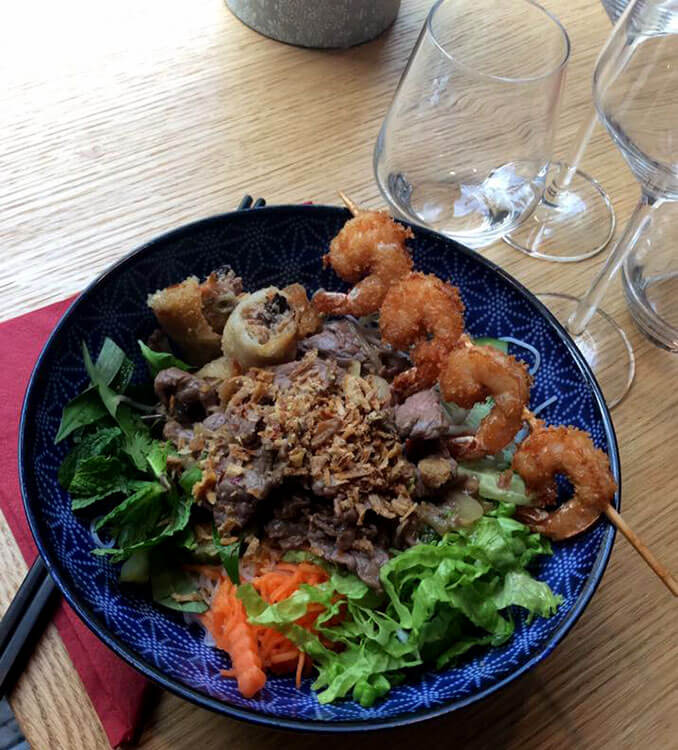 Café Saigon
You've likely come to France to indulge in the famous French cuisine, but don't shy away from the many international cuisine options in the Bordeaux wine region these days. Café Saigon is a refreshing change of pace and when it comes to where to eat in Saint-Émilion, it's a restaurant we visit regularly.
Owned by a couple, him from France and she from Vietnam, the cuisine is simple Vietnamese with a bit of French flair. Café Saigon has a chalkboard menu that changes daily with a small, but delicious selection of starters, main courses and desserts. Their wine list has over 100 references and they make excellent recommendations for pairing French wines with Vietnamese cuisine.
Follow their Facebook Page where they post their menu of the day.
Café Saigon, 21 Rue Guadet. Reservations recommended.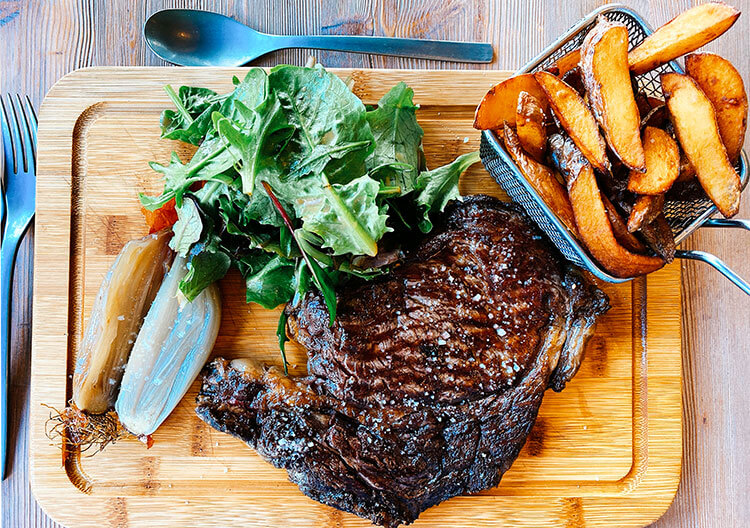 Atelier de Candale at Château de Candale
There's just something about the ambiance of dining in the vineyard, and at Atelier de Candale you can practically do just that. The restaurant is set in the little castle of Château de Candale, a Saint-Émilion Grand Cru vineyard located on one of the most beautiful slopes Saint-Émilion.
Château de Candale combines a visit of their charming winery and a tasting of three wines from their family of Saint-Émilion château with a delicious 3-course meal at their restaurant. Following the visit and tasting, a table awaits for a gourmet feast.
You can choose from the weekly bistronomique menu, with the meal including a choice of starter, main course and dessert. A glass of wine, along with water and a coffee to finish is also included.
Of course, you don't need to tour the château in order to dine at Atelier de Candale. It's open Tuesday to Sunday for lunch and dinner services. In summertime you'll want to relish a moment on Atelier de Candale's terrace with their vines only steps away. Just be sure to make a reservation, because Atelier de Candale is a popular spot for locals as well as tourists.
Atelier de Candale, 1 Grandes Plantes Saint-Émilion. Reservations recommended.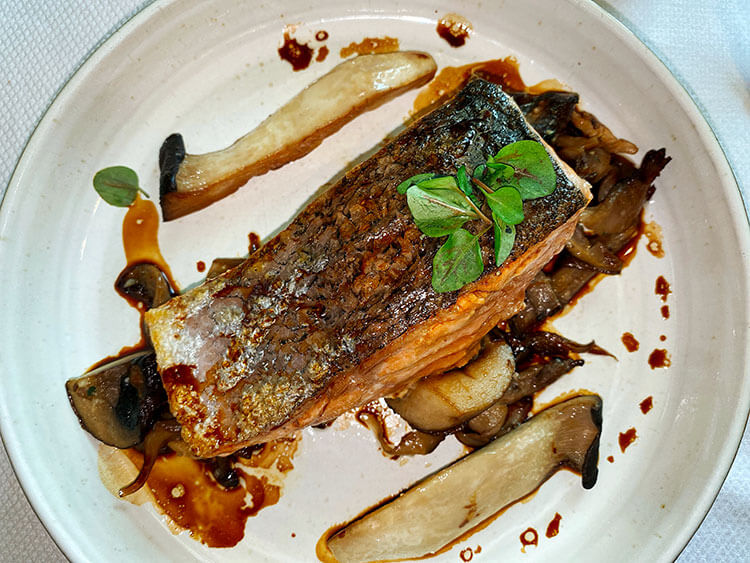 Château Grand Barrail Hôtel
Château Grand Barrail is a hotel, restaurant and spa just a few minutes drive from the village of Saint-Émilion. Set on 7 hectares, the stunning 19th-century château is surrounded by neighboring vineyards. You need not be a guest of the hotel to dine at Château Grand Barrail's restaurant, either. Hotel guests, locals and visitors all enjoy the three dining areas of this lovely setting.
At lunchtime, Château Grand Barrail offers a bistronomique menu with all meat, produce and caviar sourced from in France and fish and shellfish sourced from within the EU. The restaurant serves a gastronomic menu at dinner under the same high standards. The menu changes seasonally for both lunch and dinner, and everything is prepared fresh in house. The wine list is extensive, offering a selection from Saint-Émilion, Pomerol, Bordeaux and beyond.
Weather permitting, you can even dine outside on the terrace surrounded by the vineyards and the landscapes grounds of the estate. The relaxed atmosphere and gastronomic cuisine make the restaurant one you can't go wrong with.
Château Grand Barrail Hôtel, Route de Libourne D243. Reservations recommended.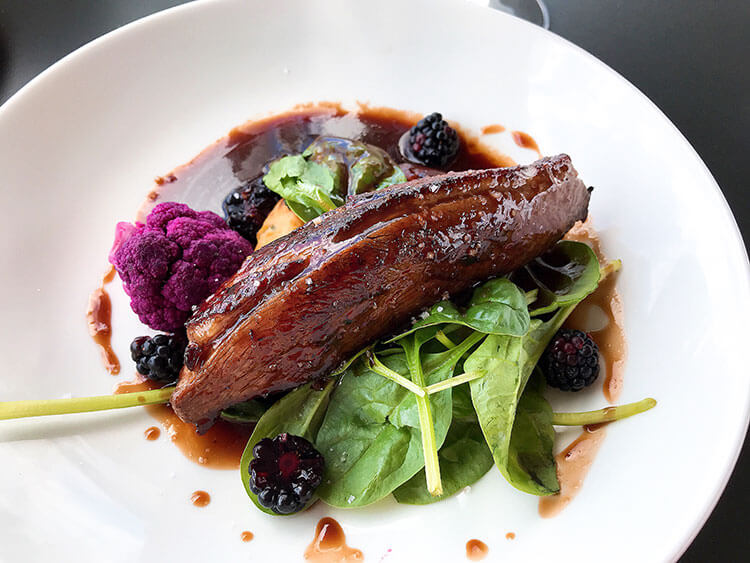 La Terrasse Rouge at Château La Dominique
La Terrasse Rouge is a unique dining experience in Saint-Émilion. Located on the rooftop of Château La Dominique, La Terrasse Rouge is among just a handful of château restaurants in the entire Bordeaux wine region. You dine not only surrounded by Château La Dominique's vines, but those of famous neighbors such as Château Cheval Blanc and Château Pétrus.
Operated under the Maison Lascombes umbrella of restaurants, you can expect a high quality bistronomique experience. The menu changes seasonally to showcase regional produce and Bordeaux specialties like Aquitaine caviar, Cap Ferret oysters and Marmande tomatoes.
We particularly love La Terrasse Rouge in the summer months when you can enjoy the outdoor dining. Lunchtime is perfect and there's something magical about dining in a vineyard at sunset. No matter which time of day you choose, you can select from the a la carte menu or a 3-course tasting menu.
La Terrasse Rouge, 1 La Dominique. Reservations recommended.
La Table de Plaisance
Saint-Émilion is home to the 2 Michelin star La Table de Plaisance. At the helm is Chef Ronan Kervarrec, who hails from Brittany and has had a passion for cooking and food since he was a child. His cooking style is elegant simplicity and he marries together the flavors of Bordeaux, the Gironde and the Atlantic Coast.
A Discovery Menu is available for lunch with 3 courses and 2 sommelier wine pairings. A Terroirs Menu is a trip around the Nouvelle Aquitaine through a 6-course feast, which is available for lunch or dinner. Finally, a Souvenir menu is available at dinner only and features dishes that are special to Chef and a walk through his childhood memories. These menus must be ordered by the entire table. A la carte is also available.
You should note that only formal dress is permitted when dining at La Table de Plaisance, with a jacket required for men.
La Table de Plaisance, 5 Place du Clocher. Reservations obligatory.
La Table de Catusseau
Located in the village of Pomerol, La Table de Catusseau is a delicious stop while discovering the wine route of Pomerol and Saint-Émilion.
Owner-chef Kendji Wongsodikromo, who was born in New Caledonia, fell in love with both the South West of France and a French girl. Chef Wongsodikromo has worked under some of the most renowned chefs in the South West of France, and took over at the helm of La Table de Catusseau in 2015. With a bistronomique experience serving up modern French cuisine that highlights the seasonal produce and flavors available, it's no surprise Chef Wongsodikromo secured a Bib Gourmand distinction from the Michelin Guide.
The menu changes regularly to spotlight the freshest seasonal ingredients and you'll find cuts of meat such as Blonde d'Aquitaine and Bazas beef and fresh fish and seafood. At lunch, the Menu Catusseau is an excellent value for a gourmet meal with a choice of starter, main course and dessert. Of course, ordering a la carte is always an option. And you'll most certainly find the perfect wine pairing with 38 references on the wine list.
La Table de Catusseau, 86 Route de Catusseau, Pomerol. Reservations obligatory.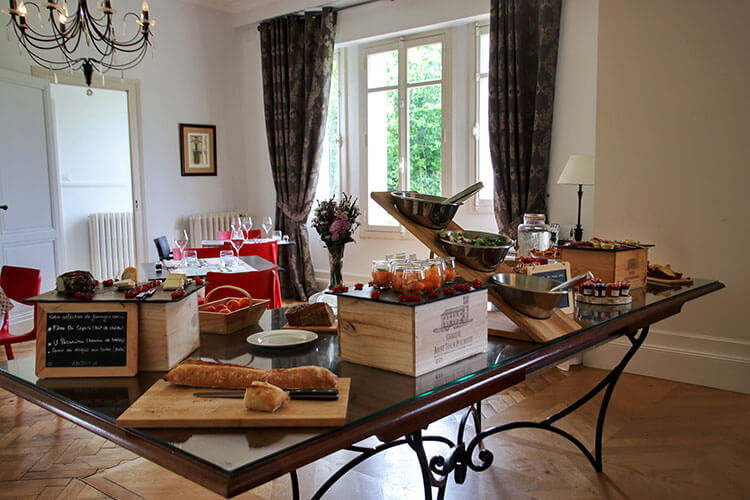 ChÂteau Ambe Tour Pourret
While Château Ambe Tour Pourret doesn't have an onsite restaurant and is not regularly open for meals, it's definitely worth including their Sunday brunch. Only available on the 1st Sunday of the month from June to October, this Saint-Émilion château hosts a monthly themed brunch.
Dine on a buffet of regional specialties including cheese, charcuterie, pastries, fresh fruit and salads and select a hot dish from the menu to be cooked to order. Sip on the château's sparkling Crémant de Bordeaux while surrounded by the vines.
It's a spectacular setting for a Sunday brunch unlike anything else in the Bordeaux wine region. A visit of the château is also included and there are 2 seatings for brunch at either 11am or 1pm.
Reservations are obligatory. Brunch is offered on the first Sunday of the month from June to October.