On the border of the Pomerol and Saint-Émilion appellations, Château La Dominique quite literally stands out among some of Bordeaux's most famous châteaux. It's the shiny red contemporary building that immediately catches the eye and draws you in. With a storied past, the château was brought back to life by a new owner with an innovative vision. It's here that the totally nontraditional comes together with traditional wine making techniques to produce a beautiful Saint-Émilion Grand Cru Classé. The visit reveals the architectural wonder and all its secrets, before seducing you with the fine wines and gastronomy of the château and its' restaurant, La Terrasse Rouge. Come discover this architectural gem in Saint-Émilion on your next visit to Bordeaux.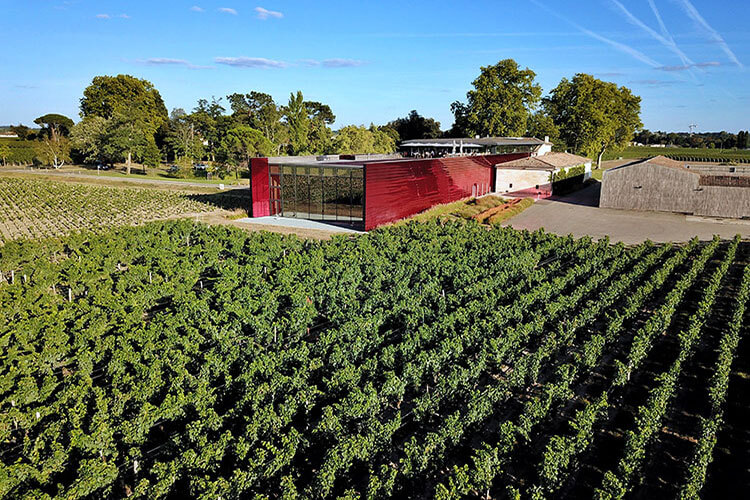 The History of Château La Dominique
Though Château La Dominique is the embodiment of modern Bordeaux, its history can actually be traced back to the 16th century. Some say that it gets its name from one of the original owners, Dominique Glenn, while others say that the château is actually named after the Caribbean island where the original owner first made his fortune.
It's been owned by the Fayat family, who own a number of other châteaux across the Bordeaux wine region, since 1969. And it was Clément Fayat that brought his vision of a modern winery with artistic elements to life in 2012 with the help of the famous architect Jean Nouvel. It took two years to finish, but the modern-meets-historic château quickly became an iconic beacon in the middle of the Pomerol and Saint-Émilion vineyards with it's shiny red cellar.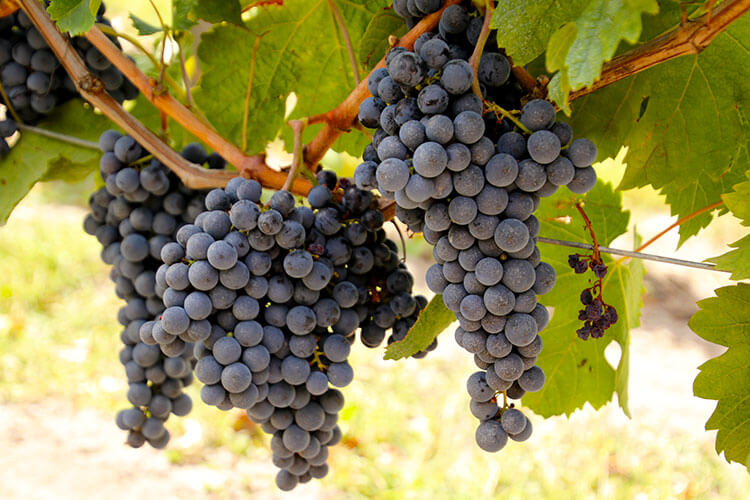 The Visit at Château La Dominique
As a gold winner of the Best in Wine Tourism for architecture, it's no surprise that the classic visit focuses on the modern architecture and design. Beginning outside alongside the shiny red cellar, we discover something that isn't immediately apparent. The layered stainless steel is painted in gradient shades of red, which are representative of the various colors you find in the vineyards of Château La Dominique. Another surprise is that when you stand at the right angle, the red stainless steel has a mirror effect to perfectly reflect the vineyards the cellar juts out in to.
The rooftop is home to the gourmet restaurant La Terrasse Rouge. A sea of red pebbles, which look like a giant pile of grapes that have just been harvested, dominates the rooftop. Like the gradient stainless steel that the cellar is constructed from, the pebbles are actually in three varying shades of red to again reflect the shades of red of the three grape varietals planted at Château La Dominique.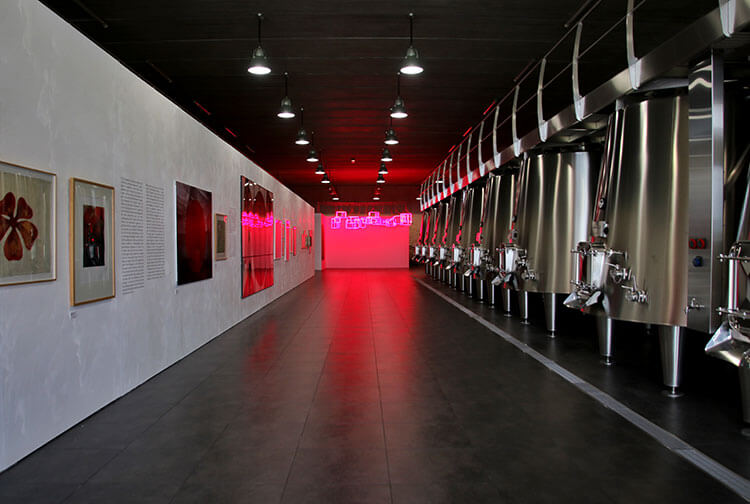 Not much happens in the vat room during the summer months when nearly all of the activity takes place in the vineyard itself. Château La Dominique recognized this as an opportunity and hosted their first art exhibition in 2018. While we've seen a number of art exhibitions in the barrel rooms, the exhibition featuring artworks in red brought new life to a part of the château normally very quiet during the summer growing season. Aesthetics were incredibly important to Clément Fayat, though not always practical for wine making. But he managed to bring his vision to reality with unique technical equipment like vats actually made for milk production that were modified exclusively for the château.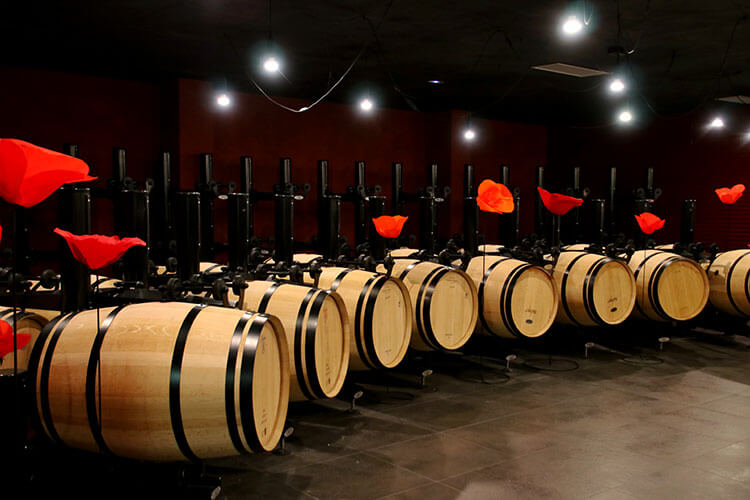 The multiple barrel rooms also go beyond simple storage facilities for the barrels where the wine ages. Things like the wiring of the light fixtures is draped in a homage to the spiderwebs of days gone by that clung to the ceilings of these cool, dark cellars. Another barrel room has huge poppies that were created for a gala event at the château, but were so fitting with the red artistic design that they were left for a pop of color.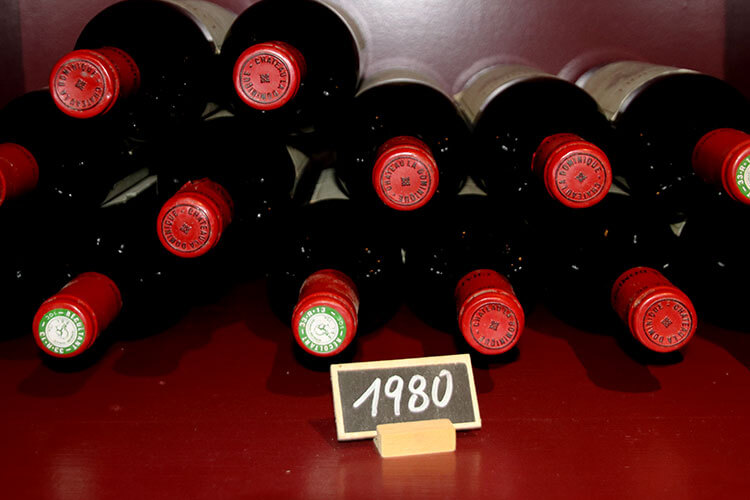 A tasting space for private tours is a miniature indoor version of La Terrasse Rouge, but instead of being surrounded by the vineyards, you're surrounded by a library of vintages mostly from the owner's private wine collection.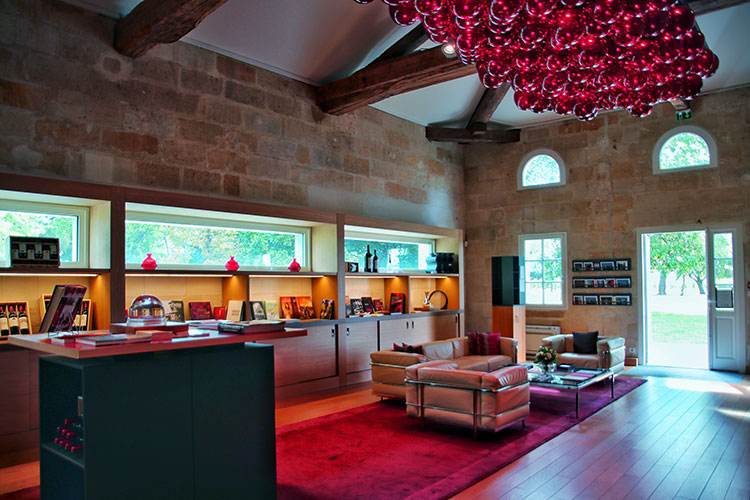 Otherwise, group tastings end in the boutique where a red blown glass light fixture draws your eye upward. You taste two wines, Château La Dominique Saint-Émilion Grand Cru Classé and their second wine, Saint-Paul-de-Dominique.
The visit needs to be booked in advance to tour the château, but the boutique is open if you're looking to just pop-in to a château for a tasting and to purchase some bottles. The boutique also has several products from local producers for sale, which of course pair wonderfully with their wines.
La Terrasse Rouge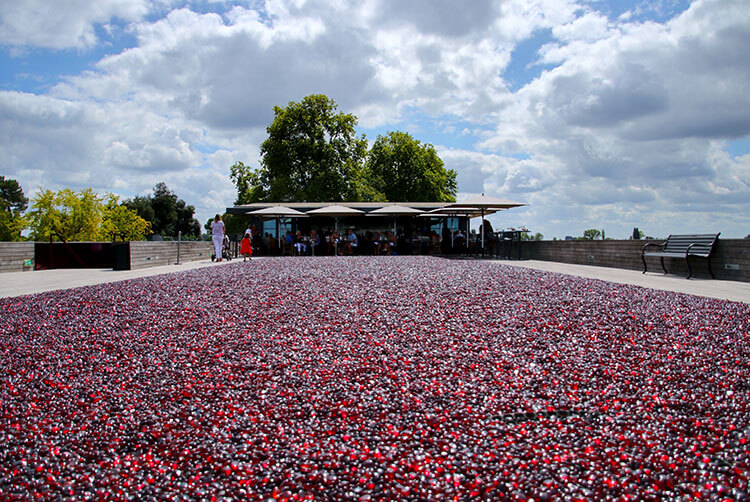 With the winery beneath your feet, La Terrasse Rouge is the rooftop restaurant at Château La Dominique. Situated on the border of the Pomerol and Saint-Émilion vineyards, La Terrasse Rouge offers an astounding view of Château La Dominique's vineyards stretching out from just beyond and the vineyards of some of its' famous neighbors like Château Cheval Blanc just next door and Château Pétrus.
There's only a handful of Bordeaux chateaux with restaurants and La Terrasse Rouge is unparalleled in Saint-Émilion. Particularly in summer when you can dine outdoors with the sun-kissed vineyard stretching out from below you, this is the place to soak up the vineyard ambiance.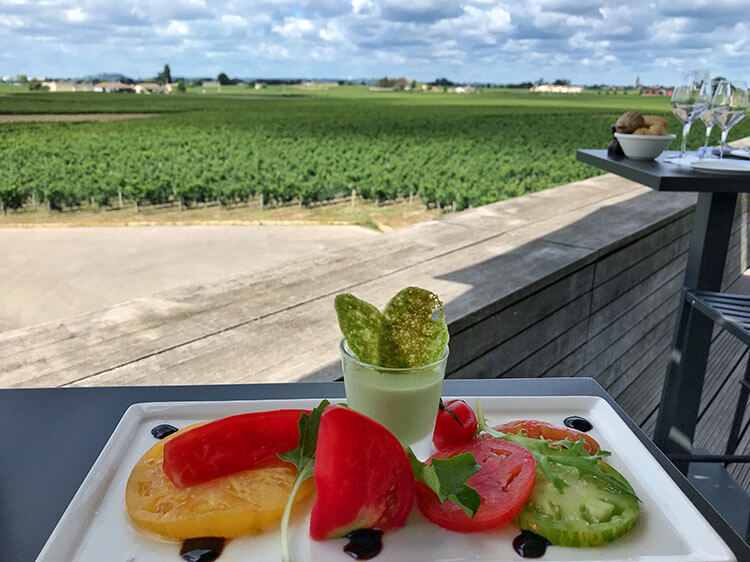 As one of the restaurants in the Maison Nicolas Lascombes collection around Bordeaux, you can expect the same exceptional cuisine and service of their other restaurants like Le 7 Restaurant at La Cité du Vin and La Chapelle at Château Guiraud in Sauternes. The menu features classic and re-imagined dishes of the southwest of France with seasonal culinary delights of the region like asparagus from Blaye in April, tomatoes from Marmande in summer and the black truffles of the Périgord come wintertime.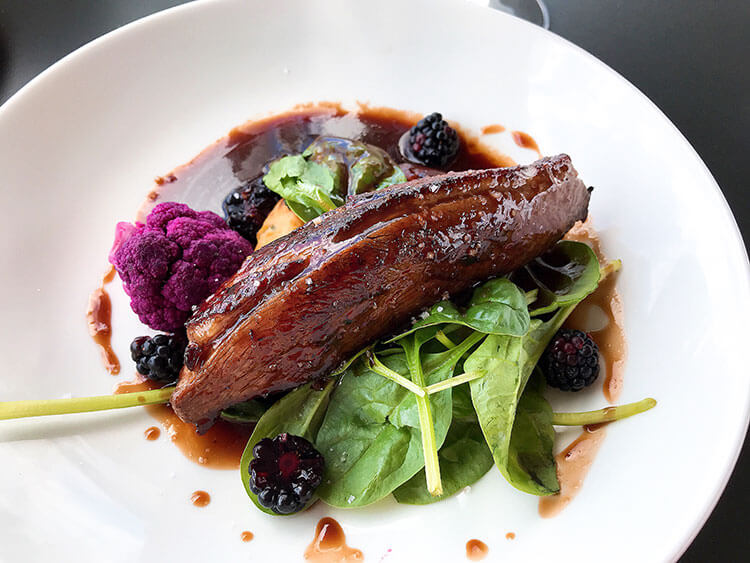 Nicolas Lascombes restaurants know their meat, sourcing it all from local producers, and La Terrasse Rouge is no exception. We chose the duck breast cooked in red wine with summer berries for our main course and it was flavorful. The wine list features 250 selections, mostly from the Right Bank as a homage to the location, and the wait staff are knowledgeable to suggest the perfect pairings.
You can select a la carte or the 3-course gourmet menu. The 3-course gourmet menu is available for both lunch and dinner and gives you a choice from two starters, two main courses and two desserts. There's also a reasonably priced kids menu with kid favorites like fish and chips, and it includes a dessert like two scoops of ice cream and a drink.
Know Before You Go
Getting There
Visits and Tasting
La Terrasse Rouge
Château La Dominique is best reached by car, but you can get there on public transportation. Take the
train from Gare de Bordeaux-Saint-Jean to Gare de Libourne
. The château is located 5 kilometers from the village of Libourne, so we recommend taking a
vcub
shared bike with you and bicycling to the château. vcub costs €1 for a 24 hour membership and €2 per hour for the rental.
Château La Dominique is open daily from April – October and Tuesday – Saturday from November – March. The Classic Visit is strongly recommended to book in advance and all other visits like the Private Tour, Prestige Tour and Wine & Flavors Tour must be booked in advance. You can book
online
.
La Terrasse Rouge is open daily for lunch and dinner. Lunch service is from 12-3pm and dinner service is from 7-10:30pm. Reservations highly suggested and you can book easily on
LaFourchette
.

Our visit and lunch was provided by Château La Dominique and Maison Lascombes in partnership with Saint-Émilion Tourisme in order to bring you this story. However, Bordeaux Travel Guide maintains full editorial control of the content published on this site. As always, all thoughts, opinions, and enthusiasm for travel are entirely our own.