Of course we all want to be traveling the world and visiting destinations like the World Capital of Wine. But no matter if you've had to temporarily put away your passport and hunker down at home or your trip to Bordeaux is just still weeks or months away, you can still virtually visit Bordeaux right from the comfort of your couch.
Thanks to technology, these days you can be transported right from your living rooms to tour Grand Cru Classé châteaux and see what's happening at some of Bordeaux's most famous monuments in real time. You experience the gastronomic specialties of Bordeaux through wine and food you can enjoy at home.
Taking an armchair trip to Bordeaux is never a bad idea. Treat yourself! You deserve a little virtual vacation and here's exactly how to visit Bordeaux virtually and through food and wine at home.
Visit Bordeaux Museums Virtually
Did you know that Bordeaux is home to more than a dozen different museums? You can even discover several of the unique cultural heritage museums of Bordeaux virtually through the currently available online offerings. From digitized museum exhibitions to online educational programs, there's plenty of ways to experience Bordeaux's museums while ensconced in the comfort of home.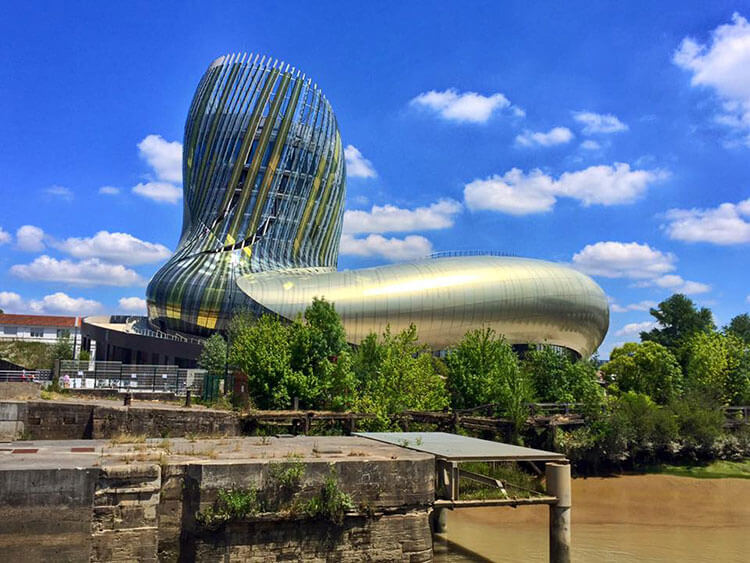 Visit La Cité Du Vin Virtually
You might not be able to visit Bordeaux's interactive wine museum in person right now, but you can visit a number of the exhibits through La Cité du Vin's library of free podcasts and video. The library of free audio and video includes interviews with personalities the wine world, history of various wine regions and wine throughout time, science such as the effects of climate change on viticulture and more.
Visit the Virtual Wine and Art Exhibit at Musée du Vin et du Négoce
A little gem of a wine museum, the Musée du Vin et du Négoce existed in the Chartrons quartier long before La Cité du Vin emerged on to the Bordeaux scene. These two museums are very different, and both deserve a visit when in Bordeaux. The Musée du Vin et du Négoce focuses on the story of Bordeaux wine trade, which was integral in shaping Bordeaux into the world renowned wine destination that it is today.
While the new virtual Wine & Art (Le Vin et Les Artes) is only available in French, even non-French speakers can appreciate it. Works of art from the museum know no language barriers as you "walk" through the exhibition digitally. And you can pick up a few French words through the various videos and French movie trailers that all center around the world of wine.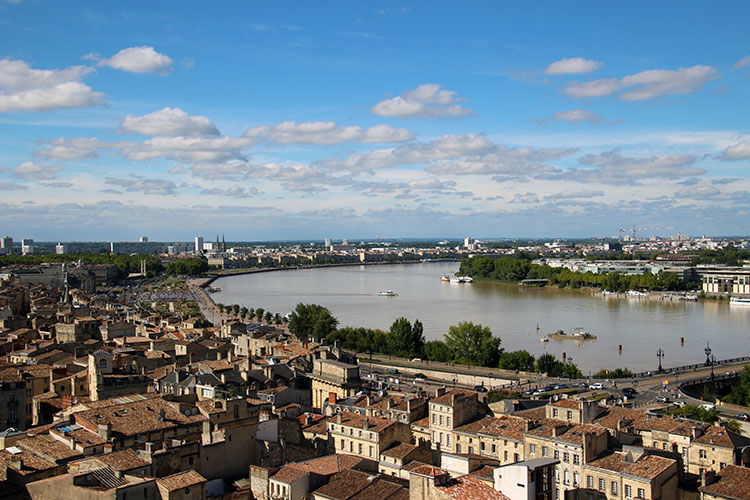 Check out the Bordeaux Webcams
Bordeaux has several webcams that you can virtually visit some of the most popular spots of the city with right from home. Watch the city go by from the Place de la Bourse or the Miroir d'Eau webcams or even soak up a Bordeaux sunset from the L'Estacade – Panoramique HD webcam.
We even used to do this while Tim was was living in South Korea! I'd take our dog, Emma, and we'd wave to him from the Miroir d'Eau webcam.
Take a Virtual Tour of Cos d'Estournel
Founded in 1791, Cos d'Estournel in Bordeaux's Saint-Estèphe is one of 15 Second Growths in the official 1855 Classification of Médoc Wines. The original owner and founder actually never sold the wines of Cos d'Estourne through the Bordeaux negociant system, and that practice continued on until the death of Louis Gaspard d'Estournel in 1852.
The next owner thought it was smart to sell the wine through the negociant system at Place de la Bourse, and it turned out to be a very wise decision. Only three years later Château Cos d'Estournel was included in the 1855 Classification among the Deuxièmes Crus.
In modern times, Château Cos d'Estournel is entirely dedicated to all things wine. The house is a luxe boutique hotel with unique rooms surrounded by the vines. There's also an on-site restaurant, which is one of just a handful château restaurants throughout the Bordeaux wine region. And of course, at the heart of it all are the vineyards and wine making facilities.
While you're planning for your next visit to Bordeaux châteaux, you can step inside Château Cos d'Estournel virtually with their 360-degree virtual visit of the maison, tasting room and vat room. All that's missing is the wine tasting at the end, but perhaps pick up a bottle at your favorite local wine shop or order one online from Vivino.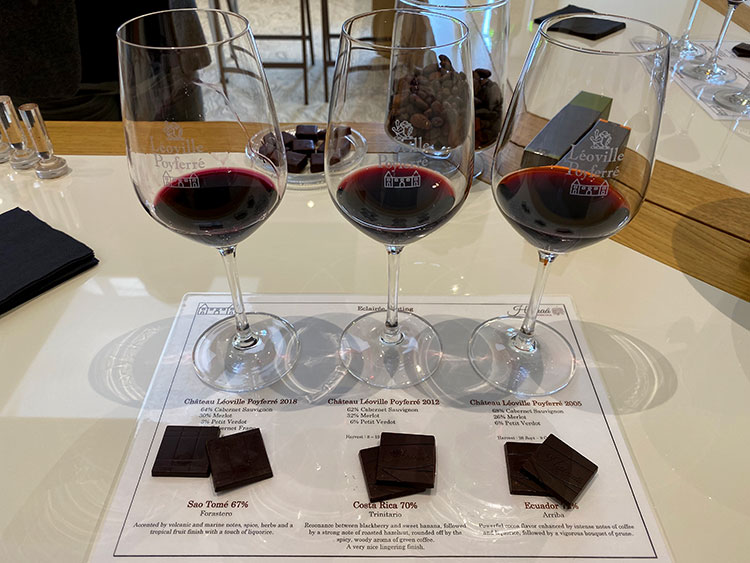 Host an At-Home Vertical Wine Tasting
The vertical tasting is the most classic tasting of Bordeaux wines. A vertical tasting is a tasting of a single wine from a single producer from at least three different vintages (years). So you might choose a specific Bordeaux château such as Château Léoville Poyferré, and purchase three different vintages such a younger vintage like 2016, a slightly older vintage such as 2012 drinking well now and an older vintage such as 2005 that has had time to age in the bottle.
When you drink Bordeaux wines in a vertical tasting, it's incredible to see the differences from year to year. These differences come from the terroir, as each year in the Bordeaux vineyard presents its own unique weather patterns and challenges. You can also appreciate how the wine ages over time.
Setting up your own at-home vertical wine tasting is very easy. You can do it at home with just your significant other, or host a party with some friends. You can even do it virtually with a Zoom get together. Visit your favorite local wine shop, or order online with merchants like Vivino.
Choose a Bordeaux producer and buy 3 – 4 different vintages of the same wine.
Visit the château's website and download the fact sheet about each vintage, which includes the winemakers notes about the vintage.
Use one glass per wine for each guest. So if you are including 3 vintages in your vertical tasting, you'll want to have 3 glasses for each guest. We like the Riedel Performance Cabernet/Merlot glasses that are especially made for Bordeaux wine.

Alternatively, you can use the same glass and have a wine spitoon available so guests don't feel obligated to finish each wine.
For the tasting, begin with the youngest vintage and work your way through tasting the vintages from youngest to oldest.
Encourage discussion about each wine. What do you think about the nose? The palate? How are the tannins? How does the wine feel?
You might even like to make it a regular event among friends! Take turns hosting the at-home vertical wine tasting parties.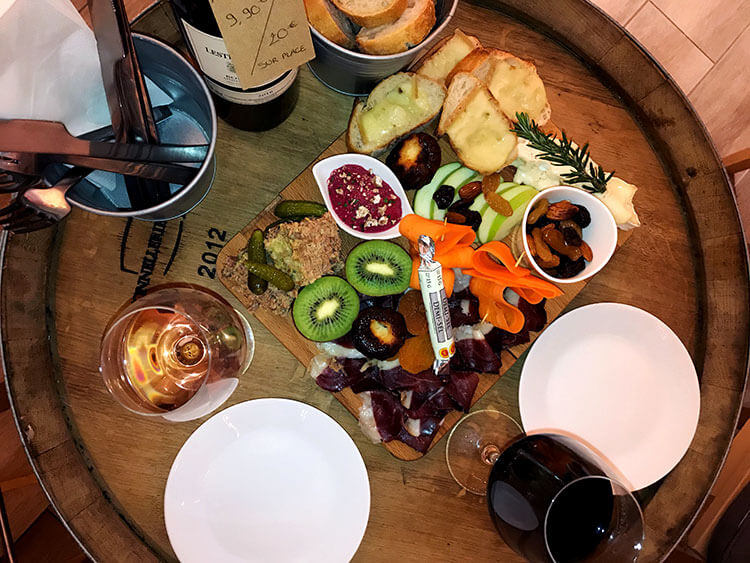 Make a Bordeaux Inspired Charcuterie Board for Apéro
A charcuterie board is a staple of Bordeaux wine bars. It's basically a beautiful board filled with cured meats, cheeses, nuts, fresh veggies or fruits, dips or spreads and more. Meant to be shared among friends, you'll typically see the Bordelaise with wine in hand as they snack on charcuterie boards as an apéro (before dinner snack) on the terraces of Bordeaux's wine bars.
So of course, one of the best ways to transport yourself to Bordeaux is to pick up a bottle (or two or three!) and build your own Bordeaux-inspired charcuterie board for an apéro at home.
So what exactly should be on your charcuterie board? There's no hard rules, but here's a few tips:
Select a few (at least 2-3) different cured meats. It's all about a variety of texture and spice profile. Create a spectrum of meats on your charcuterie board by including a sliced saucisson or chorizo, rillettes or terrine, and something delicate like a salt-cured Bayonne ham.

Get yourself a guillotine saucisson slicer to make those perfect thin slices you'll see in France.
Choose some (again 2-3) cheeses that compliment the meats. When it comes to choosing the cheeses, you want to select some with different fat content and milk types.

We like a firm cheese like a 18-24 month aged Comté, which has a nutty flavor that pairs very nicely with the Cabernet-Sauvignon heavy wines of Bordeaux's Left Bank. A Petit Basque, also known as Petit Brebis, is a hard sheep milk's cheese from the Pays Basque that we also enjoy, and it's even better if you can find a Petit Brebis with truffle. And add a creamy cheese like a Camembert.

Blue cheese lovers should try a Roquefort with a Sauternes, which is a heavenly cheese and wine pairing!
Add some dried unsalted nuts like cashews and almonds.
Add some fresh fruit or veggies. Kiwi and apples are nice, or fresh veggies like carrots and cauliflower. You can play with this depending on what produce is in season.
Include a dip or spread like some hummus to dip the veggies in, or a tomato confit to place on the bread.
Also include a few cornichons, which cut through the fat and cleanse your palette. You can easily find the Maille brand around the world.
And don't forget a nice crusty baguette!
Place it all in an eye-pleasing arrangement on the board. And remember to have fun with it!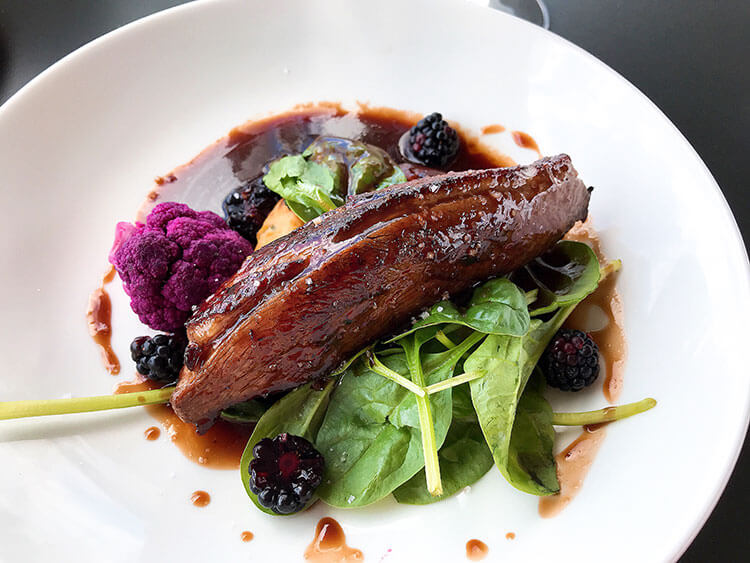 Cook Some Bordeaux Specialties from Home
Home world-class wines, it's no wonder that Bordeaux is also a gastronomic rich city with chefs cooking up Bordeaux specialties perfect for pairing with the wines from region. And while you'll no doubt enjoy a food and wine-filled trip to Bordeaux, home cooks can bring Bordeaux right to your table.
If we had to name a classic Bordeaux dish you should try, it's definitely magret de canard. Magret de canard, or duck breast, can be found on menus all across the Bordeaux wine region. Why? Well, the famous fatty duck breasts of France come from right here in the South West. The cut of duck breast usually comes from the mulard duck (also called moulard duck), which is a cross of the Pekin and the Muscovy duck. It's renowned for its rich meatiness.
It's typically sliced and served pink (medium) and drizzled with Bordelaise sauce (red wine sauce), alongside seasonal accompaniments. In winter, roasted potatoes or other root vegetables are delicious. In summer, you can play with dressing the dish up with berries or summer veggies.
You can get mulard duck breast delivered to your door in the US from D'Artagnan, which is run by Ariane Daguin. She's not only a chef herself, but the daughter of two-Michelin starred chef André Daguin from Gascony.
Some people find duck a bit intimidating to make. But it's actually quite easy, especially when working with duck breast. Try the recipes from The Bordeaux Kitchen, which provides excellent step-by-step instruction from home cook and fellow American Tania Teschke.
Basically the bible of Bordeaux cooking, The Bordeaux Kitchen is full of recipes to try from here in the South West of France. We could name hundreds of things to try, but we'll make just one other suggestion: parmentier. It's the French answer to a shepherd's pie and it's the ultimate of Bordeaux comfort foods.
Typically also made with duck in Bordeaux, parmentier is also classically made with beef. The rich meat mixture is topped with delicious mashed potatoes and baked. It's the perfect family dinner on a cold night, especially paired with a bottle of Bordeaux wine.
Let Your Mind Take a Trip to Bordeaux Through Books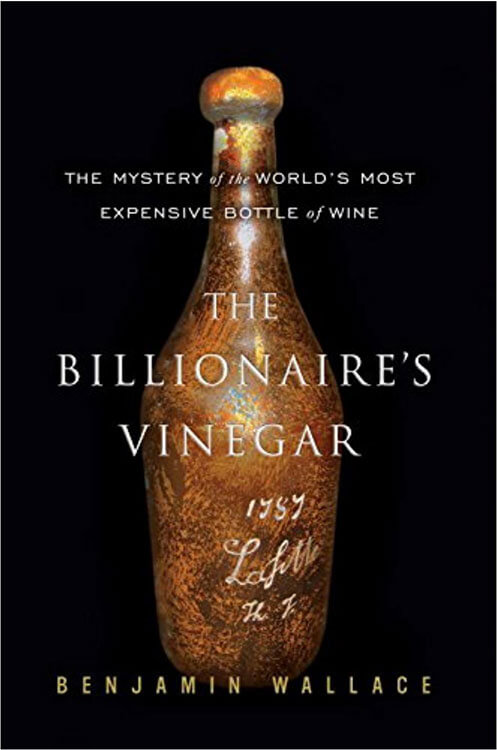 The Billionaire's Vinegar: The Mystery of the World's Most Expensive Bottle of Wine
A little bit about wine history and part gripping detective story, The Billionaire's Vinegar: The Myster of the World's Most Expensive Bottle of Wine tells the tale of the Château Lafite 1787 sold at Christie's auction on December 5, 1985. At the time, it was the most expensive bottle of wine ever sold at auction.
At the heart of the story is Hardy Rodenstock, who is known as the most controversial figure in the fine wine world. It was Rodenstock who discovered this Château Lafite 1787 engraved with the initials "Th.J" in Paris, which had supposedly belonged to Thomas Jefferson.
The book delves into the legal battle over the authenticity of the Jefferson bottles and down into a rabbit hole of the fascinating world of counterfeit wine.
BUY NOW
Bordeaux Bootcamp: The Insider tasting Guide to Bordeaux Basics
The world of Bordeaux wine is complex. Wendy Narby, who we have the pleasure of personally knowing, is a leader when it comes to Bordeaux wine education. Her book, Bordeaux Bootcamp: The Insider tasting Guide to Bordeaux Basics, is a read-at-home class covering Bordeaux's history, geography, the Bordeaux wine appellations, the various classifications of Bordeaux wines and more.
If you want to understand Bordeaux wine before you visit Bordeaux, this is definitely the book to pick up.
BUY NOW
The Drinking Woman's Diet: A Liver-Friendly Lifestyle Guide
Women wine lovers, this book is for you! This second book by Wendy Narby, The Drinking Woman's Diet: A Liver-Friendly Lifestyle Guide is a lifestyle book with a nod to how French women stay impossibly svelte and chic.
Packed with ideas and advice from specialists that Wendy tested herself, this is a smart and lighthearted book about maintaining your health without giving up your love of wine. And isn't that something we all especially need right now while spending much more time at home drinking wine?
BUY NOW
Bruno, Chief of Police Series
Benoît Courrèges, aka Bruno, is a former soldier turned police detective living in a charming village in the South West of France. While not specifically set in Bordeaux, this series of 15 books is by acclaimed author Martin Walker who himself lives in a tiny village in the Dordogne.
You'll discover the charms of life in the Dordogne through Bruno's daily routines like shopping at the local market and dealing with all the things that come along with living in a restored French country home. But a thrilling mystery keeps you turning the pages in this Bruno, Chief of Police Series.
BUY NOW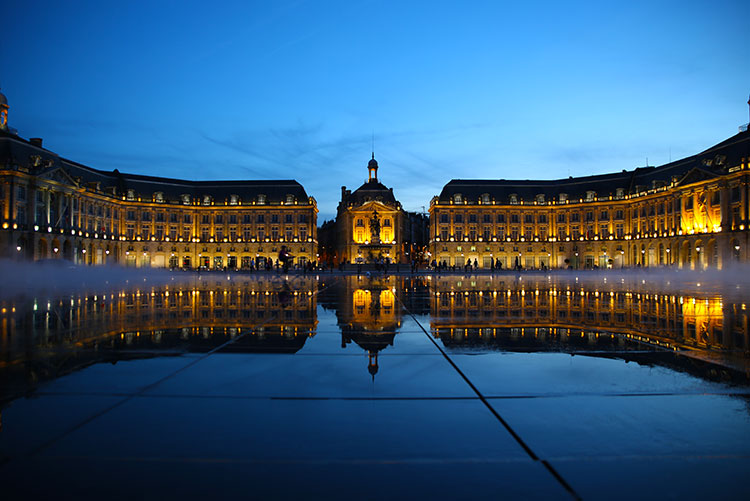 Challenge Yourself with a Bordeaux Jigsaw Puzzle
Undoubtedly one of the must-visit places in Bordeaux that you can't wait to check off your Bordeaux bucket list is the Place de la Bourse and Miroir d'Eau. Easily an iconic image of Bordeaux, visitors from far and wide admire one of Bordeaux's most beautiful squares while splashing around in the world's largest reflecting pool.
Get excited to see this beautiful sight in Bordeaux while working on a challenging 1000-piece Place de la Bourse jigaw puzzle. You can even get some modge podge to glue and frame the puzzle after you complete it.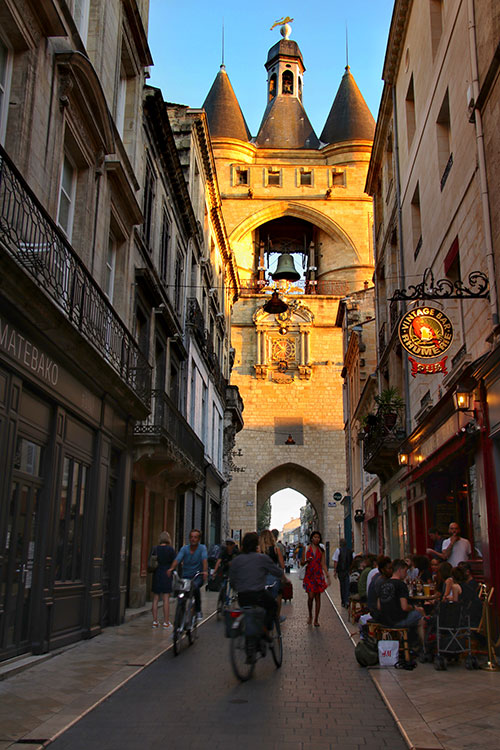 Relax Your Brain with Some Adult Coloring
In France, coloring books for adults are often found on best-seller lists. That's because studies show that coloring makes you feel calmer, mentally clearer and more relaxed. We could all use a bit more of that!
Grab the Coloring Book of Bordeaux, some crayons – and maybe even pour yourself a glass of wine. You'll get to know some of the monuments of Bordeaux like the Grosse Cloche while coloring, and you can look forward to visiting these very monuments in person on your trip to Bordeaux.
BUY NOW
Play the Ultimate Trivia Game for Wine Lovers
Challenge your partner or roommate to a friendly game of Wine IQ. It's the ultimate trivia game for wine lovers. You learn a lot about wine and wine regions – including Bordeaux – from all around the world. The fascinating oenology stories and facts make beefing up your wine knowledge fun.
You only need a minimum of 2 players to play, so you can definitely get a game going at home with your family, roommate or partner.
BUY NOW
This article contains affiliate links. When you shop on Amazon or Vivino through our affiliate sites, we earn a small commission at no additional cost to you.