When it comes to Bordeaux wine appellations, Saint-Julien practically rules the land. Saint-Julien is the smallest of the major Bordeaux appellations, but it also has the highest concentration of 1855 Grand Cru Classé estates in the entire Bordeaux wine region. In fact, about 95% of Saint-Julien's 920 hectares of vines are classified. That's why a visit to Saint-Julien and Château Léoville-Poyferré is a must for any Bordeaux wine lover. And their Grand Cru Classé pairing visits with cheese, chocolate or charchuterie are the icing on the cake at this family-run Bordeaux winery.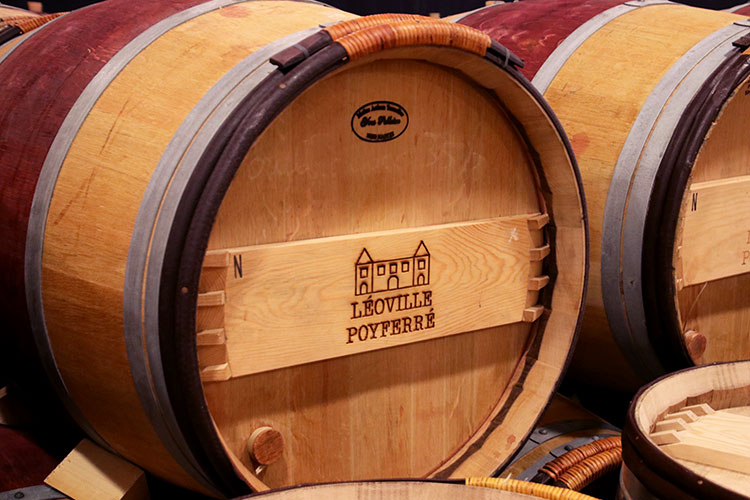 The History of Château Léoville-Poyferré
Château Léoville-Poyferré's history dates back to 1638, and is a shared one with Château Léoville-Las Cases and Château Léoville-Barton. At the time, the wine estate was the largest Médoc estate.
Originally named Mont-Moytié after its first owner, Jean de Moytié, the estate remained with the Moytié family for nearly 100 years. As is the history with so many Bordeaux châteaux, the estate came be owned by the de Gascq-Léoville family through marriage. It was Alexandre de Gascq-Léoville that renamed the estate to Léoville.
Alexandre de Gascq-Léoville was really at the forefront of vineyard management and wine making at the time. While his techniques were thought odd by many of his colleagues at the time, the practices like planting vines with smaller berries and aging in oak barrels are commonplace in Bordeaux today. He grew the estate to 120 hectares of vines, making it the largest in the Médoc in 1740.
It was in 1826 that the Léoville estate first was divided. Hugh Barton acquired two of the domains under the Léoville estate, and Château Léoville-Barton was born. The remaining original three quarters of the Léoville estate were again divided in 1840. An heir of Alexandre de Gascq-Léoville, Adolphe de Las Case, inherited a share. He established Château Léoville-Las Cases.
Adolphe's sister, Jeanne, inherited the remaining share. She passed the estate on to her daughter, who was married to Baron Jean-Marie Poyferré de Cerès. Château Léoville-Poyferré was established and the first wine produced was sold under the name Baron de Poyferre.
Under Baron Jean-Marie Poyferré de Cerès, Château Léoville-Poyferré earned the distinction of Deuxièmes Crus (Second Growths) in the 1855 Classification of Bordeaux wines.
The Baron owned the château until 1865, when he finally gave in to the toll of some tough years battling mildew following the 1855 classification. He sold the estate to the Lalande family.
The Lalande family kept the château until 1920, when the Cuvelier family purchased Château Léoville-Poyferré along with Château Moulin Riche. The Cuveliers were definitely not new to the wine industry. They'd already established a network all over France with their wine trading business, and acquired Château Le Crock in Saint-Estèphe in 1903.
Now nearly a century later, the Cuvelier family still owns Château Léoville-Poyferré. They'll celebrate their 100 year anniversary in 2020, and you can always find Cuvelier family members like Anne welcoming visitors.
The Visit at Château Léoville-Poyferré
A unique thing about Château Léoville-Poyferré is that it sits at the heart of the village of Saint-Julien. The estate's 80 hectares of vines aren't out their doorstep for the visit to begin in the vineyards. But it does begin in a tiny education vineyard that has been planted in their courtyard.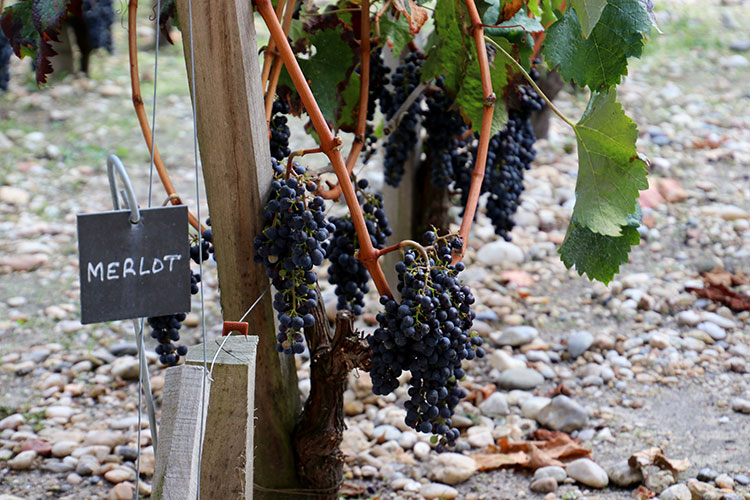 We really loved this vineyard. Unlike most châteaux where you only get a look at the closest plot of vines, the education vineyard is planted with vines from all the grape varieties that can be found on the Château Léoville-Poyferré estate. There's several rows each of Merlot, Cabernet Sauvignon, Cabernet Franc and Petit Verdot. And if you're visiting around harvest time, you can even taste the grapes right from the vines.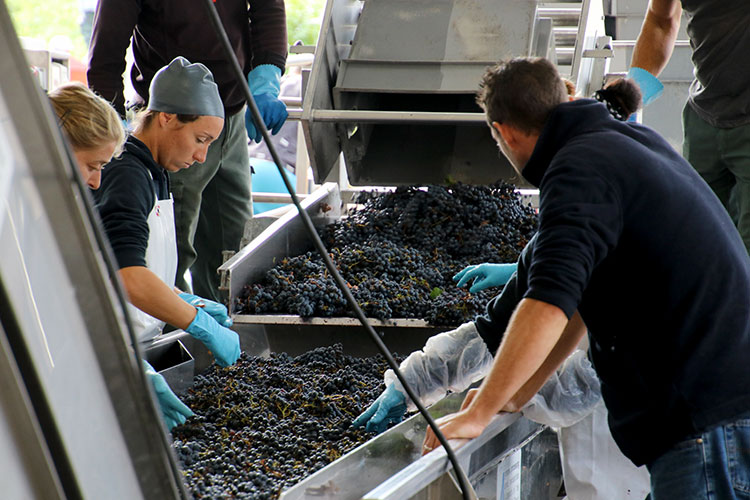 As we visited on a harvest day, the winery and vat room was bustling with activity. As grapes were going through the destemmer, optical sorter and crusher, the juice was being pumped right in to the stainless steel double skin tanks. These type of tanks allow for very precise vinification on a parcel by parcel basis. A placard hangs on each tank noting not only the vintage, but detail down to the very plot the grapes came from and the date the plot was harvested.
If you're lucky enough to visit Bordeaux during harvest, it's truly something special. Take note of how freshly crushed Merlot juice is a vibrant pink that looks like watermelon juice.
Château Léoville-Poyferré has a unique situation because of the division among heirs in 1840. Their winery is located across the street from their barrel rooms. But when there's a will, there's wine! They created a smart system that safely allows the wine to travel from the vats to the barrel room via a network of underground pipes.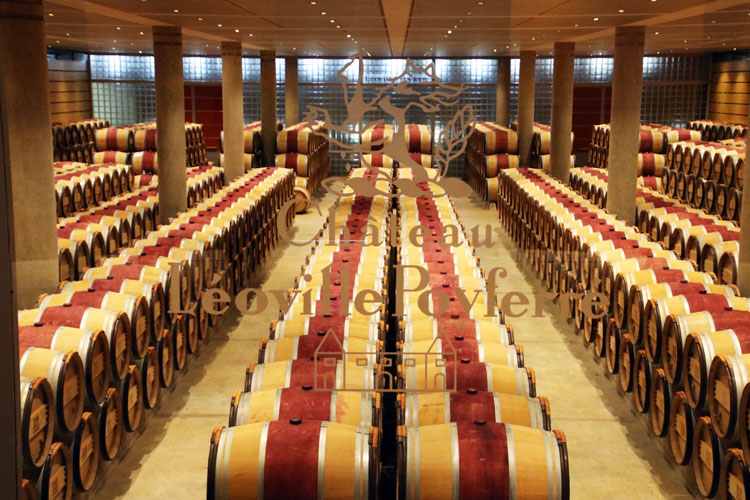 Malolactic fermentation takes place in Château Léoville-Poyferré's barrels. The wine is fermented and aged by its' individual varietal and plot. Blending for the selected blend of the next vintage takes place every June.
Our guide, Lori, also noted that Château Léoville-Poyferré makes small batches of kosher wine. A special team comes in to produce the kosher wine from grapes that have been set aside especially for this purpose. I thought it was fascinating, as I've visited over 100 châteaux in the Bordeaux wine region alone and never heard kosher wine mentioned before.
The classic visit ends with a tasting of the three estate wines: Pavillon de Léoville Poyferré, Château Moulin Riche and Château Léoville-Poyferré.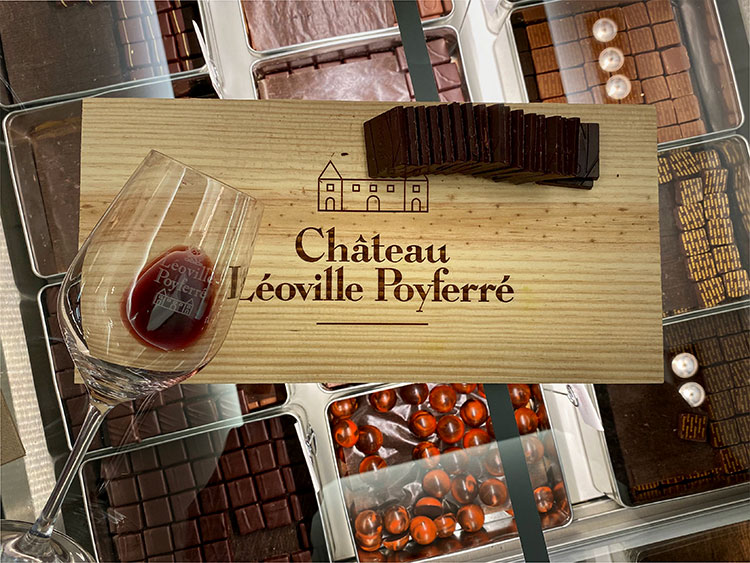 The Éclairée Tour and Tasting
This visit is for the chocolate lovers! Anne Cuvelier is as passionate about chocolate as she is wine, and teamed up with Hasnaâ to create a very special special Bordeaux wine and chocolate pairing.
The Éclairée Tour and Tasting is the classic visit to the vines, vat and barrel rooms, before pairing Bordeaux's famous Grand Cru chocolates from Hasnaâ with a vertical tasting. The most recent vintage barrel sample and two other Château Léoville-Poyferré are paired with carefully selected origin chocolates from Hasnaâ to create the perfect marriage between wine and chocolate.
Just as terroir plays a major role in making a world-class wine like Château Léoville-Poyferré, terroir is equally important when it comes to making quality quality. Hasnaâ carefully selects beans of origin, optimally ferments them just as grape juice ferments to make wine, and roasts her beans to achieve the perfect balance.
As you not only learn how to take in the aromas of wine, you learn how to taste chocolate. Château Léoville-Poyferré's guides are knowledgeable about both, which is what truly made this the best wine and chocolate pairing we've done anywhere in Bordeaux…and anywhere, for that matter.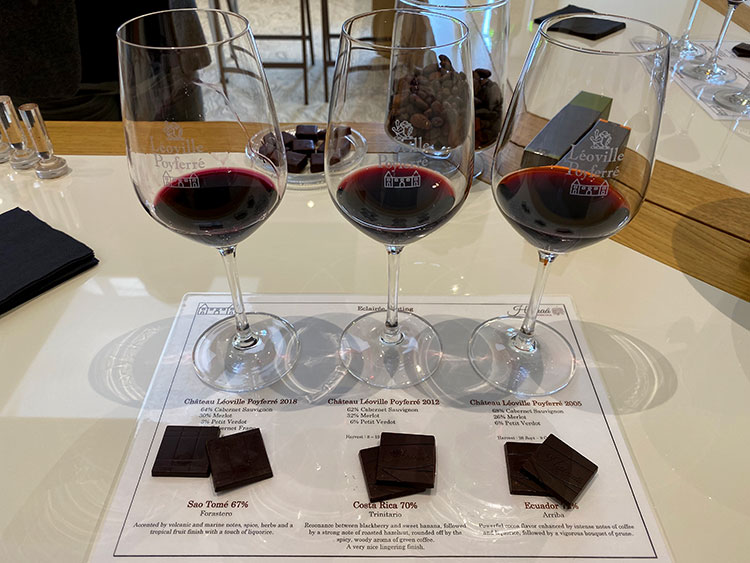 We began with a barrel sample of the 2018 vintage, which is already fantastic even though it is not technically ready yet. It's a testament to Château Léoville-Poyferré being one of the most consistent Bordeaux producers over the last 20 years, and what makes it hard to choose a favorite vintage.
The 2018 was paired with San Tome 67%. The beans come from volcanic marine soil, and the chocolate has spicy notes. It's a very good pairing as the still-aging vintage is more concentrated as it still is clarified every 3 months.
Next, we had a 2012 vintage with Costa Rica 70%. The 2012 is really opening up and quickly becoming a favorite vintage among Bordeaux lovers with its jammy notes. The chocolate has notes of blackberries, and surprisingly, bananas. This is one of our favorite pairings.
Finally, we finished with a 2005 vintage paired with Ecuador 72%. The 2005 is full bodied and the intense coffee notes in the chocolate make the two an indulgent combination.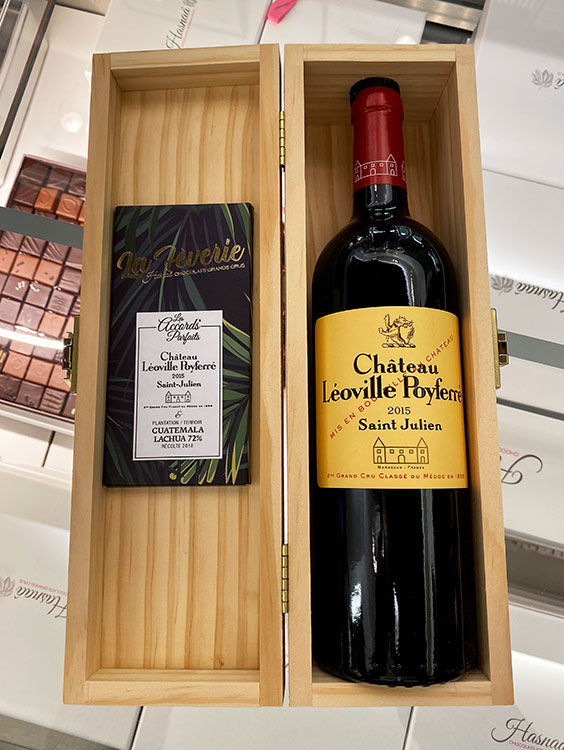 Château Léoville-Poyferré & Chocolate Lachua
Château Léoville-Poyferré and Hasnaâ have teamed up to create more than just a wine and chocolate pairing. They've created a souvenir you simply must take home. In a beautiful wooden keepsake box, you'll find a Château Léoville-Poyferré 2015 and two Chocolat Lachua 72% bean-to-bar chocolate bars Hasnaâ created especially for this pairing. The characters of each truly are a perfect marriage. This brand new collaboration is our absolute favorite of all the chocolate and wine pairings Anne and Hasnaâ created.
And you simply cannot leave without some of the exclusive Hasnaâ Léoville-Poyferré chocolates. These are from Hasnaâ's line of truffles, which are filled with a Léoville-Poyferré chocolate ganache. Believe us, these truffles are to die for.
Know Before You Go
Visits and Tasting
Getting There
Château Léoville-Poyferré is located in Saint-Julien, about 1 hour drive from Bordeaux Centre. Make sure when driving, you leave extra time to allow for traffic.
Château Léoville-Poyferré can also be reached by TransGironde bus 705 in the direction of Pauillac from Bordeaux in 1 hr 20 minutes. Be sure to check the schedule. It's one of a number of Bordeaux châteaux accessible on public transportation.