Located just steps away from the medieval village of Saint-Émilion,the regal mansion of Château Soutard sits down a long tree-lined drive and among a sea of vineyards. As one of the oldest estates on Bordeaux's Right Bank, it's an impressive château that would fit right in among the castle of the Médoc. But Château Soutard is anything but intimidating, instead welcoming visitors with a terrace where you can enjoy wine by the glass, on-site bicycle rentals to explore the surrounding vineyards and a variety of wine tourism activities to discover the wines of the château.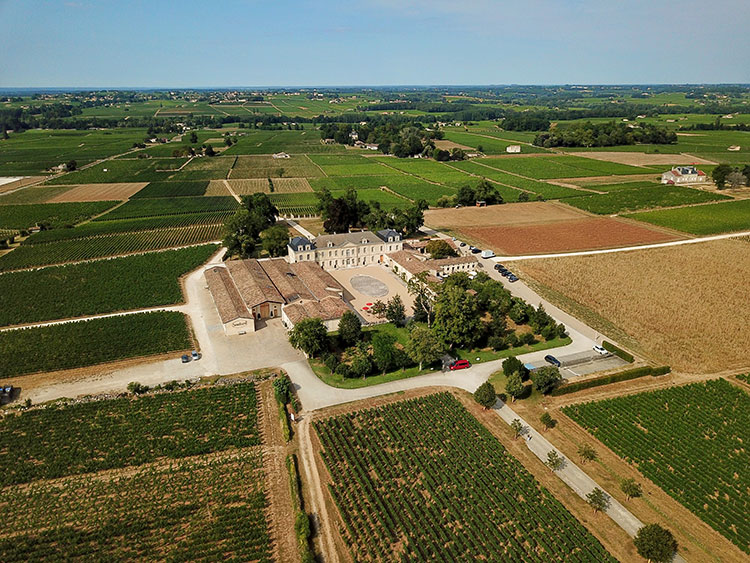 The History of Château Soutard
Château Soutard dates back to 1513, making it one of the oldest estates on the Right Bank of Bordeaux. But it wasn't always a wine producing estate. Château Soutard started from much more modest beginnings, originally as a farm with a windmill.
What we mostly see today is the 18th century château, which was built by Marie Couture in 1741. She and her family kept the 16th century wings, the original bread oven and the dovecote. The family then continued making the château even more beautiful, and they planted the vines.
In fact, it was Château Soutard that lead the way in Saint-Émilion with the practice of planting vines in rows. It's practically inconceivable now, but 300 years ago grape vines were planted in to rows we've become so accustomed to today.
It's the story with so many Bordeaux châteaux. There's a long history of changing hands through various families, who left their mark on Bordeaux. And it's no different at Château Soutard.
At some point in the 19th century Château Soutard was acquired by Jean Lavau, who was mayor of Saint-Émilion from 1730 – 1732. He was the biggest land owner in Saint-Émilion at the time, with all of his properties extending over 288 hectares with 62 hectares of vineyards. It was during his time as owner that Château Soutard really began to prosper.
Michel des Ligneris acquired the château in 1919 and he, then his heirs ran Château for almost a century. In 2006 it was finally sold to the French insurance company La MONDIALE.
While Château Soutard isn't family owned these days, La MONDIALE invested quite a bit in to the estate. Not new to being wine-producing châteaux owners, La MONDIALE already owned Château Larmande and Château Grand Faurie. They completely renovated the château from top to bottom with a multi-year project, first focusing on modernizing the wine making facilities with state-of-the-art gravity-fed facilities.
The project included the joining of the vines of Château Soutard with those of Château Cadet-Piola, which has been integral in the expansion of the vineyard. The multi-year project concluded with a renovation of the château itself, opening three bedrooms and living areas of the château to be able to welcome guests to stay.
The massive undertaking of renovations and improvements lead Château Soutard to wine in Bordeaux's annual Best of Wine Tourism competition, receiving a gold prize in the Architecture and Landscapes category in 2012.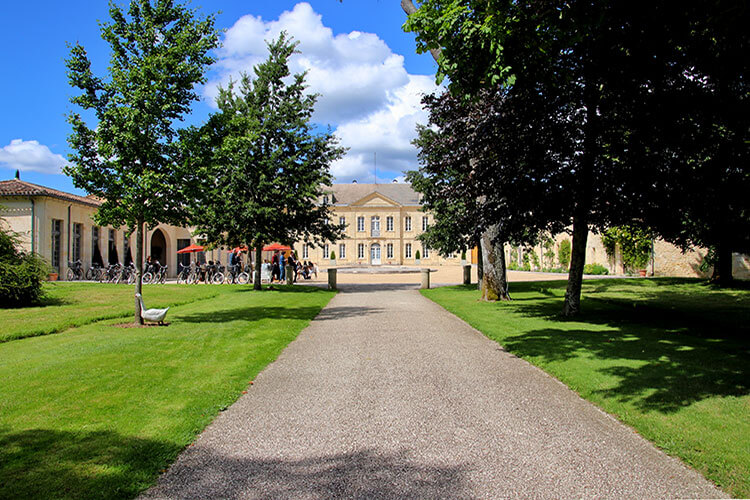 The Visit at Château Soutard
As already mentioned, Château Soutard actually got its start as a typical Bordeaux farm back in 1513. We can see the original wings still today, and it's here that the visit begins in the courtyard to admire the humble beginnings and hear a bit about the history.
Château Soutard is large in terms of a Saint-Émilion winery, with 30 hectares of vineyards planted with Merlot, Cabernet Franc, Cabernet Sauvignon and even a small percentage of Malbec. The average size of a Saint-Émilion wine estate is 7 hectares.
We're clearly on top of the Saint-Émilion plateau, with the medieval village peeking through Château Soutard's vines. But if you take a bike ride or try out the bike boards, you'll quickly discover the hillside slopes. This is some of Château Soutard's best terroir.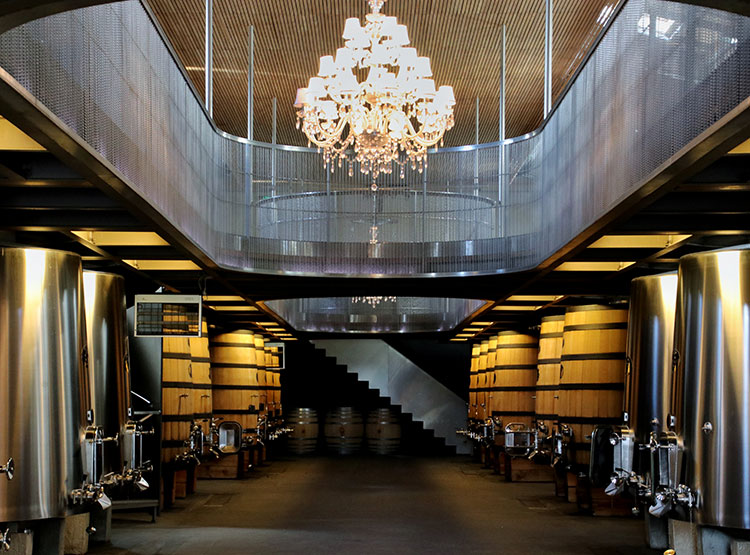 The architect Fabien Pédelaborde was charged with leading the winery and cellar renovations, and he designed an elegant space. The vat room is certainly one of the prettiest we've seen, and we've visited more than 100 Bordeaux châteaux including top château like Château Cheval Blanc.
The wine is all vinified in the combination of stainless steel and wooden vats. Just like the gravity fed winery delivers the wine downstairs to the barrel room, a glass elevator whisks visitors down to the cellars.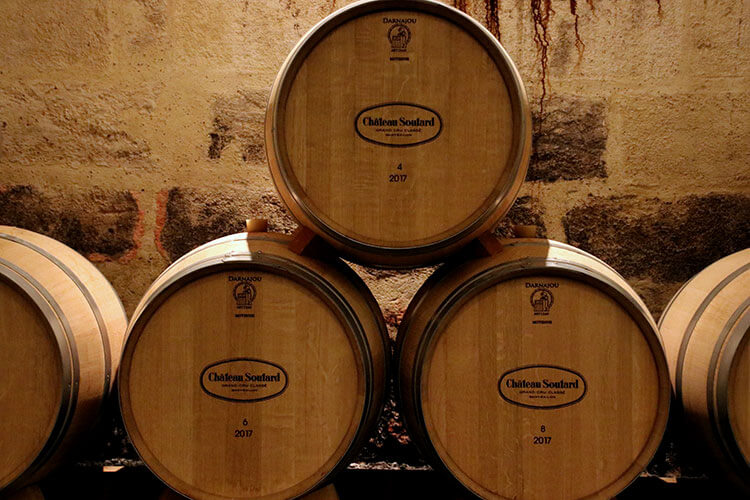 One of our favorite areas of any château visit is usually the barrel rooms. It's here that you usually get the first intoxicating scents of the wine aging in oak barrels. But the barrel rooms are sealed and you only observed through glass at Château Soutard. We were lucky that some barrels were racked in the cellar reception room, but we do have to admit we were a bit disappointed to not go inside of the barrel room.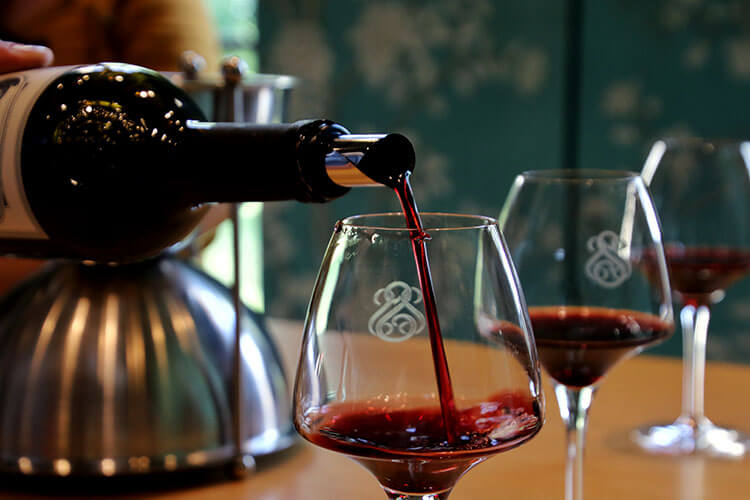 The Classic Tour ends with a tasting of the first and second wines of the château, and the visit and tasting lasts 1 hour. This visit is offered at 2pm daily in English as a small group, and Château Soutard is one of very few châteaux where no prior booking is required. We would definitely recommend you book in advance though, as the Classic Tour may fill up and the summer months from May – September are high season.
In addition to the Classic Tour, Château Soutard offers a Signature Tour. This tour is longer at approximately 2 hours and includes a tasting of 5 vintages. Prior booking is obligatory for the Signature Tour.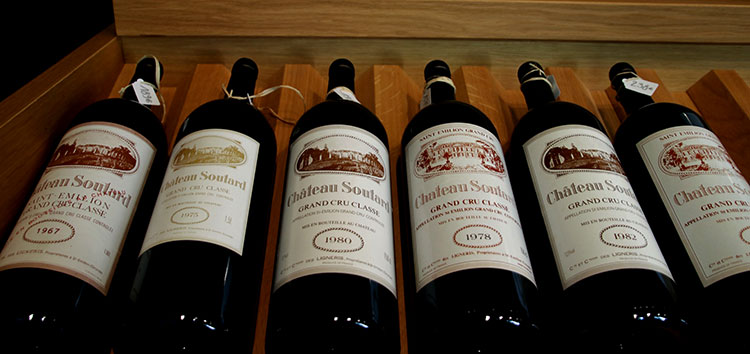 The château also has a boutique where you can purchase a number of different vintages, including some older vintages even as old as 1967. The boutique also sells a small selection of locally made products and souvenirs. And one of the things we noted is that they have a jar of corks from the bottles they've opened with a sign that encourages visitors to take a cork. Since we keep our corks, we like to collect a cork when we taste and most Bordeaux châteaux won't give out corks.
We must say that the landscape and architecture are our own favorite aspects of this Saint-Émilion Grand Cru Classé estate. It's a place you want to linger. Once inside the courtyard sipping a glass of Château Soutard on a summer day, you quickly forget about the bustle of busy Saint-Émilion only steps away. Château Soutard is also one of few châteaux that have a "tasting room" à la Napa Valley where you can just purchase wine by the glass as you can on their terrace. As Château Soutard is only a few minutes walk from the village of Saint-Émilion, it's one of several châteaux you can easily visit without a car rental or Saint-Émilion day tour.
Know Before You Go
Getting There
Visits and Tasting
Château Soutard is easy to reach from Bordeaux. Take
train from Bordeaux to Saint-Émilion
. Walk from the train station up to the top of the village, then on to Château Soutard just down the road. The walk takes around 30 minutes from the train station.
Château Soutard
is open Monday – Friday from 9am – 5:30pm in winter and daily during summer. Appointments aren't required for the Classic Tour, but are highly recommended. Book your visit online.

This article contains affiliate links. When you book on Trainline through our affiliate sites, we earn a small commission at no additional cost to you.