The French Riviera meets Surf City USA, Biarritz is the jewel of France's Atlantic coast. Once a playground of the royals of the 19th century who partied their summers away in the swanky villas and palaces, the glitzy stars of old Hollywood like Frank Sinatra and Rita Hayworth followed suit at high society parties. But it was 1957, when American screen writer Peter Viertel caught a wave, and suddenly Biarritz was sittin' on top of the world. The French Basque beach town just 20 miles north of the Spanish border and a mere two hours south of Bordeaux. And whether you're waxing down your surf board, basking in the Basque sun, soothing yourself at the spa, teeing off for a round of golf or gorging yourself on the gastronomy, there's a little something for everyone. Pop down on the train from Paris or Bordeaux and don't miss these top things to do in Biarritz for the perfect 3-day getaway in this relaxed beach town.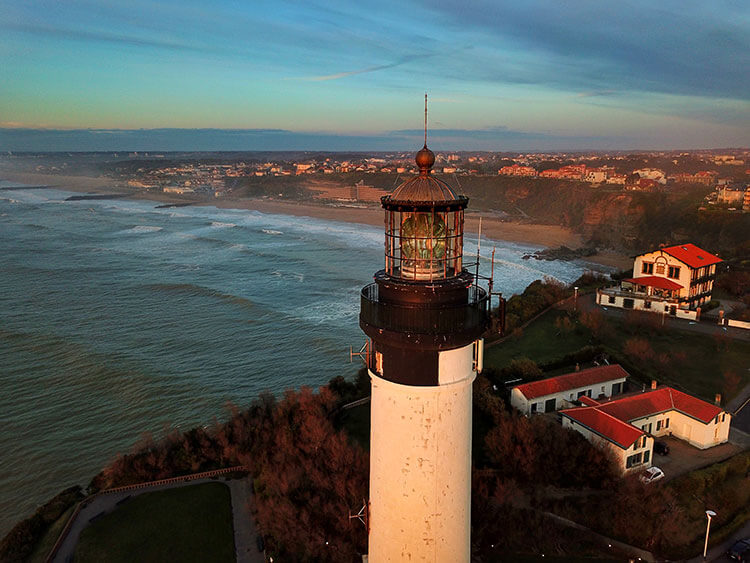 Day 1: Exploring Biarritz
Biarritz might have become famous as the it destination for sun bathing thanks to Napoleon III and Empress Eugénie, but Biarritz's history stretches back much further and certainly wasn't always glamorous. Once called Beariz, the village that Biarritz sprang from was perfect for whaling and that was the main industry here from the Middle Ages into the 17th century.
These waters were once rich in whales. The fisherman would harpoon and then beach them while the tide was high. They'd wait out low tide to cut the whales up, then melt the fat in ovens. Whale fat was a precious commodity in those times, as it was used to light houses. But they didn't just use the fat; the bones were used to build enclosures, the skin was used for making helmets and seats, and the meat was eaten. Biarrots subsisted off whales and whaling until the whales moved away from the coast.
But by the 1600s the Biarrot women were already sunbathing on the beaches and swimming in the sea, right alongside the fisherman. Councillor de Lancre expressed his disapproval in 1609 about the mix of women and fisherman carrying on along the coast, but no one paid him any mind and they continued right on with their fun in the sun.
Victor Hugo visited and became enchanted with Biarritz in 1843. He recognized what the future would hold and predicted that the day would soon come when Biarritz would be the fashionable place to holiday.
It was barely a decade later when then Countess of Montijo decided to settle in Biarritz for two months after she married Napoleon III. Napoleon III and Empress Eugénie, as she was now known, were warmly welcomed and their first trip together was spent in the Château de Gramont, which belonged to the mayor of Bayonne just up the coast.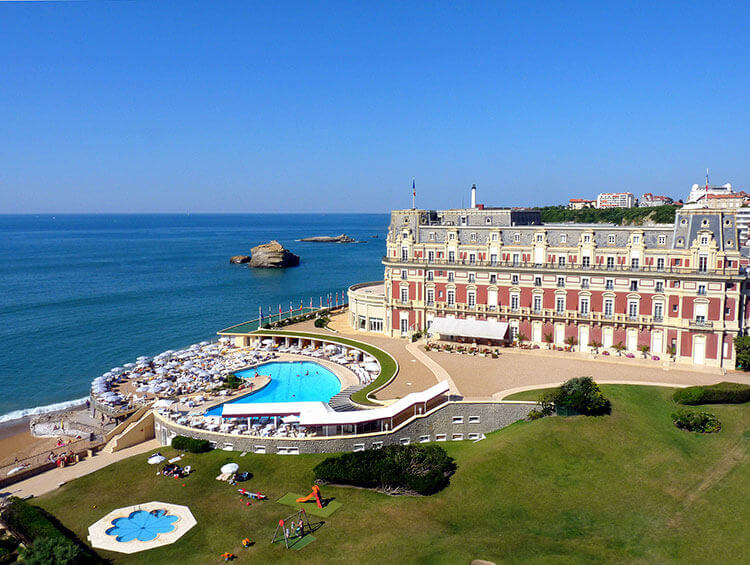 Empress Eugénie had spent her summers as a child in Biarritz and had a long love for this place. Napoleon III built a summer residence for her, naming it the Villa Eugénie (today it's the Hôtel du Palais Biarritz), and they summered there every year until 1868.
Biarritz became a playground of the royals of Europe, with everyone from kings of Wurtenberg, Portugal and Belgium to the princes of Poland and Russia summering in the now fashionable French Basque village. Eugénie's former residence was turned in to the Hôtel de Palais in 1893 and the 20th century gave way to high society parties that would continue to attract the world's elite until this very day.
Biarritz has so much more to offer than the gambling at the casino and the hideaways of the rich and famous. With six kilometers of beaches and a cosmopolitan town built up around them, there's everything from surfing to world-class golf courses to delight just about any interest.
Start your perfect weekend getaway in Biarritz by discovering the town. Follow the coastal path to these attractions and viewpoints in Biarritz:
The Rock of the Blessed Virgin
Rocher de la Vierge, or the Rock of the Blessed Virgin, is one of the best viewpoints to take in the Bay of Biarritz with its Grande Plage on one side and the Cotê des Basques and Pyrenees on the other.
This rock, which is shaped like the hull of a ship, is emblematic to Biarritz. Named for the statue of the Blessed Virgin, erected and blessed by Biarritz priest Father Casaux in 1865, it commemorates the miraculous return of Biarrot whalers who had been caught in a storm.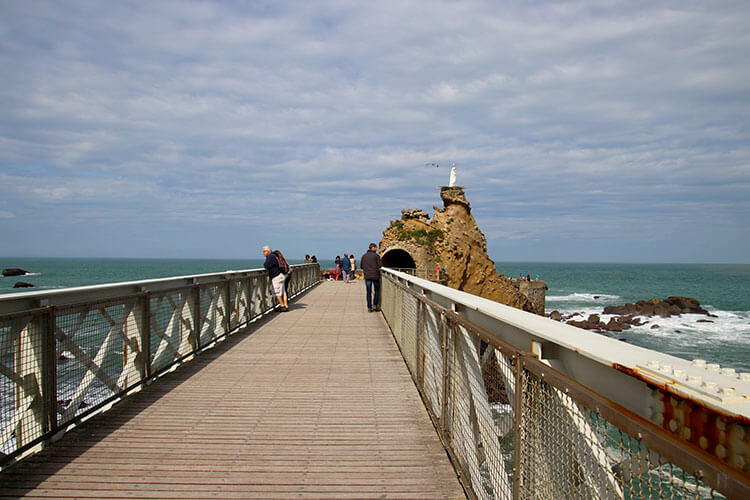 Napoleon III planned to use the rock as an anchor point for his planned sea wall of the Port de Refuge. He ordered a wooden foot bridge to be built to connect the coast with the rock, but the often dramatic surf took its toll and the wooden bridge collapsed within two years.
The metal bridge we still walk out to the Rocher de la Vierge today was supposedly built by Gustav Eiffel (yes, the very same man Paris' Eiffel Tower is named for) in 1887.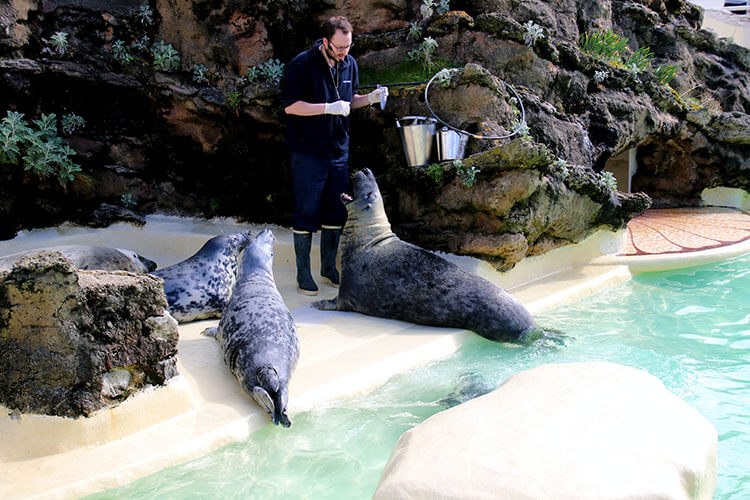 Aquarium de Biarritz
Biarritz is home to the second largest aquarium in France and the Aqaurium de Biarritz has been a fixture of the city since 1933. There are four levels of fish and aquatic life from not only the Bay of Biscay, but from around the world. About much more than an attraction for visitors, the aquarium has a large staff of marine biologists working to preserve local marine life. Live coral is grown here for the tropical fish from the Caribbean to the Indo-Pacific, and a team of technicians ensures that every species gets the royal treatment.
The jewels of the aquarium are the hammerhead sharks, which are the only hammerheads in France, and the gray seals.
Four of the aquarium's gray seals, including the only male, were rescued when they were seal pups. The pups were just 1-2 months old and were stranded on the beaches nearby. There are five seals in total and two were born at the aquarium after the male, Charlie, mated with another of the stranded pups, Okéra. The marine biologists feed the seals twice daily at 10:30am and 5pm at the panoramic pool. The seals are not trained and don't do any tricks, but the marine biologists provide information about the gray seals common to the Atlantic waters here as they feed them over 4 kilos (about 9 pounds) of makerel. You'll learn facts like the mothers feed their pups for just 21 days after birth before abandoning them and that they can hold their breath for 15-20 minutes underwater at a time.
Biarritz Aquarium is open daily, expect December 25th. Check their website as opening hours vary by season.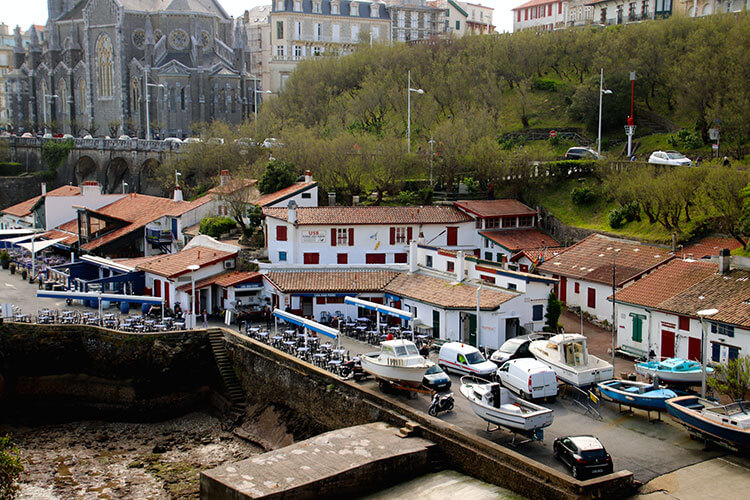 Port des Pêcheurs
Napoleon III once dreamed of making Biarritz a great port city. Once that idea was abandoned (for the better, according to the locals) the remaining imperial funds were used to construct the small Fisherman's Wharf, or Port des Pêcheurs as it's known in French, in 1870. A handful of boats are moored here, but the fresh fish that is caught and served in the fashionable restaurants of the port is actually caught just a few kilometers down the coast in the fishing village of Saint-Jean-de-Luz.
The houses you see here are called crampottes. When the port did serve as a port for the fisherman, Napoleon III allowed them to stay in the fishing huts free of charge so long as they gave part of their catch for maintenance costs. We hear there were great parties here, and it was a true honor if you were invited to stay in one of the houses.
The crampottes are just as they were when they were built in 1870. Wander through the port to have a look at the small houses, which are a great contrast to the Belle Epoque inspired buildings that line the Grande Plage.
Sunset at the Biarritz Lighthouse
There's several really spectacular spots to take in a Biarritz sunset, and one of them is definitely the Biarritz Lighthouse. Built in 1834, it towers over the coastline at a staggering 73 meters (239 feet) high and officially marks the boundary between the sugar-sand beaches of the Landes and the rocky beaches of the Basque.
The view from the rocky Hainsart Point that the lighthouse sits on is already a stunning one, and many lovers bring a blanket and bottle of wine to enjoy while waiting for the sunset to paint the sky in golds, pinks and purples. You can also climb the 248 steps to the top of the lighthouse for an unparalleled 360-degree view.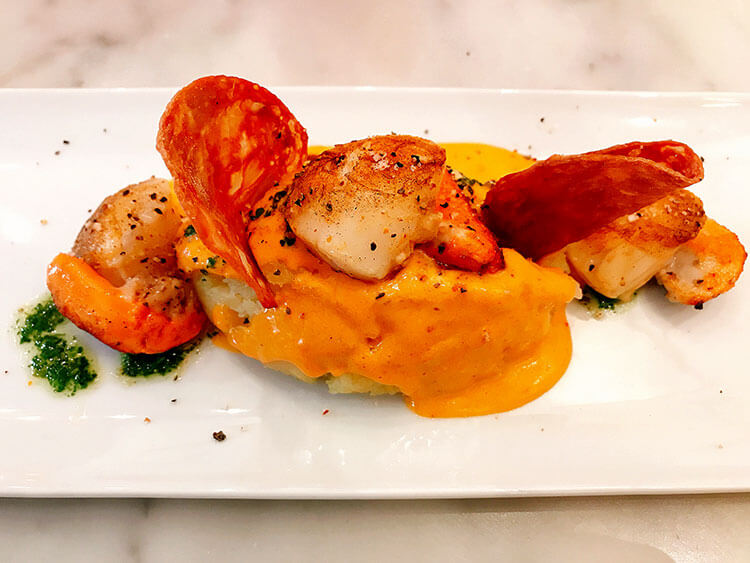 Dinner at Chistera & Coquillages
Pintxos literally means toothpick food and is the Basque version of tapas. This being the Pays Basque, of course pintxos are as prevalent in Biarritz as they are in San Sebastián. It's the quintessential Basque cuisine.
Historically, pintxos are smaller than tapas and the name comes from the tradition that these finger foods were served on a small slice of bread with a toothpick securing them to the bread for the ease of picking them up. But just as the Basque Country has evolved, so have pintxos. There's quite a diverse variety of pintxos these days and very few are skewered to bread with a toothpick anymore.
Head to Chistera & Coquillages alongside Les Halles de Biarritz, where the pintxos of the day are written on huge chalkboard menus. Unlike pintxos bars in San Sebastián where you grab an empty plate and fill it up from the selection on the bar, at Chistera & Coquillages you'll be seated and served at your table. We recommend starting off with 4-5 pintxos per couple first, then you can always order more if you're still hungry.
We had a platter of a dozen oysters and a selection of pintxos. If the smoked anchovies are available, try them. No, really. I hate anchovies and these smoked ones, which the owner told me are the best in the world, may have just turned me in to an anchovy convert. They're that good. The tuna is like nothing you've ever tasted and the scallops on a bed of creamy mashed potatoes and topped with a Basque Espelette sauce made me want to lick the plate clean. Finish off with a slice of Gâteau Basque with a dollop of chantilly cream.
Chistera & Coquillages, 13 Rue des Halles. Reservations recommended.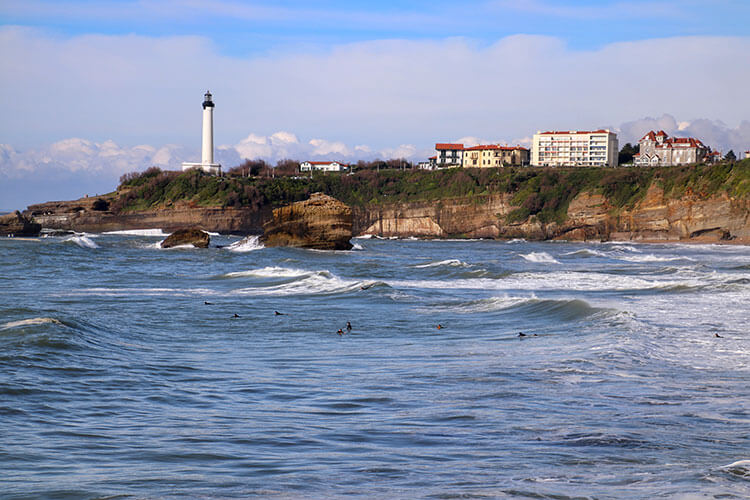 Day 2: Surfing and Seawater Therapy in Biarritz
Biarritz is the birthplace of surfing in Europe, thanks to American screenwriter Peter Viertel. When Peter and his wife, Deborah Kerr, came to Biarritz to film his movie The Sun Also Rises (an adaptation of a Hemingway novel) in 1956 with their film crew, film producer and experienced surfer Dick Zanuck saw the spectacular waves at the Grande Plage Biarritz. Zanuck promptly sent a wire to California to have his Hobie balsa wood surfboard sent over.
After quite literally smuggling the surfboard in to Pays Basque from Spain to avoid the steep taxes at the time, Dick had to suddenly return to California and he left his surfboard with Peter and the film crew. Never having surfed before, and with Hemingway himself looking on from the beach, Peter tried surfing on the Côte de Basques. It was not successful and the board ended up tossed against the rocks.
In 1957 Peter returned to Biarritz after having lessons and becoming a pretty good surfer back at home in California. When Peter caught a wave, he also caught the attention of the French.
When Peter returned home to California after that second trip in 1957, he left his surfboard to Joël de Rosnay, the famous French-Mauritian molecular biologist who had lived in Biarritz as a child. As the first adopter of a Californian imported surfboard and a founder of the first surf club in Biarritz, Joël is credited as the pioneer of surfing in France.
Gradually a surf culture formed and today it is a way of life in Biarritz, and all along the Basque Coast.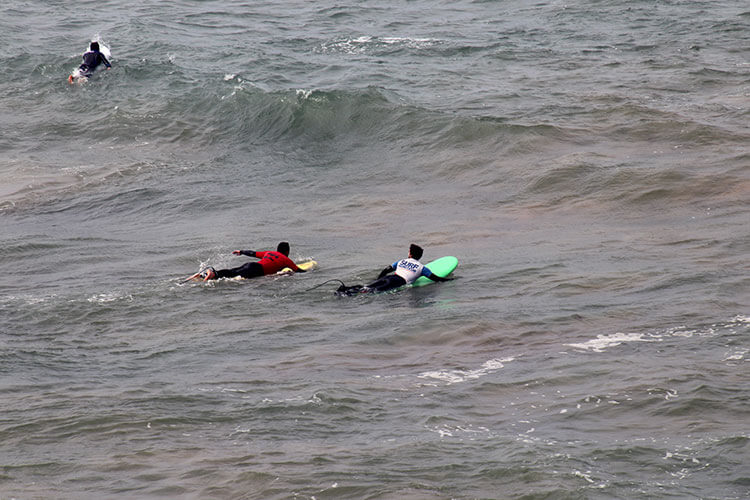 Surf Biarritz
When it comes to what to do in Biarritz, you don't come to the birthplace of surfing in Europe and not give it a go. At least we don't!
Tim and I actually had surf lessons probably more than 10 years ago when we visited Maui. In warm and pretty calm waters, we both managed to catch some baby waves and ride our boards all the way in to the beach. Proud of ourselves for getting up and riding waves more than once, we even rented some boards the next day and gave our friends that were traveling with us a lesson.
Let's just say there's something to being younger and fitter, because I didn't catch a single wave successfully during my surf lesson in Biarritz. Even so, it was a fun way to spend a morning and connected us to the surf culture of this town.
I was a little (or a lot, if I'm being honest) reluctant as we made our way to the Jo Moraiz Surf School Biarritz on the Côte des Basques. The waves were much bigger here than in Hawaii and I was worried about freezing my butt off since I know the Atlantic isn't the warmest even on the hottest summer day. It was April.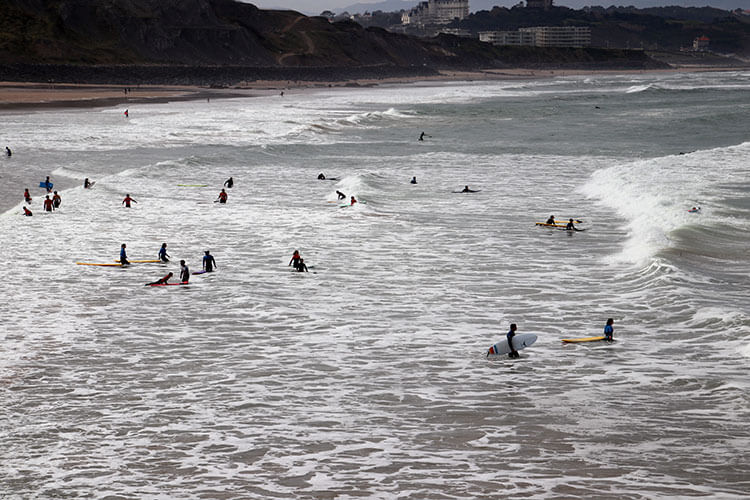 Jo Moraiz was one of France's first surfers and represented France in the first Surfing World Championship in Peru in 1962. A few years later, he opened the first surf shop in Biarritz. Jo began offering surf lessons in 1966, though no one really paid any attention to him. It wasn't until eight years later that his surf lessons finally started to gain some popularity and his methods were adopted by the French Surf Federation, the organization that would come to control licenses in France.
It's the world renowned Jo Moraiz Surf School where we've turned up shivering on this cool April morning. Jo passed away in 1999, but his son Christophe carried on both the passion and tradition. I'm assured I won't be cold once I put on the wet suit and booties they provide.
After a short warm up and stretching session on the beach, our instructor shows us how to properly get up on the board. On the beach it's pretty easy and in no time, we're attaching the surfboard leash around our ankles and splashing in the Atlantic.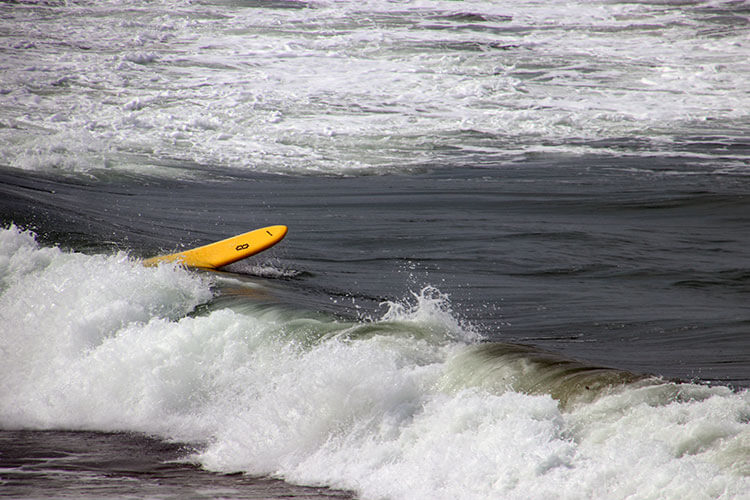 I needn't have worried about being cold. Precisely 30 seconds after paddling against the Atlantic's waves, I'm not the least bit cold. And I didn't even think about the water temperature as I spent the next two hours on a repeat cycle of paddle, attempt to stand up, fall over and paddle back out to our instructor.
The lessons are in really small groups, and thanks to someone calling up to cancel as we were wriggling in to our wet suits, it was just the two of us. There's 1 hour 30 minute lessons available for those that just want to try out surfing and everything from 3-day to week long surf camps. The littles can even try out Biarritz surfing in July and August when a special course is offered for kids 6-9 years old.
If you're an experienced surfer, you can always just rent a board and a wet suit from a surf shop, check out the surf forecast for Biarritz and hit the waves.
Jo Moraiz Surf School, Plage de la Cote des Basques. Advance booking required.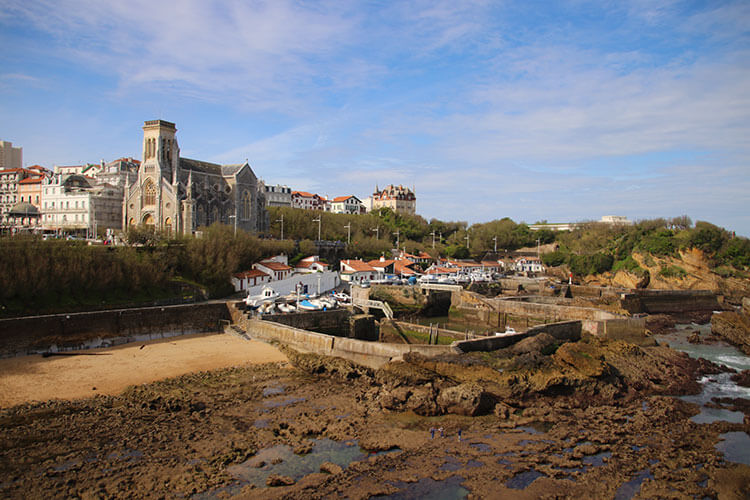 Lunch at Chez Albert Biarritz
Head back to the Port des Pêcheurs for lunch at one of the best Biarritz restaurants. Popular for dinner, we think Chez Albert is best experienced while the sun is shining and you can really enjoy the ambiance of the ancient port. Ask for a table on the terrace, where you can take in the old fisherman huts and hear the waves gently lapping at the rocks in the port.
Chez Albert is a fish and seafood lover's paradise that has been serving locally caught fish and seafood since 1967. The fresh seafood and fish comes from Saint-Jean-de-Luz these days and the menu changes with the fresh catch of the season. The house special is the towering three-tiered plateaux de fruits de mer.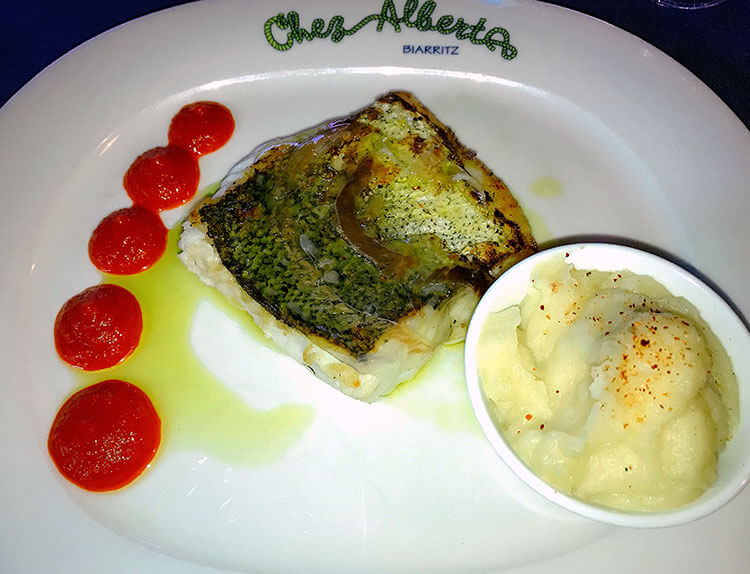 As tempting as the seafood tower was, we opted for the traditional Basque fish called hake that we had discovered we really love on our Gourette ski trip. Spiced with piment from Espelette, it was served with mashed potatoes and a side of piperade. But you can bet we'll be back again for the grilled lobster and tower of seafood another time.
Chez Albert, 51bis Allée Port des Pêcheur. Reservations recommended, especially in summer.
Seawater Therapy
Biarritz isn't just famous for its surfing. With three seawater therapy centers in Biarritz, it's becoming the capital of seawater therapy.
Seawater therapy, or thalassothérapie as it's known in French, was invented by a French doctor from Quiberon on the Breton peninsula in 1964. Though it dates back to the Greeks and Romans leveraging the health benefits of the sea. It was discovered that when seawater is heated, our bodies quite literally absorb all the minerals through osmosis. These minerals help to oxygenate, regenerate and restore our bodies.  
After a morning of using muscles in places I didn't even know I had them and generally feeling beat up by the sea, I was more than ready for a relaxing afternoon of thalassothérapie spa treatments. We headed to the Thalassa Sea & Spa at the Sofitel Biarritz. It was opened in 1979 by the former racing cyclist Louison Bobet, then integrated into the Sofitel when the hotel's parent brand Accor bought the institute in 1997. There's a team of 90 therapists and technicians that can accommodate up to 300 guests each day.
With a wide range of treatments including seawater massages, mud baths and seaweed wraps, there's something for everyone.
My Thalassa Sea & Spa experience began with a seawater cocoon. My therapist rubbed minerals all over my body and then wrapped me in a seawater wrap. While the wrap went to work and the minerals soaked in, she gave me a relaxing facial and head massage. Next I had a seawater massage in which a shower of warm seawater rained down on me while the massage therapist gave me a relaxing full body massage. My third and final treatment was a hydrotherapy seawater bath, in which I relaxed in a bath tub with jets and a massage therapist massaged me with a jet shower that helps to loosen up muscles and joints as well as treat cellulite.
After treatments are complete, there's a hammam, sauna and heated relaxation pool with stunning views overlooking the ocean that you can relax in. And I did just that for a few hours. Having my seawater therapy scheduled for after a strenuous activity like surfing was absolutely perfect.
Sofitel Biarritz Le Miramar Thalassa Sea & Spa, 13 Rue Louison Bobet. Advance booking is required, and you do not need to be a guest of the hotel to book treatments.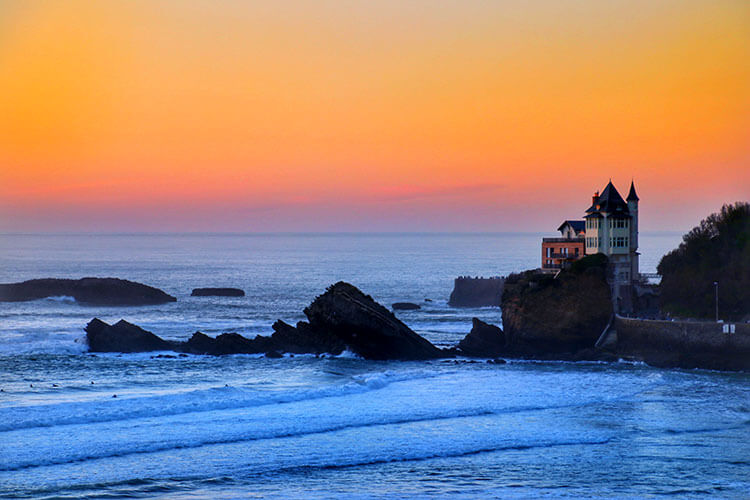 Sunset at Côte des Basques
Watch tonight's sunset from the Square Jean Baptiste Lassalle. The cliff side with stairs descending down to the Plage de la Côte des Basques is the most popular place to watch the sunset and if you get there early enough, you might score a coveted table at the tiny bar. This spot overlooks the beautiful clifftop mansion named Villa Belza, which has been the backdrop of several movies and served as the location of epic parties à la what I envision were something straight out of The Great Gatsby during the Roaring Twenties.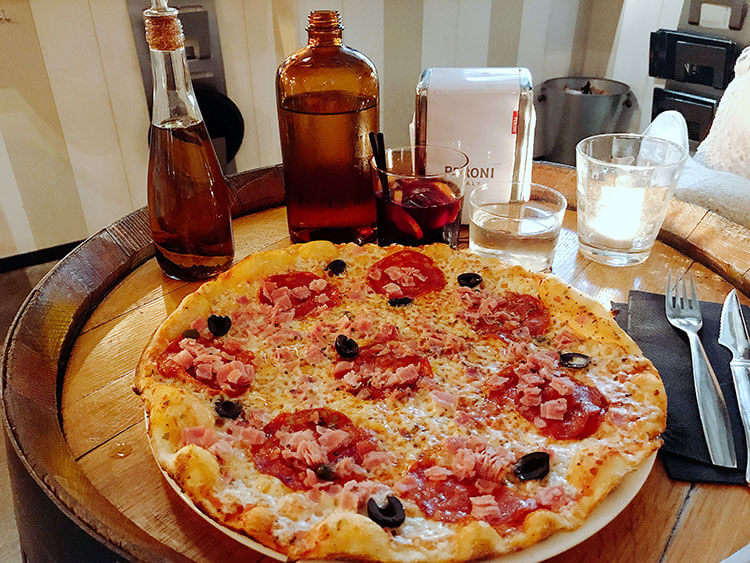 Dinner at Chez Coco
Coco Chanel opened her first boutique outside of Paris in Biarritz in 1915. Tucked back just off the Avenue Edouard VII, the Chanel Biarritz sadly closed soon after the outbreak of WWII in 1939. But the memories and even the stories of Coco Chanel walking the streets of Biarritz live on in the former atelier, which is now a chic pizza restaurant named Chez Coco as a nod to Coco herself.
We just happened to stumble upon Chez Coco before we knew the back story, and it was a terrific find. Having lived in Italy for seven years before moving to Bordeaux, we know good pizza and Chez Coco is reputed to serve up some of the best pizzas in Biarritz. The menu also features Italian dishes with a Basque flair. Any night of the week, it's nearly impossible to get a table without a reservation as this stylish restaurant is loved by locals and tourists alike.
Chez Coco, 5 Rue Gardères. Reservations required.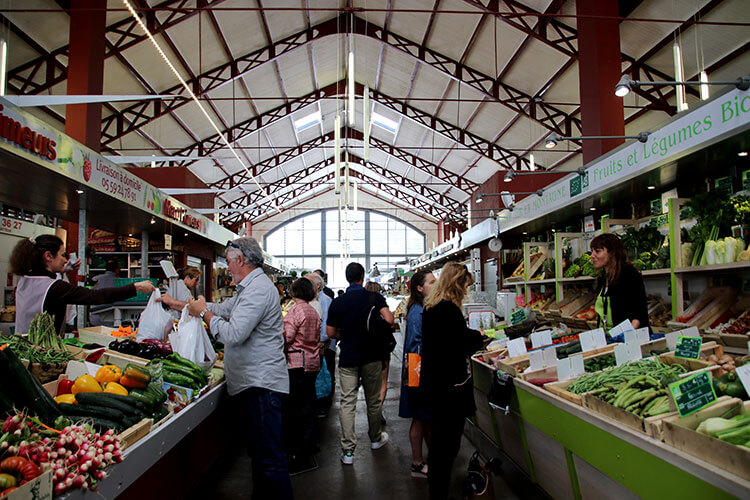 Day 3: Marché aux Halles de Biarritz and Golfing in Biarritz
Start the day at the Marché aux Halles de Biarritz, when morning is when the market is really bustling. Biarritz's covered market hall has been a fixture in the heart of the city where dozens of traders have served patrons since 1885. Locals come to shop for their produce, meat and fresh fish here, and tourists come in awe of the spectacle.
But today the Marché aux Halles is much more than a covered market. Some of the best restaurants in Biarritz can be found inside, like the the gourmet Maison Balme. Started by a family of truffle farmers from Provence's Vaucluse, the love of truffles has been passed down through four generations and it's all about the truffle at this tiny stall with just a handful of seats. Balme has a simple menu of omelets, cheese and charcuterie – all featuring truffle, of course. Sit right at the counter while they cook up the fluffiest omelets and the scents of truffle fill the air.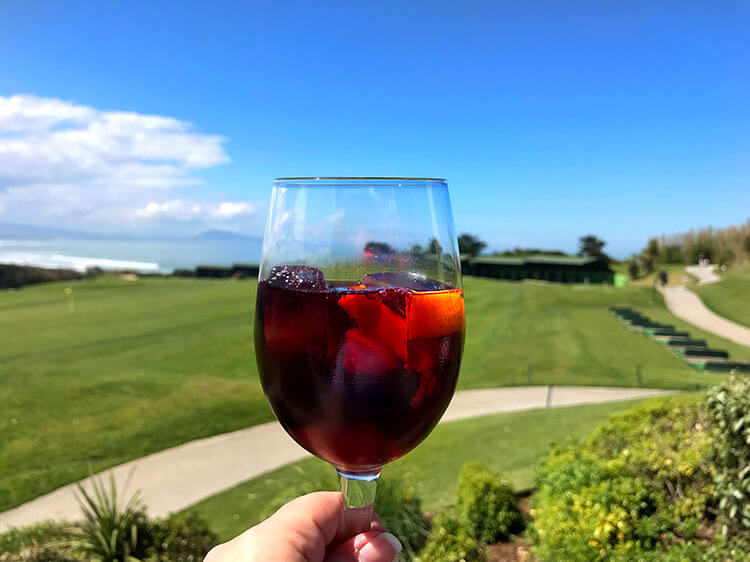 Unlike Cannes and Saint-Tropez, where whiling away sun-filled days in cabanas at impossibly chic beach bars is the name of the game, Biarritz is a beach town where you're meant to be active. It's where the surfers and golfers converge.
If you're up on your history of the Nouvelle Aquitaine, you know this region has ties with English aristocracy stretching back centuries. It's probably not too surprising, then, that Biarritz is home to the second oldest golf course on the European continent.
Europe's second oldest golf course, the Golf du Phare, isn't the only course to go to in Biarritz either. For a country not exactly associated with golf, there's an astounding 16 golf courses within a 50-mile radius of Biarritz. All of the excellent greens combined with the year round mild weather make Biarritz one of the major golf destinations of the world.
Admittedly I haven't tagged along on Tim's golf outings, well…ever. But once upon a time before we moved to Bordeaux, we did live on the sixth hole of the Westin Golf Club when we lived in Scottsdale, Arizona. I've seen some beautiful golf courses like the Royal West Norfolk Golf Club where Prince William and Prince Harry regularly tee off, and the Golf d'Ilbarritz ranks up there as one of the prettiest. Set overlooking the ocean, it's a nine-hole course with a driving range and a restaurant with one of the most superb views over the Cote des Basques.
We're not the golfing couple kind – it'd quickly turn in to that episode of Everybody Loves Raymond when Ray teaches Deborah to golf. But between a bucket of balls to hit at the driving range and sangria with sea views, I don't mind tagging along at all while Tim plays a round of golf.
If you are the kind of couple that tees off together, there is a Biarritz Destination Golf Pass that lets you choose from 2 – 8 golf courses to golf Biarritz at.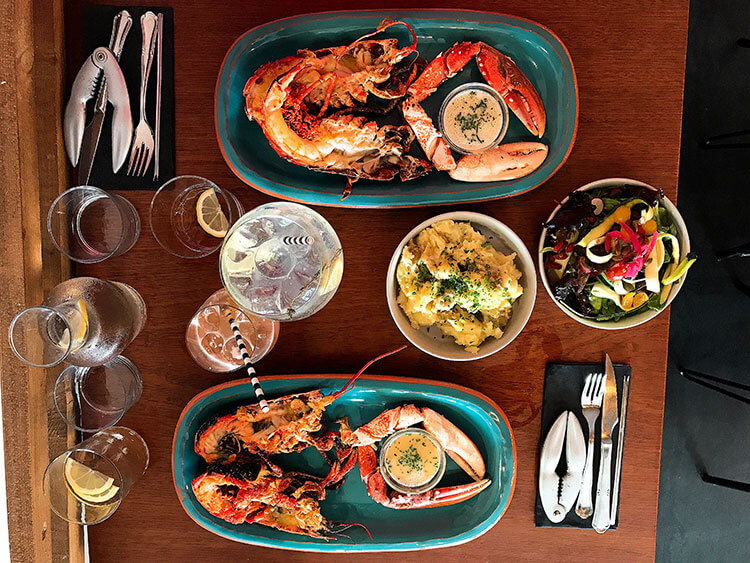 Finish off a weekend Biarritz trip with a meal at La Crique. It's a very cute canteen located right in the old town that specializes in seafood. Even though the blue Brittany lobsters aren't from the Basque Coast, they still come from France and we couldn't resist having one of our favorite foods. The cocktails are fabulous, the food delicious and the atmosphere is chic. You definitely won't be disappointed with a final meal at this little gem.
Where to Stay in Biarritz
Mercure Biarritz Centre Plaza
The Mercure Biarritiz Centre Plaza is housed in an art deco building that has been recognized for its historical architecture by the Monuments de France. Overlooking the Grande Plage, the hotel is steps away from the beach and situated as though you dropped a pin in the very center of Biarritz.
The 4-star hotel was renovated in 2017 and has ocean views. Pets are allowed for a small fee, there's onsite parking available if you've traveled to Biarritz by car and the rooms are extremely comfortable.
For more of our Biarritz accommodation recommendations, see our complete guide to where to stay in Biarritz.
Know Before You Go
Flights to Biarritz arrive at the
Biarritz Pays Basque Airport
, which is serviced by a number of airlines from around 20 destinations throughout Europe. Other airports near Biarritz also include San Sebastián Airport, which is 24 kilometers away. There is not currently a direct train from Paris to Biarritz, but with changes the Paris to Biarritz train route arrives in about 4 hours. There are a number of daily direct trains from Bordeaux to Biarritz that take around 2 hours by
train
.
BOOK NOW
A more budget friendly mode of transportation is FlixBus. You can find tickets for as low as €5 each way. FlixBus reaches Biarritz from Bordeaux in just 2.5 hours.

BOOK NOW
Our trip to Biarritz and Pays Basque was in partnership with Biarritz Tourisme, Pays Basque Tourisme, Terre & Cote Basques and Région Nouvelle Aquitaine in order to bring you this story. However, Bordeaux Travel Guide maintains full editorial control of the content published on this site. As always, all thoughts, opinions, and enthusiasm for travel are entirely our own. This article contains affiliate links. When you book on Booking.com, Trainline or FlixBus through our affiliate partner sites, we earn a small commission at no additional cost to you.