Crémant wishes and caviar dreams. The stuff of Hollywood, caviar has long been one of those global luxury foods that regularly graces the silver screen. But it was one of the finest things in life long before Hollywood was telling us so. The ultimate in luxury, the tiny little black caviar pearls have been coveted by kings long before truffles or even Champagne were delicacies.
While Russia has long been associated with the exquisitely salty little black pearls, France is actually the world's third largest producer of caviar. As one of France's most important food regions, the Dordogne actually boasts being home to two of the world's most expensive foods: the prized Périgord black truffle and Aquitaine caviar. Specifically, it's produced at Caviar de Neuvic and is just as French through and through as the foie gras practically produced next door.
It's only natural that caviar is produced in the Dordogne. The Isle River, a tributary of the Dordogne River, has long been home to wild Ascipenser Sturio sturgeon. In fact, French fisherman had been catching the wild sturgeon in the Isle River for centuries.
As local legend goes, a Russian princess had traveled to the area of the Gironde Estuary in 1916. She saw the fisherman catching sturgeon, but throwing the eggs to their ducks. Aghast that such a delicacy would be tossed to the ducks, she explained how back in Russia fisherman were getting rich by extracting the caviar. And so in 1920, caviar production began on the Gironde Estuary making caviar a specialty of the Gironde.
Before long caviar was being sold as a luxury good in the shops of Paris. Most of the major caviar producers were located (and still are located) in the Gironde, and by the 1960s sturgeon fishing and caviar extraction had become a very lucrative business.
Unfortunately, the world's love of French caviar and over fishing nearly lead to the disappearance of the Ascipenser Sturio sturgeon in the Gironde and Dordogne. Fishing was banned in 1982 and the Ascipenser Sturio became a protected species.
Wild sturgeon around the rest of the world have suffered similar fates. The production and sale of wild sturgeon caviar in Russia was temporarily stopped between 2008 – 2011, in hopes that the species would replenish itself.
It was France that pioneered sturgeon farming and farmed caviar. The French convinced the Russians to trade Baerii sturgeon for trout, and until recently the imported baerii sturgeon were the only approved species to be farmed in France. France produces some 25 tonnes of ethically farmed caviar every year, with nearly all of the producers located in the Nouvelle Aquitaine region.
A Visit to Caviar de Neuvic
Caviar de Neuvic is located on the banks of the Isle River just over one hour's drive from Bordeaux. Situated on a 20 hectare farm in the village of Neuvic, which lends its name to the caviar, it's the passion project of majority owner Laurent Deverlanges.
The visit begins with a tour of the farm. While the Baerii and Ossetra sturgeon bred at Caviar de Neuvic reign, the farm is much more than simply a fish farm.
We begin with a stroll along the Isle River, which runs alongside the Caviar de Neuvic farm. The water is clean and the farm lives in a delicate balance with the river. As your guide will explain, they utilize water from the river to pump in and create a natural environment in their sturgeon pools. The water is constantly cleaned and pumped right back in to the Isle River. It's closely monitored with twice monthly testing to ensure harmony between the farm and their surrounding natural environment.
Caviar de Neuvic also engages in many other environmentally friendly practices, like powering their entire operation with solar panels atop the sturgeon pool structures. And the structures themselves are incredibly important for creating a calm, dark environment for the female sturgeon.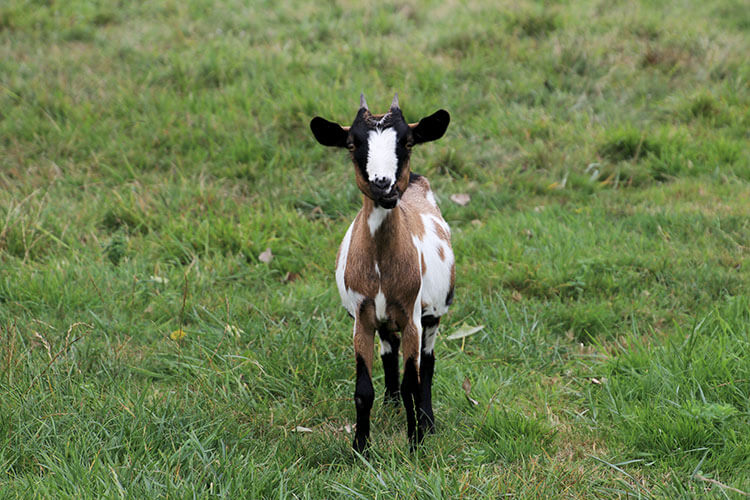 Continuing on to the farm, you'll see many other animals besides the sturgeon. There's horses, goats, geese, ducks and more. Every animal on the farm has a role in creating a balanced environment. The goats are especially friendly, and you can feed them if you like.
It's important to note that when you visit Caviar de Neuvic, you won't actually see the female sturgeon. It's the females only that produce eggs and they are kept separately from the males. As I already noted about the structures being incredibly important to give the females a calm environment, their interaction with any people or outside influences is incredibly limited.
It takes from 7 – 9 years for the female sturgeon to mature and produce eggs ready for harvest. During their years waiting to produce eggs, the sturgeon are all very lovingly cared for by the team at Caviar de Neuvic. Each and every one of their 130,000 sturgeon are fed by hand daily.
The food is all organic and even suitable for you to taste. Offered a bit, I raised my eyebrow but ultimately gave it a go. It's not very tasty for humans, but the sturgeon absolutely love it.
When you arrive back in the boutique for the tasting, you can watch a video about the extraction process. Ultrasounds are used to identify pregnant sturgeon ready for extraction. Those sturgeon will leave their pools and go to another set of pools filled with mineral water for around three weeks before the caviar is ultimately extracted.
In case you didn't know, caviar extraction can only happen once. And in line with Caviar de Neuvic's sustainable practices, every bit of the rest of the fish is utilized. Sturgeon fillets are sold to local restaurants in the area, like at Bouchon Medieval in Issigeac where we dined during some exploration of the Bergerac wine region. Caviar de Neuvic also produces products like their various rillets of sturgeon sold at their boutiques.
Catching the sturgeon for ultrasounds and extraction takes skill. And we're invited to try out hand at it in a pool of all male sturgeon and one exceptional albino female named Snow White. Donning a pair of waterproof fishing waders and a jacket, I got in to the pool with net in hand. While the skilled staff at Caviar de Neuvic typically do this job solo, it's a two-person job for novices like us.
The sturgeon can grow up to 7–12 feet (2–3 1⁄2 meters) in length and it's not uncommon for them to weigh 275 lbs (125 kgs). The ones in the pool for us tourists visiting the farm aren't quite that large, but they are large enough. And quick, too. They're also slick thanks to an oil they produce to protect their skin.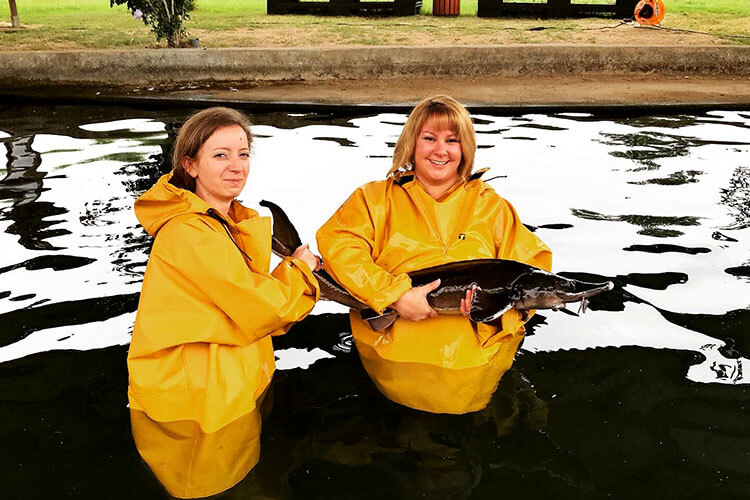 One person mans the net and tries to get a sturgeon to swim in head first. Once you have one in the net, it's now the job of your companion to reach in to the net and grab the sturgeon gently, but firmly around the tail. Finally, the one manning the net should gently but firmly grab the head of the sturgeon while dropping the net.
It all sounds easy and simple enough, right? That is until you get a super fiesty sturgeon who really doesn't want to be caught, gets its pointed snout stuck in the net and gives a wiggle so fierce it knocks you right back off your feet so you take a swim.
And that is exactly what happened to me as I tried to get the net off my sturgeon as it thrashed about. The waders become a pointless accessory as they filled with water. Luckily I rebounded quickly enough to not entirely dunk myself in the pool. I wasn't about to be beaten by that sturgeon and we successfully caught him on a second try.
While I was a bit leery to get in the pool to begin with, in the end this was one of the highlights of our visit to Caviar de Neuvic. I'd have regretted not doing it later and now it serves as a funny memory.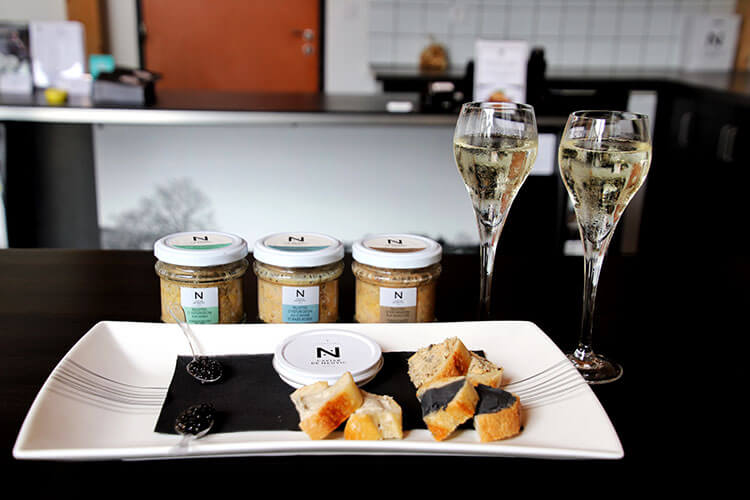 By this point we'd worked up an appetite and were more than ready for a caviar tasting. The visit to the farm ends back in the boutique with a tasting of the sturgeon rillettes, caviar butter and the caviar itself. It's paired with a glass of bubbly and your guide provides instruction on how to properly taste caviar.
Caviar is expensive and it should be savored. You take small amounts on either a mother of pearl spoon or on the back of your hand. Never use a metal spoon as the caviar absorbs the metal flavors.
It's very rich and meant to be tasted in small amounts. First bring the caviar to your nose to inhale the aromas, much like when you taste wine. Then take a small amount in your mouth. You never chew it, instead using your tongue to roll it around your mouth a bit in order to take in the texture and flavors. After, you can take a sip of champagne to cleanse the palette before taking the next bite.
There's also a boutique where you can purchase the products that you've enjoyed. The unopened caviar has a good shelf life and as long as you can keep it cold, you can transport it home. Caviar de Neuvic has special cold bags that help keep your caviar cold for hours. The jars of rillettes don't need to be refrigerated until after opened, and make an excellent foodie souvenir to bring home from your trip or gift to family and friends back home.
BOOK NOW
The Caviar de Neuvic Boutique in Bordeaux
The visit to the Domaine de Neuvic is absolutely worth a spot on your Bordeaux itinerary if you've ever been curious about how caviar is farmed or even if you're a gourmand. But if you just don't have the time to visit the farm, you can still taste the delicious products of Caviar de Neuvic right here in Bordeaux.
Inaugurated since December 2019, the Caviar de Neuvic – Comptoir Bordeaux is located right in the heart of Bordeaux in the covered Passage Sarget. It's the first shop located outside of Paris and here you'll find the flagship products: Caviar Baeri and Caviar Osciètre. In addition, you can purchase the caviar butters, sturgeon rillettes, smoked sturgeon, fleur del sel and even vodka and the wines of partner Château Fourcas Hosten.
Upstairs a small restaurant offers tastings, tapas and small refined plates. Enjoy a bit of caviar or sturgeon with the excellent wines of Château Fourcas Hosten in a beautiful space right in Bordeaux's Golden Triangle.
On the menu is a formula with either a starter and main course or main course and dessert, which is well-priced at under €30. The selection of main courses are all created to compliment caviar and generously topped with a dollop of 20g of their signature Baeri caviar.
We can recommend starting with the quartet of sturgeon rillettes on roasts and caviar butter on bellinis. The spaghetti with a lemon cream sauce and parmesan or the croque monsieur on a black vegetable bread made locally in Bordeaux are elevated from simple fare to decadent when topped with the dollop of Baeri caviar.
Finish off a savory meal with something sweet like the classic chocolate mousse or Comptoir Caviar de Neuvic's dessert of the day.
Caviar de Neuvic – Comptoir Bordeaux, 14 Passage Sarget.
Know Before You Go
Getting There
Visits and Tasting
Domaine Caviar de Neuvic is best reached by car.
It is possible to reach Domaine Caviar de Neuvic by publication transportation. There is the Gare Neuvic Dordogne train station located in Neuvic, and several trains run from Bordeaux to Neuvic Dordogne daily in just 1 hour 10 minutes. It is then about a 15-minute walk to the farm, which is located just over 1 kilometer from the train station.
Book a visit to discover French caviar and tour the
Domaine Caviar de Neuvic
. The visit lasts around 2 hours and includes the tasting of caviar butter, rillettes and caviar with a glass of sparkling wine.
BOOK NOW
This article contains affiliate links. When you book on Viator through our affiliate partner sites, we earn a small commission at no additional cost to you.