Bordeaux is an incredibly walkable city to discover, but one of the most exceptional ways is to take in the UNESCO listed monuments and sights while sipping a glass of bubbly as you sit back and relax in a classic car. And with French car enthusiast and Bordeaux lover Guillaume as your chauffeur-guide, a Bordeaux Classic Cars tours promises to an memorable experience in the World Capital of Wine.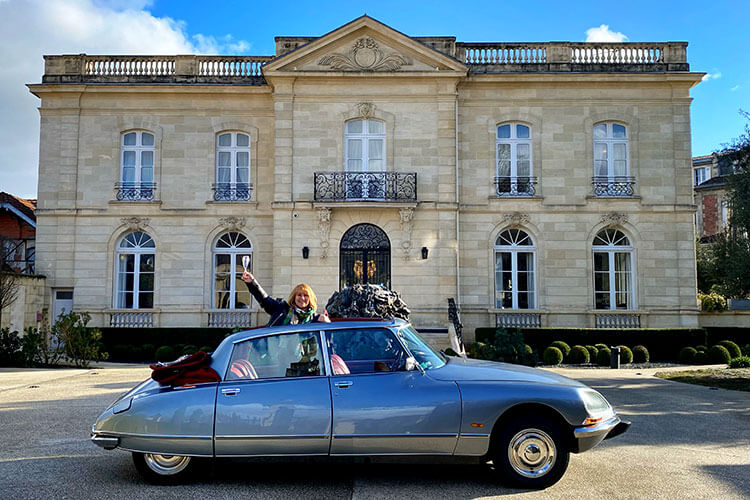 Bordeaux Classic Cars
A French car enthusiast and Parisian transplant to Bordeaux, Guillaume Dazin is a chauffeur-guide who takes his guests around the city of Bordeaux and beyond to the vineyards of the Médoc, Sauternes or Saint-Émilion or even to the Bassin of Arcachon in his classic Citroën DS 21. But it's not just any class Citroën DS – Guillaume has custom converted the French classic car into a convertible top limousine fit for even the most discerning of guests.
The Ford Mustang and the Dodge Charger might be some of the most sought after classic cars in the US, but here in France it's the Citroën DS that reigns supreme.
Produced from 1955 to 1975 by French car company Citroën, the DS was aptly named. DS is pronounced as in the French word "déesse," which translates to goddess. And that the Citroën DS was.
At the time, the car was noted for its aerodynamic, futuristic body design and innovative technology. Styled and engineered by Italian sculptor and industrial designer Flaminio Bertoni and the French aeronautical engineer André Lefèbvre, and with a hydropneumatic self-leveling suspension developed by Paul Magès, the DS set new standards in automobiles. Guillaume clearly knows cars and he's happy to explain exactly what hydropneumatic self-leveling suspension means, but you'll understand the moment you feel like you're floating on air.
The car is a head-turner. It was, after all, voted most beautiful car of all time in 2009 by the British magazine Classic & Sports Cars. And the DS came in third as the world's most influential auto designs on a poll by Car of the Century in 1999.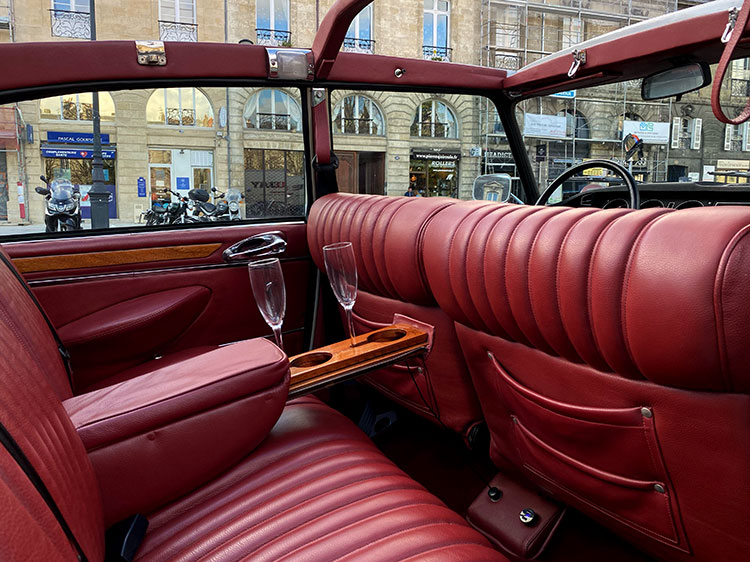 The supple red leather seats practically envelope you. The car is incredibly comfortable, and the top can be put down. Though I've drive around Bordeaux with my own sun-roof open many times, there's just something about being able to take it all in from a classic convertible like the Citroën DS.
With a one-of-a-kind car like this, white wine or champagne is available for you to enjoy during your private tour. A box of canelés, a Bordeaux specialty, is also available. But if it's a Bordeaux red you desire, Guillaume can whisk you off to a private tour at some of the top Saint-Émilion or Médoc estates.
Glass in hand or tucked securely into the specially outfitted mini-bar in the car, Guillaume zips you around Bordeaux in the 1-hour city tour. You'll stop for some photo ops at some of Bordeaux's most famous sights like on Place de la Comédie and you'll discover some lesser-known sights like the Palais Gallien.
There's a variety of tour options from a 1-hour Bordeaux city tour and 2-hour Bordeaux city tour to full day wine tours in the Médoc or full day wine tours in Saint-Émilion. You can even combine a city tour with a tasting at châteaux in one of the appellations that border the city of Bordeaux like Pessac-Léognan or Graves on a half-day tour if you're a bit pressed for time.
For full-day tours, Guillaume can either arrange lunch in a restaurant or a picnic in the vineyards. Really, your wish can be Guillaume's command with tailor-made experiences.
Know Before You Go
This article contains affiliate links. When you book on Viator through our affiliate partner site, we earn a small commission at no additional cost to you.