When visiting the Bordeaux wine region, most people know the most famous appellations like Margaux and Saint-Émilion. But you may not even realize that there are more than 60 different Bordeaux appellations, and that number is ever growing. When we first arrived in Bordeaux more than three years ago now, we did the same and made a beeline for the castles of the Médoc before crossing the river to medieval Saint-Émilion. Only after living here and extensively exploring the various appellations, we realized that Bordeaux wines don't have to be among the 1855 classified growths or the most expensive to be truly fantastic. Sometimes it's the still-family run estates with small productions that are doing some of the most interesting things. And that's exactly what we discovered when we visited Château Vieux Mougnac, a fifth generation family run and certified organic winery in the Bordeaux Superior appellation located just 12 kilometers from the village of Saint-Émilion.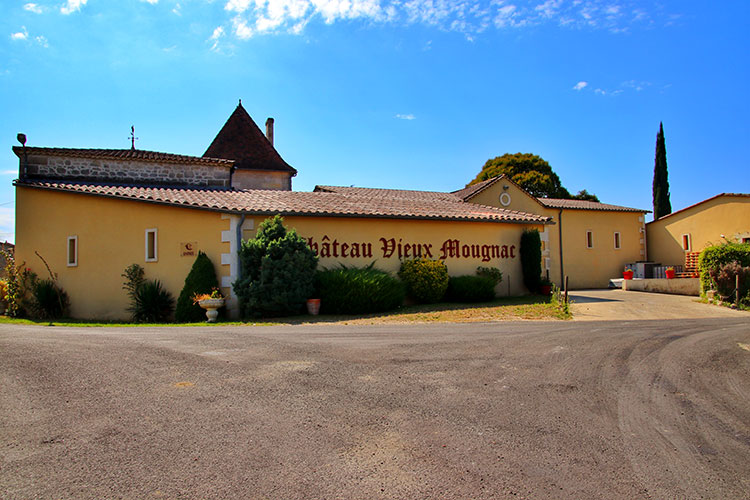 The History of Château Vieux Mougnac
Château Vieux Mougnac began as a humble hunting lodge. It was a place where the local lords would stop during their hunting excursions. The dovecote, a structure where pigeons and doves could nest and that only nobility could build, is the oldest part of the house. The barn beneath served as a stable and a huge bread oven on the grounds was used communally by everyone nearby.
The wine history of Château Vieux Mougnac began in 1870 when Felix Milhard purchased the property. He decided to plant a vineyard and worked the vineyards entirely by himself in order to produce wine. His lineage of family still owns the château to this very day and continues to produce wine. It's actually the only château that we know of in the Bordeaux wine region that is still owned by the same family since the very start of the château's wine history, and that is something very special.
Maxime Milhard took over the estate in 1940, but he soon became a prisoner of war and was held in Germany for a period of five years during WWII. His wife, Marcelle, carried on the farming and production of wine in Maxime's absence. Meanwhile back in Germany, Maxime was put to work on a farm where he learned to grow white wine grapes and produce white wine. Upon his miraculous release and return to France, he planted Semilion grapes and began to produce white wine from them. The family still produces white wine from those very vines today.
In the 1970s, it's fairly safe to say that welcoming visitors to your Bordeaux wine estate was a rarity. But the Milhard family were trendsetters long before many Bordeaux châteaux began to open their long firmly shuttered gates to the public. The third generation of the Milhard family, Yves and Maria, went against the norm and decided that they would sell their wine directly to customers instead of selling it to a wine broker. They began welcoming visitors for direct sales and also sold the wine at local markets mainly in the Dordogne and Chartene.
Sylvie Milhard and her husband, Michel Bessard, carried on the new tradition of selling the wine direct when Sylvie took over as the fourth generation in 1991. They expanded their sales all over France, and fostered important relationships with restaurants across the country to bring Château Vieux Mougnac wines to wine lists of some of France's best gastronomic restaurants.
Now it's Lætitia, the fifth generation of the family, at the helm of the wine making and wine tourism. She's also very involved in Bordeaux wine, teaching at the Bordeaux Wine School and also conducting workshops through her company L.O. Wine.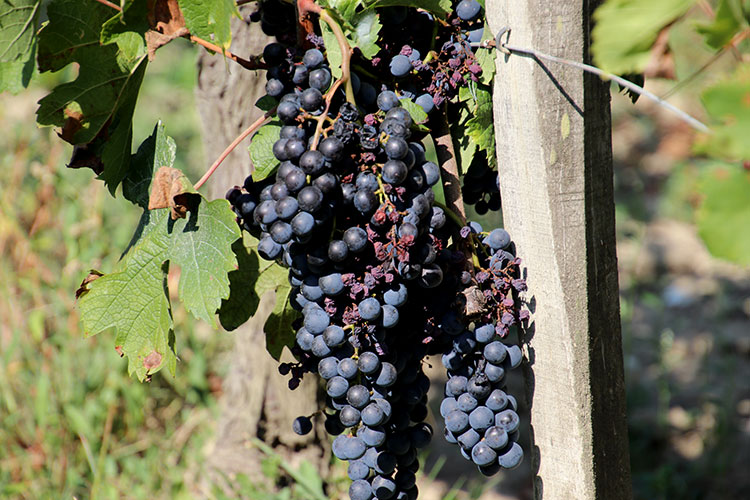 The Visit at Château Vieux Mougnac
It's both Lætitia and her mother, Sylvie, that welcome us for our visit. After a brief history of the house and a look at the bread oven, which is still sometimes used for big festivals and celebrations since it takes four days to heat, we wander over to the vines.
Château Vieux Mougnac was certified in 2012 by Agriculture Biologique, an agency here in France similar to USDA Organic in the US that sets the regulations for and monitors the practices of organic farming. The certification for the AB label, which the château received in 2012, fulfills the EU regulations for organic food.
But what does it mean to practice organic farming? Lætitia does an excellent job of explaining it. They use traditional methods and the environment surrounding them to manage their vineyard. A lot of things work in conjunction so that they don't need to use pesticides and herbicides to treat their vines. They plow using a horse between the rows of vines, which is a traditional method long used to force the vines to root very deep in the soil. The grasses that grow between the rows are left, which creates competition and again forces the vines to root deeply in search of water sources. In July, they thin out the vines and again in August about three weeks before harvest, they thin out the vines so that the grapes receive just the right amount of sun during the ripening. And a very fine ecosystem of insects, plants and the soil itself all work together to keep pests at bay.
That doesn't mean that in organic farming that wine growers won't treat their vines if necessary, but they use natural pesticides and are regulated with how much they can treat the vines over a five year period. As Lætitia explained it, sometimes the vines might be treated far more often than the vines of a château that doesn't practice organic farming. Other times they don't need to treat at all. So organic farming can be a lot more complex since you need to anticipate what the environment will do over a much longer period of time than the short season between the bud break typically in April and the harvest come September.
Château Vieux Mougnac's vines sit on a slope and we look out to the vines. Læticia points out the noticeable color difference between her organic vines, which are a darker green, than those of the neighbors that don't practice organic farming.
It's nearly time to harvest when we visit, which is a really fabulous time to visit Bordeaux wineries. You often get to taste the grapes straight from the vine, and if you're really lucky to visit a Bordeaux winery during harvest, you might even get to try the freshly pressed grape juice.
Château Vieux Mougnac's grapes aren't quite ready for harvest, but we taste some. Lætitia explains how wine makers decide the moment their grapes are ready, and it involves a lot of tasting. When putting a ready grape in your mouth, the skin should melt away in your mouth. We also look at the seeds, which are still quite green and bitter. The seeds turn a shade of brown when they're ready. Harvested too soon, both the skins and the seeds will give the juice a greenness and bitterness that you don't want.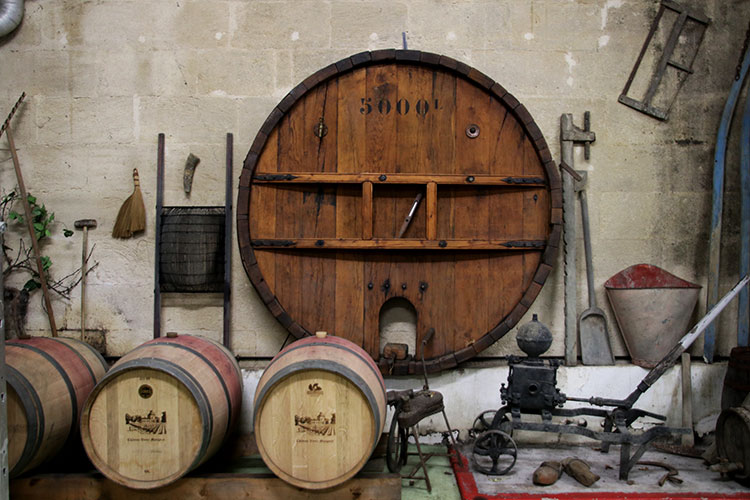 We move in to the winery where we see the tanks that are awaiting the soon-to-be-pressed grapes. It's here that the magic happens happens and grape juice is fermented in to wine. There's the historic vertical hydraulic press, which the château still uses because of the quality it brings to their wines. Unlike nearly every other châteaux, most of Château Vieux Mougnac's wines are aged for two years in concrete tanks instead of oak barrels. Only one particular vintage, which is produced in a very small quantity, is aged in oak.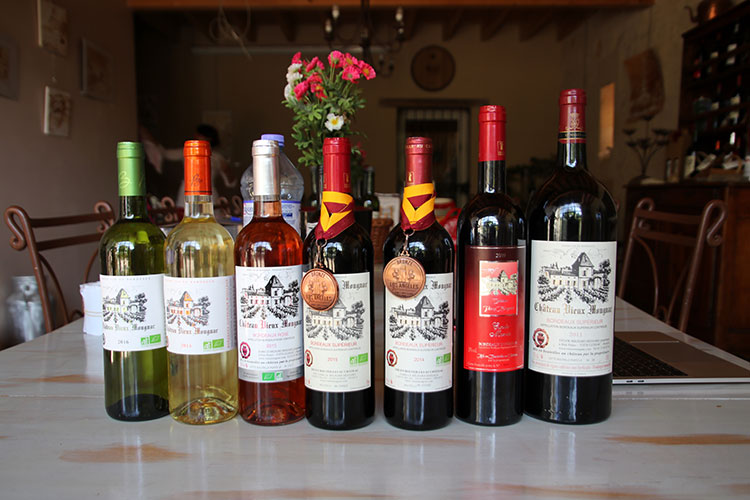 Finally it's time to taste, and another difference of Château Vieux Mougnac from most other Bordeaux wineries is that they produce a range of wines. In Bordeaux, you find that châteaux stick to growing and producing their appellation. It's not at all common for most châteaux to produce both red and white wines. Typically they produce their primary, or first wine as it's called, and usually also a second wine from the grapes that were still good but didn't quite make the cut to be made in the wine baring the château's label.
The classic visit ends with a tasting of 2 wines of the estate and the prestige visit ends with tasting 4 wines of the estate.
Château Vieux Mougnac Bordeaux Blanc Sec is the estate's dry white wine produced from 100% Sémilion. They also produce Bordeaux Blanc Moelleux, a sweet wine produced in the Sauternes method, but it's only produced in years when the conditions are right for botrytis to occur. They also make a Bordeaux Rosé from 100% merlot, which is very good.
For the reds, it's the Bordeaux Supérieur Cuvée Maria that is aged in oak barrels. It's a small production around just 2000 bottles total.
What's really interesting is if you taste different vintage years of Château Vieux Mougnac Bordeaux Supérieur. Bordeaux vintages definitely vary from year to year, even when the château has a signature blend. The variances of the environment, or the famous terroir, cause those differences. But many châteaux have a consistent signature that they want to achieve with their vintage, and things like the sulfates are added to balance the wine. When you compares vintages from year to year from vineyards that practices organic farming, the differences can be wildly different.
According to the famous line from the Forest Gump movie: "Life was like a box of chocolates. You never know what you're gonna get." Well, with organic farming when it comes to wine making, a vineyard is like a box of chocolates and you never know what you're going to get.
Every single wine we tried was excellent, but it was the 2010 vintage that we just couldn't go home without.
Know Before You Go
Getting There
Visits and Tasting
Château Vieux Mougnac is only reached by car. It's located 12 kilometers and around a 20 minute drive from the village of Saint-Émilion.
Château Vieux Mougnac is open from Monday – Friday from 9am – 7pm and on Saturday and Sunday by appointment only. Advance booking for the classic or prestige visits is highly recommended and booking can be made by emailing
[email protected]
. There is a boutique where you can pop in to taste and purchase.