The hamburger is a humble dish, but one of the world's greatest guilt pleasures. Found and loved around the world, the hamburger is also possibly one of the most American of foods. And for these two Americans, it's actually harder than you might think to find a good burger in France with simple, yet delicious ingredients and a tasty bun that both holds up to a juicy burger and its condiments and compliments the taste. It often feels like we're on an indefinite search for the best burgers outside of the US, and particularly for the best burgers in Bordeaux since we call this city home.
Why do Americans know a good burger better than anyone else? Because it is an American icon! And while there might be beef between Texas and Connecticut on who gets the claim to fame for actually inventing the hamburger, it's undisputed an American invention. (By the way, the Menches brothers were serving up a ground-beef sandwich they claim was the first hamburger at the Erie County Fair in Hamburg, New York in 1885. That was at least 15 years earlier than both Connecticut's Louis Lassen and Texas's Fletcher Davis laid their claims to fame for inventing the hamburger.)
The hamburger is an American icon because it represents diversity. France may have over 1600 distinct types of cheese, but America has over 300,000 different burger combinations.
And all American burgers definitely aren't fast food either. No, the burger has grown up just as I grew up eating them. With locally sourced meat and topped with premium ingredients, the burger can be just as gourmet as a fine French pastry.
That's why we're constantly on the hunt for the best burgers in Bordeaux. A good burger is a little taste of home.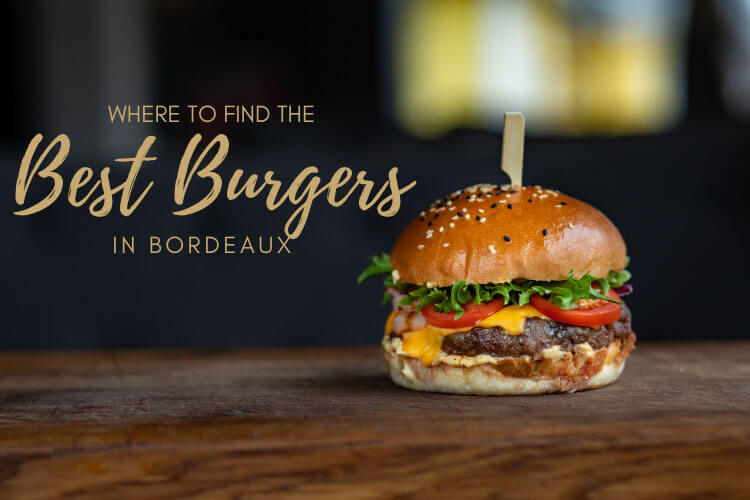 Edmond Pure Burger
When it comes to the best burger in Bordeaux, Edmond Pure Burger is top of our list. It's a family-run business with owner Patrick running his two locations along with his children. Family is so important that the restaurant specializing in burgers was named after Patrick's father.
But it's not just the family story that makes us love Edmond. The burgers are truly delicious and it's evident why. The buns are baked twice daily in house and their recipe uses just a few simple ingredients. Edmond sources beef only from France and chooses high-quality breeds. The cheese comes from our own favorite fromagerie in Bordeaux: Jean d'Alos. The fries are made fresh in house. And the sauces are their own secret recipes also made in house.
My go to order at Edmond Burger Bordeaux is the Edward, which is their chicken burger. It's a fried chicken breast that isn't at all greasy, topped with Jean d'Alos cheddar cheese, bacon and their own honey mustard sauce. And if I'm in the mood for beef, Tim and I agree that Edmond topped with caramelized onions, bacon and raclette cheese is the way to go.
The prices are reasonable, too, with all the burgers priced at just €10.50. The cheesy fries are my favorite side and the portion is generous enough for two – though they're so good, I always want my own!
Edmond Pure Burger, 34 Rue Palais Gallien and 158 Cours Victor Hugo.
GUY&Sons
Guy&Sons is another family run business specializing in burgers. They actually got their start in their native Auvergne in the university town of Clermont-Ferrand in 2011. With a goal to attract just 50 customers daily, their business soon exploded and they were serving over 200 customers daily.
It's no wonder why. Guy&Sons understands that the bun is as essential to a quality burger as the beef patty and toppings themselves. They worked with a local baker in Clermont-Ferrand to develop their own bun recipe, and now bake their buns in house at each of their burger restaurant locations in Lyon, Grenoble, Montpelier and Bordeaux.
The ingredients are all locally sourced in France, with the exception of the cheddar cheese that Guy&Sons uses. They source the best cheddar straight from Cheddar in England. Of course, the fries are also homemade and served up with a selection of their homemade sauces.
There's a few classics that remain on the menu year round and the Bacon is a classic favorite with its bacon, mature cheddar and red onion toppings. I also love the Chiki Churri, which is a breaded chicken breast that is light spiced, topped with lettuce and tomato and a homemade chimichurri mayonnaise.
The menu option is again reasonable with burger and fries ranging from €14-16. If you go at lunch, the lunch menu with choice of the Classic or Chiki Churri is just €10.
Guy&Sons, 54 Rue Saint-Rémi.
Oxford Arms
With Tim having lived in England, we can't deny the incomparable environment of a British pub. And while there are a number of British pubs in Bordeaux, the Oxford Arms is a favorite. The proprietor hails from Britain and you're greeted with a friendly hello or bonjour as you walk through the door. Locals love this pub. And since it's close to Saint Seurin and a little tucked away on the edge of the center of Bordeaux, not too many tourists just stumble upon it.
Serving up Young's London Ale, Guinness, Carlsberg, Strongbow Cider, Kilkenny and Oxford Lager, it's a proper British pub. After 7pm the kitchen also opens to serve up British cuisine. The menu features fish & chips, pies and curry, but it's the burgers that we come for.
Known among Bordeaux locals for the delicious burgers and hand cut "chips", you can't go wrong by heading to the Oxford Arms when you're craving a juicy burger. The Oxford Burger is always a good choice and it's topped with cheddar and bacon. They usually have a specialty burger of the week in addition to their several beloved burgers regularly on the menu. There's also a veggie burger available if you are vegetarian.
Oxford Arms, 9 place des Martyrs de la Résistance. Food only served after 7pm.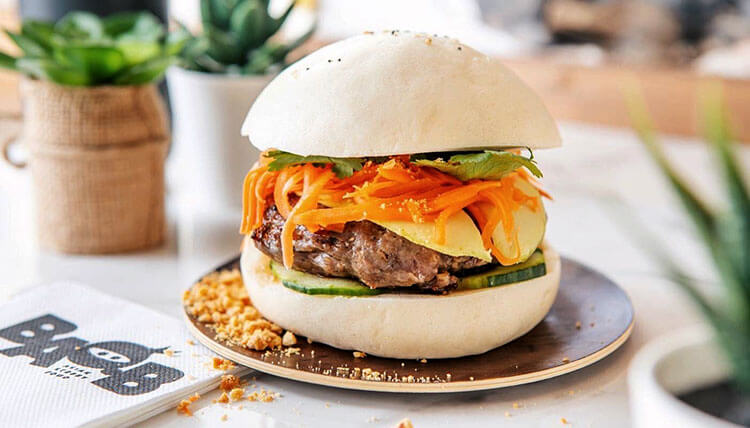 Bao.B
When I want something a little different than a traditional American-style burger, I head to BAO.B. Known for their burgers that take inspiration from Asian cuisine, any bao bun lover won't want to miss these uniquely delicious burgers.
Every burger comes on a steamed bao bun that BAO.B has cleverly handcrafted to be the traditional shape of a burger bun. The steamed buns are fluffy and flavorful, adding a unique taste to all of their burgers.
My favorite and go to order is the Buddha Beef Burger, which is basically like a modern take on a bánh mì as a burger. It's a beef patty marinated in Asian flavors and topped with green mango, cucumber, carrots, peanuts and coriander. Of course, it's on the bao bun. And there is a vegetarian burger option on the menu. The mixed fries, which are both potatoes and sweet potatoes, are a delicious accompaniment.
Burgers also aren't the only thing on the menu, with modern takes on traditional Asian dishes like bo bun and brochettes. Prices are very reasonable with burgers priced just under €11.
BAO.B, 10 rue de Maréchal Joffre
The Central Pub Gambetta
When we want a good burger outside of France's typical restaurant service hours of 12pm – 2pm and 7pm – 10pm, we head to the The Central Pub Gambetta. They offer continuous service and have been a fixture on Gambetta for more than 15 years. The terrace is a great place to watch Bordeaux go by, and the interior is fun with its collection of musical instruments.
While they're definitely not handcrafting and baking buns in house, the burgers are a good pick on the menu. We typically go for the Central Bacon, which is a beef patty topped with cheddar, bacon and barbecue sauce.
Every day is Happy Hour from 4pm – 7pm with pints of beer at half price, and it's one of few places you can also order food at the same time.
The Central Pub Gambetta, 3-5 Cours Georges Clemenceau.