Margaux, once a marshland, is almost entirely a winemakers' town these days. While the tiny village is so quiet it almost seems abandoned, the sea of vines that fans out in every direction is constantly bustling with activity. Home to some of Bordeaux's most sensual and alluring wines, Margaux producers secured more châteaux as inclusions in the 1855 Classification than any other appellation – 21 of 61 total châteaux to be exact. Château Kirwan, a third growth 1855 Grand Cru Classé, is one of those elite 21 and they are open to the public for visits and tastings.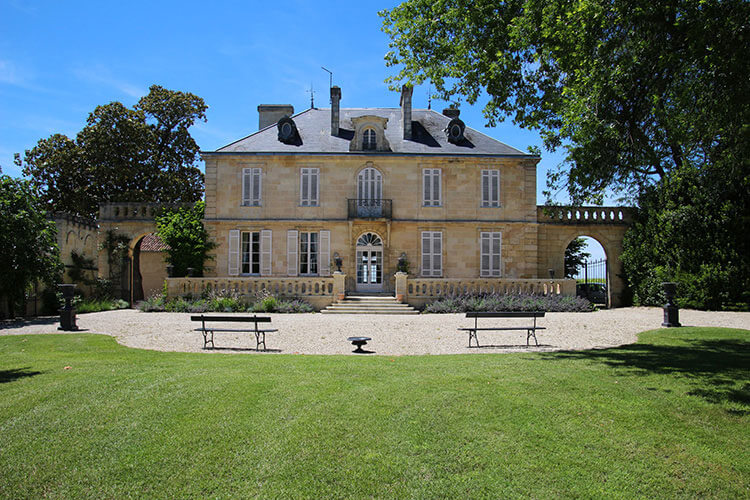 The History of Château Kirwan
It was Sir John Collingwood, an Englishman and one of the first wine merchants in history, who started Château Kirwan when he bought the vines in 1751. He expanded the amount of vines by adjoining the land with the Ganet property.
Though at the time, the property didn't yet have its name. Even so, Sir John ensured the wine would be of the highest status by seeing that it was served on the Royal Court in London.
He passed on the 40 hectare estate to his daughter as part of her dowry when she married Mark Kirwan, an Irishman from Galway, in 1760. And so, the estate became known as Château Kirwan. Despite being seized by the state during the French Revolution, as so many châteaux were, Mark Kirwan managed to escape the guillotine and reclaimed the estate under Napoleon. He died there in 1815.
Though Thomas Jefferson only visited a few Bordeaux châteaux, Château Kirwan was among the ones he did. He called it one of the great second growths, along with Château Lynch-Bages. Brokers from the wine industry disagreed with Jefferson, and Château Kirwan was classified as a third growth during the 1855 Classification.
The château was only once ever owned from a Frenchman, when Camille Godard, the mayor of Bordeaux, bought the château one year after the 1855 Classification.
Today, the château is owned by the Schÿler family with the brother and sisters trio of Yann, Nathalie and Sophie at the helm. The family's own history is deeply entwined in the Bordeaux wine trade, dating back to 1739 when Jean Henri Schÿler arrived in Bordeaux from Hamburg, Germany as a wine merchant.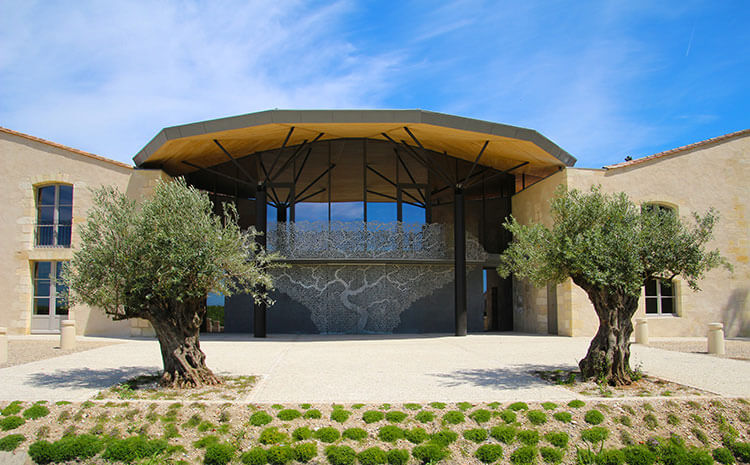 The Visit At Château Kirwan
There are several options for visits at Château Kirwan. All the visits begin with an interactive iPad tour guiding you to the vines and in the park and rose garden, which were designed by Camille Godard when he owned the estate and expanded the park.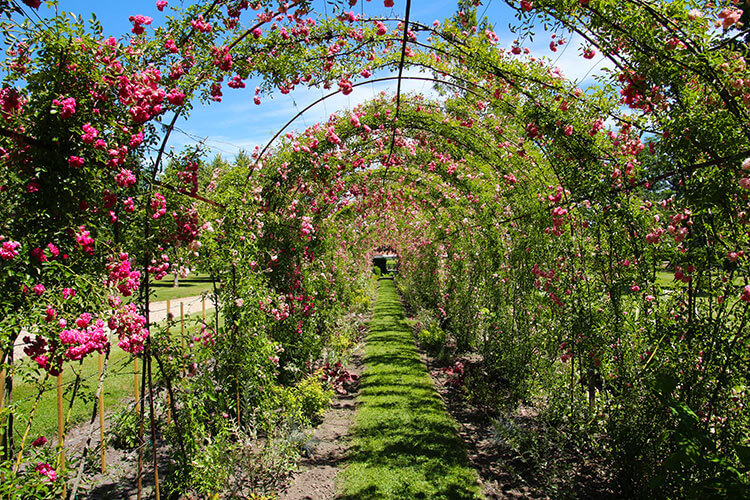 After following the iPad around the beautiful grounds, you'll find yourself at the cellar doors. The cellar recently underwent a renovation, including the cellar doors themselves that are quite literally a work of art.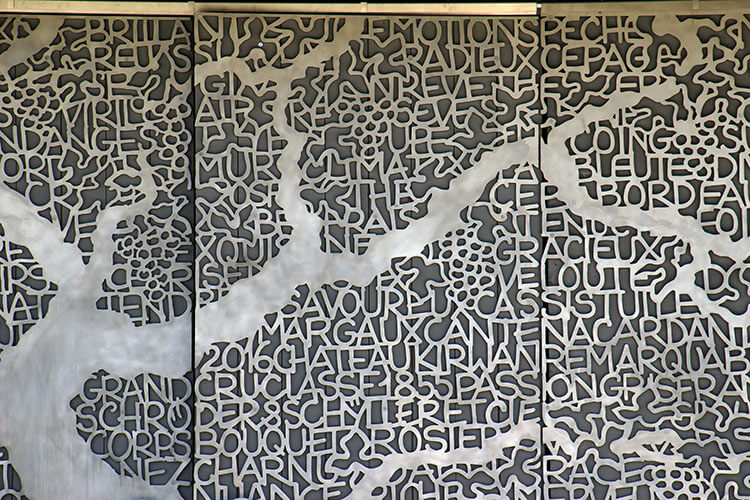 Designed by Guy Troprés, the doors are a giant grape vine and the leaves are hundreds of words in both French and English representing wine making in Bordeaux. Take time to step back and admire the work of art, book-ended by two centuries old olive trees.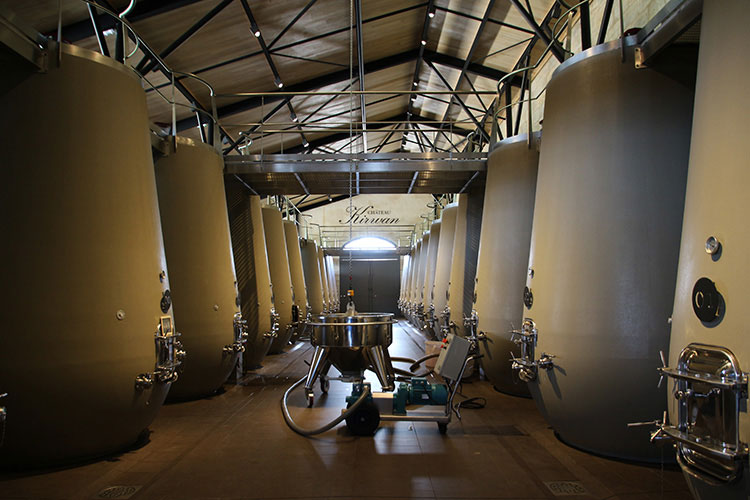 Once inside, a guide joins you to lead you to the wine cellar. Part of the renovations at Château Kirwan included replacing their old tanks with new concrete tulip shaped tanks. Not only are these some of the most aesthetically pleasing concrete tanks we've seen, they are very functional.
If you visit many châteaux in Bordeaux as we do, you'll notice these tulip shaped tanks are becoming somewhat of a trend. That's because the concrete tanks have a much longer life expectancy than wood or even stainless steel tanks, making them a wise investment. The concrete and shape also allow winemakers to better temperature control the wine. And the shape is great for the maceration process, increasing the quality of the wine produced.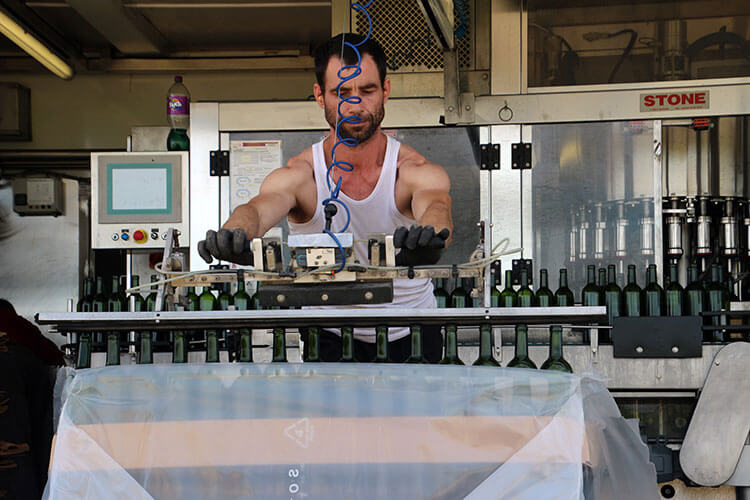 If you're lucky to visit in late spring, you might even catch a glimpse of the bottling process. Bordeaux châteaux do not have their own bottling facilities on site. Instead, there are several companies that make the rounds with an entire mobile bottling plant to each châteaux.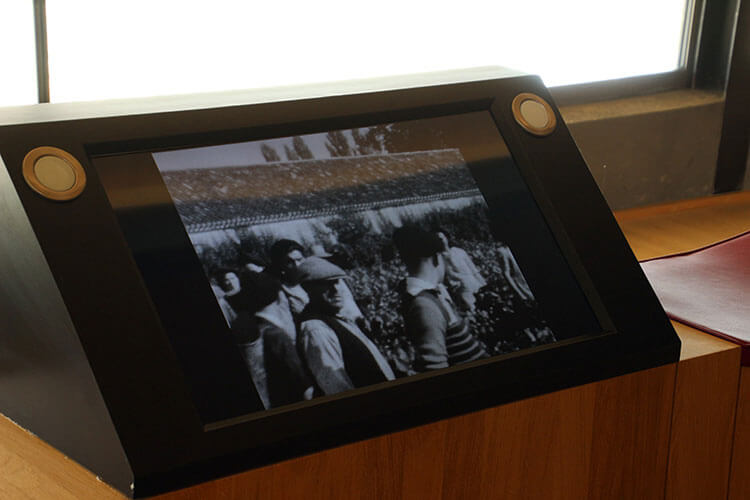 On the second level you can get another perspective of the wine cellar, and watch four videos that include some home movies of the Schÿler family. What we think you'll find most fascinating is precisely how little has changed in the wine making process from all those years ago.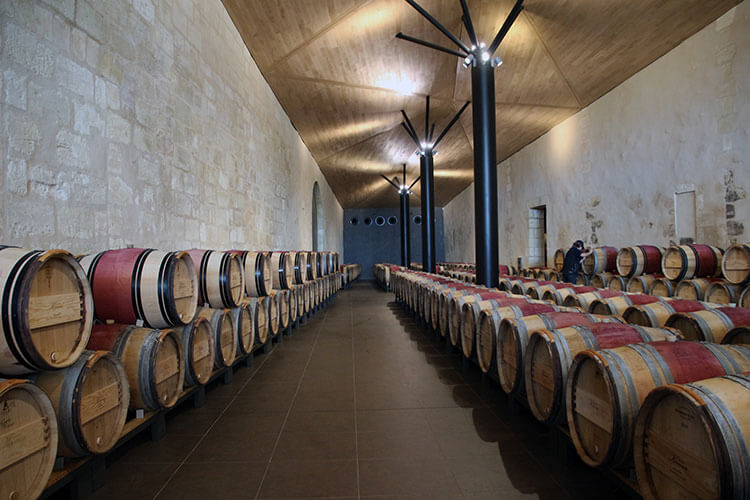 One of my favorite parts of a château tour is visiting the barrel room. We taste wine with all of our senses and it starts with the intoxicating scent of wine aging in the French oak barrels.
The tour concludes with a tasting of 2-3 wines in the boutique, depending on which tour you chose.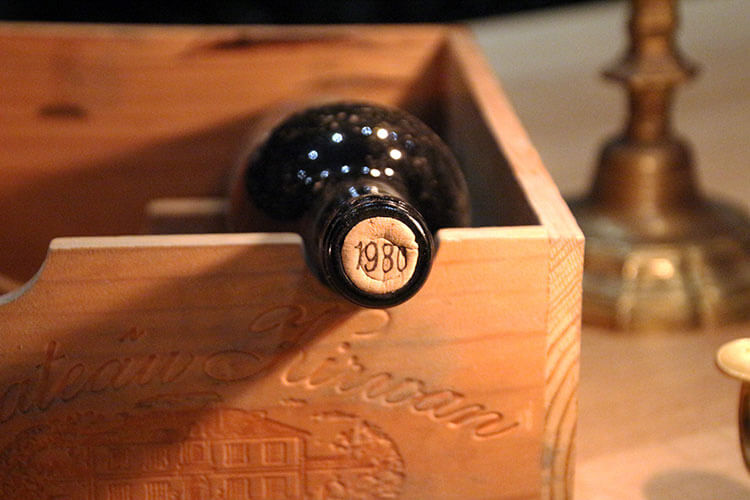 The Vintage Tour
Bordeaux wines are meant to be aged; their potential developing in no less than 8-10 years for the much heavier wines of the Left Bank. And tasting much older vintages 20, 30 or even 40 years old is really something quite special.
Typically you'll taste much younger vintages when visiting most châteaux, usually ones aged 3-8 years. Since most châteaux sell all of their stock at En Primeur, many simply do not have older vintages on hand. Château Kirwan is one of few château to offer visitors a chance to taste much older vintages, perhaps one special to you like the vintage from your birth year or maybe your wedding year.
You can select vintages starting from 1967 from a list of available vintages. The wine is decanted while you tour the grounds and winery, then you finish the tour with a tasting of your special vintage in the Library surrounded by an impressive collection of bottles.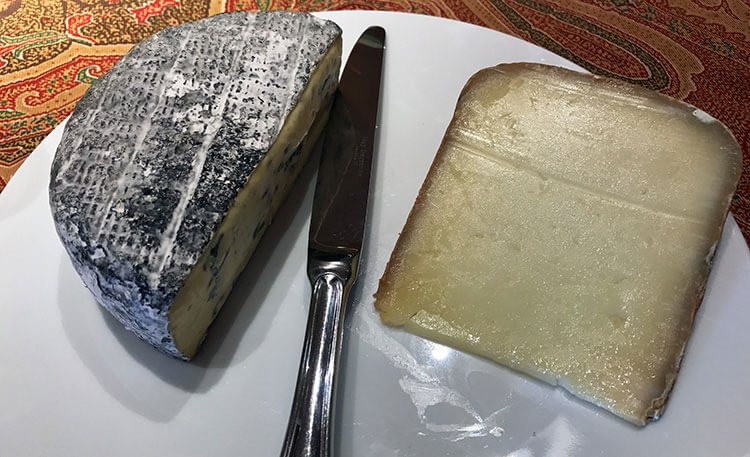 These older vintages definitely are best when paired with food, and the tasting is complimented with ham and cheese.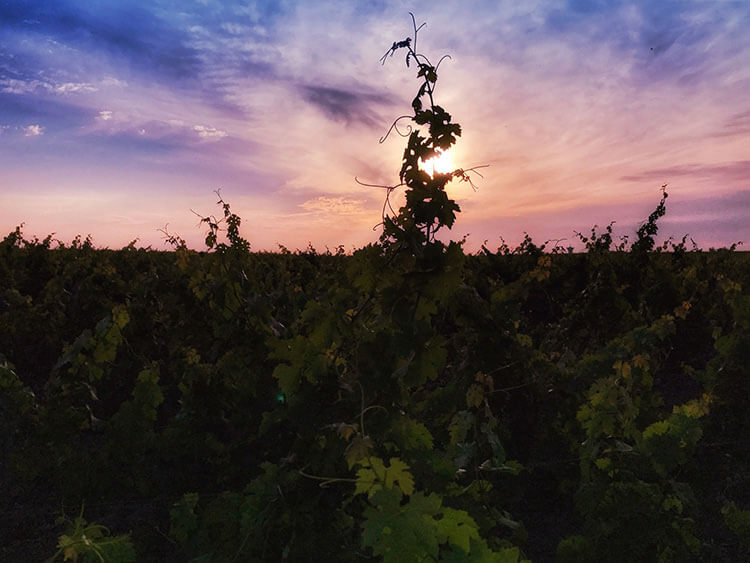 Know Before You Go
Getting There
Visits and Tasting
Where to Stay
Château Kirwan
is open by appointment only. You can select from various tours including a visit and tasting of 2 wines for €12, a visit and tasting of 3 wines with cheese and ham for €30 per person, or the Vintage Tour for €85 per person (maximum of 12 people).
🍷 BOOK YOUR VISIT
Margaux is easily reached from Bordeaux and we recommend
InterContinental Grand Hotel Bordeaux
,
Le Boutique Hotel
and
Mama Shelter
in the city center.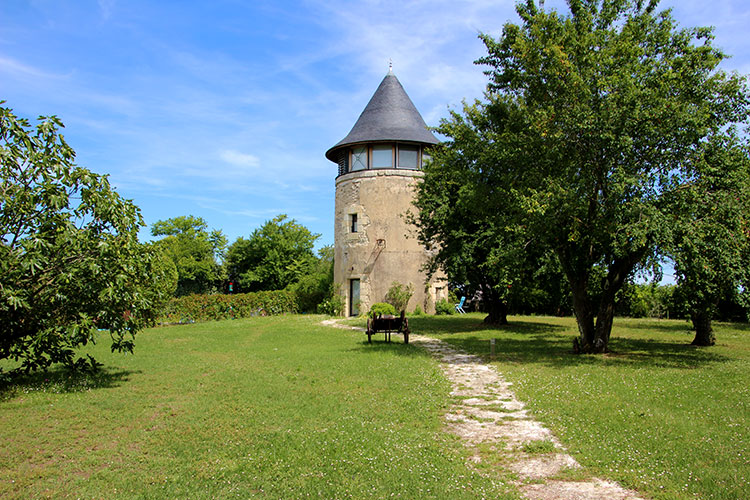 You can also have a unique experience staying in a windmill converted into a self-catering apartment right in Margaux. You'll be surrounded by the famous vines of Margaux, have an on-site swimming pool and bicycles to explore the area.
BOOK NOW

This article contains affiliate links. When you book on Booking.com, Rue des Vignerons or Trainline through our affiliate partner sites, we earn a small commission at no additional cost to you.