The year is 2009. It's a story worthy of a becoming a movie, just as Bottle Shock recounted the tale of a Napa Valley winemaker who beats every French vintner in the Paris Wine Tasting of 1976. Only this time, world-famous wine critics rank an AOC Bordeaux Supérieur above some of Bordeaux's most renowned 1er Grand Cru Classé wines in a blind tasting of 2001 vintages. Château de Reignac set the wine world abuzz, and left the European Grand Jury themselves puzzled as their jaws quite literally dropped open at the prospect of a €15 bottle beating out ones priced from €1300 and more.
It's been a decade since the blind tasting and nearly twenty years since the much talked about vintage was produced, but many still flock to Bordeaux for the experience of an 1855 1er Grand Cru Classé without breaking the bank. And Château de Reignac is worth the visit not only for their high quality wines, but also for the stunning château and a unique tasting that first discovers the aromas in wine in the château's scent garden.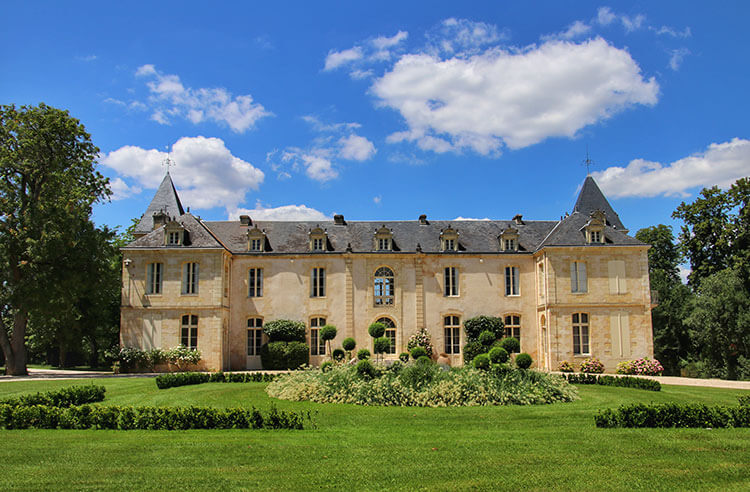 The History of Château de Reignac
The château itself, a beautiful castle that today is the holiday home of the owners, was originally built in the 16th century by Seigneur Baude de Peyron. It was added to and transformed in both the 18th and 19th centuries, even gaining the addition of a spectacular greenhouse designed by Gustave Eiffel – yes, the very Gustave Eiffel who built the Eiffel Tower in Paris.
But it's Château de Reignac's modern history when people really begin to take notice of it. Yves and Stephanie Vatelot purchased the château in 1990 and invested a lot of money into elevating the quality of wines produced with a complete transformation of the winery.
The 80 hectares of vines are restructured, the winery is renovated and the 18th century dovecote is restored and converted into a unique tasting room. Yves, an inventor famous for inventing the first electric epilator and selling it to Braun, had no former winemaking experience. He smartly hired Michel Rolland as the consulting oenologist.
By 1996, famed wine critic Robert Parker had given Château de Reignac 90/100 and it was ranked within the top 50 wines of Bordeaux. In only a few short years, Yves Vatelot had achieved his goal to make Reignac a world-known name.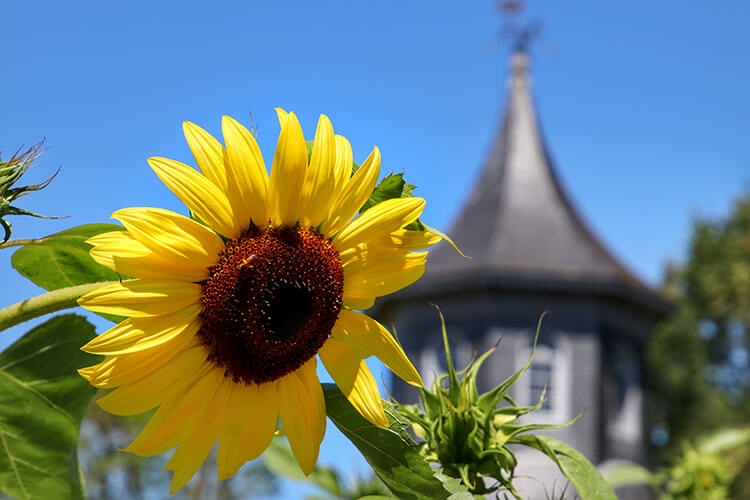 The Visit at Château de Reignac
Château de Reignac is a gorgeous estate located between the confluence of the Garonne and Dordogne rivers. The estate's position just west of the Entre-deux-Mers and between these two great rivers gives Château de Reignac its unique terroir.
One distinction of Bordeaux is that the Left Bank has a clay-gravel soil and the Right Bank has clay-limestone. But Château de Reignac has been blessed with both soil compositions, giving their grapes qualities of both the Left and Right Banks. It's this – the terroir – that is said to have been one of the things that made it so exceptionally difficult for the wine critics of the 2009 blind tasting to distinguish it from Médoc or Saint-Émilion Grand Cru Classé wines.
Inside the winery, it's always quiet unless you just happen to visit during harvest. Reignac's mascot, Reignyx, is a cute cartoon character that comically helps visitors understand the château's harvest, selective sorting and vinification process.
The barrel room is a delight for both the eyes and the nose. Though aesthetically pleasing, the stacked barrels are actually quite functional. Château de Reignac utilizes a racking system that easily allows them to quickly turn all their barrels of aging wine daily.
Before we head to the old dovecote, a tower that once housed pigeons for noble families, we stop first in the secret garden alongside the greenhouse designed by Eiffel. It's here that through smelling and tasting various flowers, herbs and berries from the garden that we discover the various aromas found in white and red wines.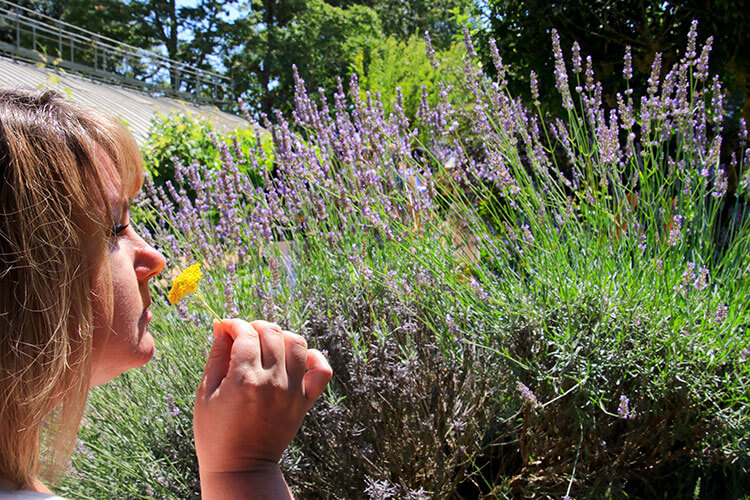 Though the concept of discovering aromas before tasting wine isn't new, most other châteaux do this with a wine aroma sensory kit consisting of vials you smell. Some, like cassis (black currant) are always a dead giveaway because they smell of black fruits and the liquid in the vial is dark.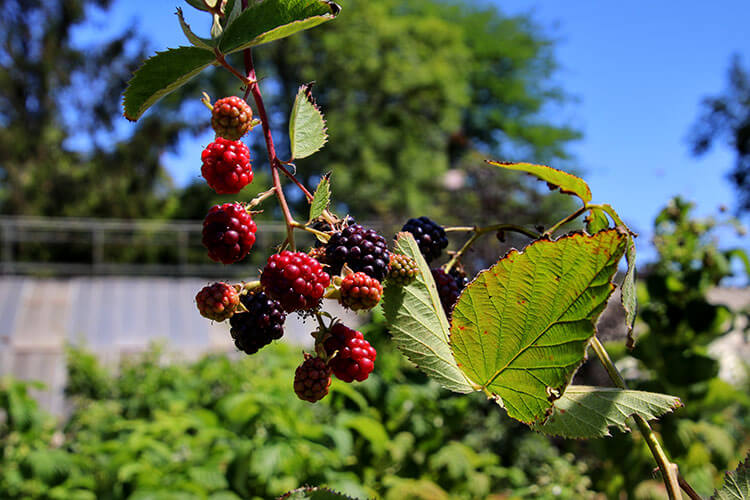 Discovering the aromas through smelling and tasting flowers and herbs is almost more difficult. You don't except an herb to taste like oysters or a flower to taste like chocolate. Berries, like the blackberries and raspberries we picked right off the bush to pop in to our mouths, are more obvious.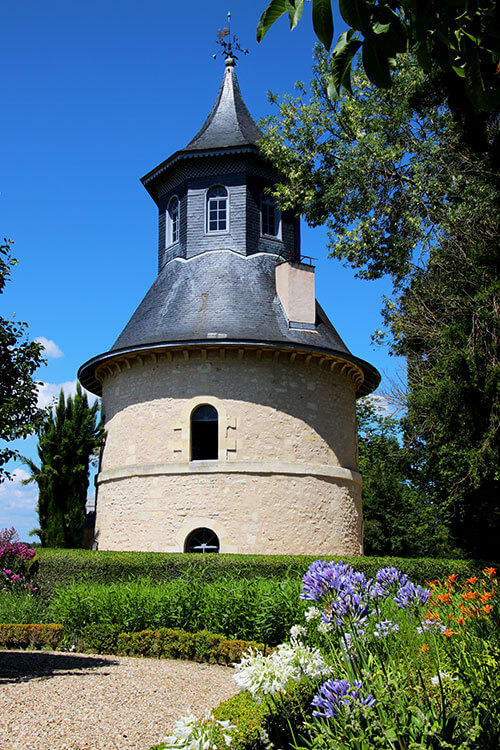 After exploring the garden, the tasting takes place in Château de Reignac's transformed dovecote. The tower allows visitors to taste like professionals. The wines impressively arrive on a dumbwaiter, allowing for blind tastings to take place.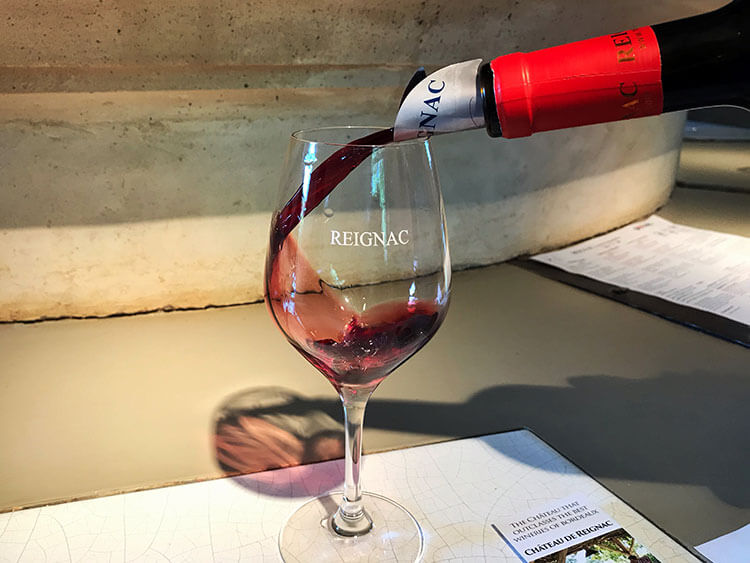 Beginning with the white, we taste all four of Château de Reignac's wines to end this scent garden visit and tasting.
Know Before You Go
Getting There
Visits and Tasting
Château de Reignac is located a 30-minute drive from Bordeaux Centre. The château is best reached by car.
Shop This Post

This article contains affiliate links. When you shop on Amazon or book on Rue des Vignerons through our affiliate partner sites, we earn a small commission at no additional cost to you.