Apps can make our lives so much easier. We don't know how we lived before apps like Google Maps, WhatsApp and a slew of other apps we use in both our everyday lives and while traveling. But there's also so many apps out there, it's sometimes impossible to know which ones are actually useful. That's why we've put together this list of free essential apps to download for your trip to Bordeaux to help you both before and during your trip.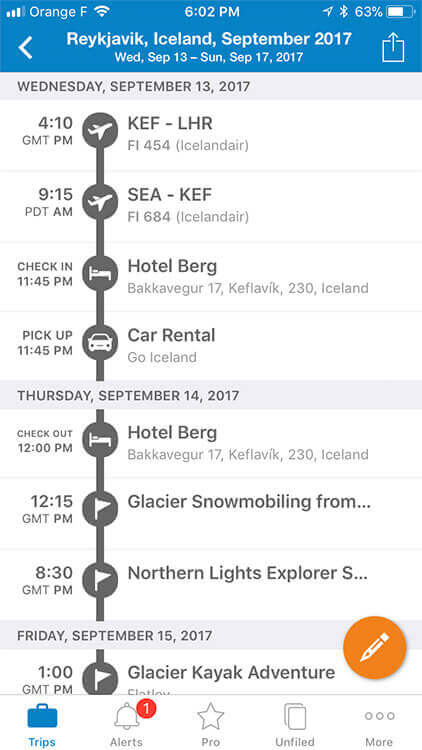 1. TripIt
TripIt organizes all your travel plans in one place, which is essential for keeping ourselves organized. You can setup your account to recognize your confirmation emails for planes, trains, hotels, tours and more from your email account. TripIt automatically takes all those details and creates a day-by-day trip itinerary with all your confirmation numbers handy.
You can easily share your itinerary with travel companions or your emergency contact. And we love the free features like one-click access to finding transportation options.
We LOVE TripIt and while the free version organizes everything in to a master itinerary, we think the TripIt Pro version is worth its weight in gold.
The pro version gives us real-time flight alerts. We've been notified about cancelled flights ahead of weather and other reasons well ahead of time thanks to our TripIt Pro. And we often know the information for our connecting flight gate before we're even off the plane. TripIt Pro also tracks all of your loyalty programs and stores your loyalty program account information for easy access.
No matter whether you go with the free or pro version, TripIt is a travel app essential for any trip.
2. Trainline
Trains are a great way to get around much of France and even Bordeaux and the Nouvelle Aquitaine region. You may even arrive in Bordeaux on the fast train service from Paris to Bordeaux. Or you just might take day trips from Bordeaux to Saint-Émilion or Arcachon.
No matter where you're traveling in France by train or even in Europe by train, Trainline let's you set up an account, look at live time tables and routes, book tickets for you and travel companions from right in the app and use mobile e-tickets for select destinations. We love Trainline since it shows you all train options and you can easily keep all your train bookings in one account.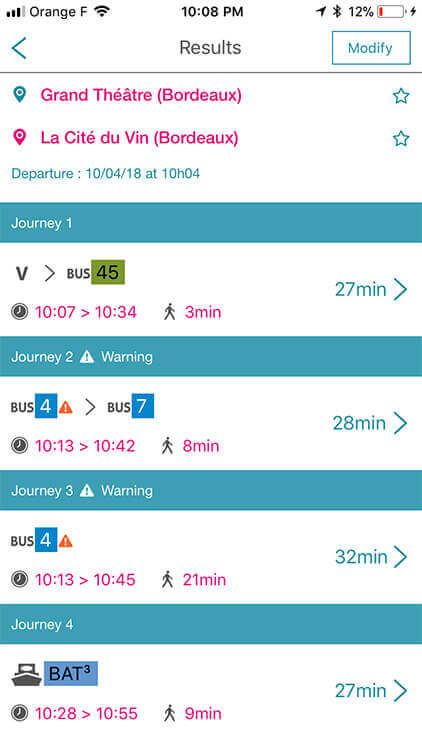 3. TBM
Trainline is essential for France's trains, but once you get to Bordeaux we have our own public transportation system that includes trams, buses, boats and bikes. Download the TBM app for a one-stop shop with timetables, a journey planner and real-time updates on line interruptions.
You can even buy tickets and the Bordeaux City Pass 24, 48 or 72 cards that include transportation, free and discounted access to 20 museums, attractions and tours, and La Cité du Vin from right in the app.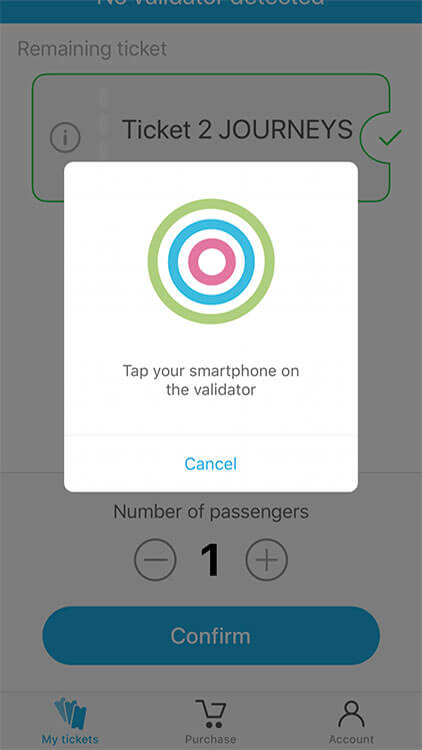 4. Witick
Witick is a complimentary app to TBM. Witick lets you purchase tickets for Bordeaux's TBM network of trams, buses and boats right in the app and use your smartphone as an e-ticket. It makes it easy to always have your ticket on you and purchase a ticket anytime, anywhere. Just turn the bluetooth on on your phone, open the app to select your ticket and tap your phone at the validation machines on trams, buses or boats. You can even validate your journey for multiple passengers if you're traveling as a couple or family.
5. EasyPark
You don't need a car to get around Bordeaux, but you may rent one to visit the châteaux of the Médoc or Saint-Émilion and head to the stunning beaches like Dune du Pilat. And if you rent a car, you'll need to park it somewhere in Bordeaux or Saint-Émilion.
Parking garages can be expensive and charge 24 hours per day. In most of Bordeaux, street parking is metered parking from 9am – 7pm and has a 2-hour limit of metered time that you can pay for. Street parking is free from 7pm – 9am and cars are very safe parked on the street overnight.
EasyPark is Bordeaux's and Saint-Émilion's digital metered parking system. You don't need to make sure you have coins. And even better, you don't need to run to the meter to put more money in when you're about to exceed the limit.
Just download the app, set up an account using either a credit or debit card or linking it to your PayPal account and enter your vehicle's license plate number.
The app detects your car's location on the map to identify the parking zone number. You simply spin the dial to set it to the time (maximum of 2 hours) and you'll be charged and receive a receipt when the time expires. The app also sends you a push notification reminder when your parking is about to run out, which you can select and set anywhere from 5 – 60 minutes before your parking will expire. (We have ours set to send us a notification 10 minutes before parking will expire.)
If you need longer when your parking expires, just spin the dial for however much extra time you need (maximum of 2 hours) to "park" your car again.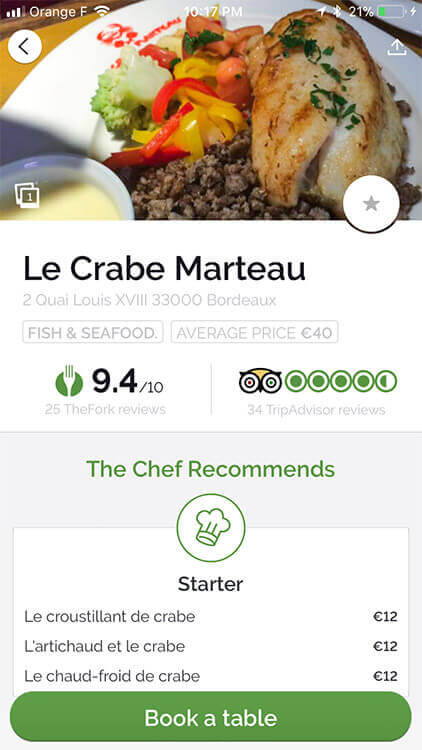 6. LaFourchette
Bordeaux has a ton of incredible restaurants, but you almost always need a reservations. In France, unlike the US, there's typically only one service and once the table is occupied, it's considered occupied for the entire time the restaurant is open.
So how exactly do you make a reservation when you're still at home planning your trip and you don't speak French?
Locals and tourists alike can use LaFourchette. It's a popular app with many restaurants on it here in France. You can browse sample menus (sample menu since menus change often depending on local and seasonal ingredients), read TripAdvisor reviews, book your reservation and even navigate to the restaurant all from within the app.
You can find reservations even on the day of. And it's completely free to use. You don't need to enter any credit card details to make your reservations.
LaFourchette also negotiates deals with restaurants, and you can often find discounts up to 50% off your bill if you select the menu (meaning a meal including a starter, main and dessert) or special offers on select restaurants.
You also earn rewards points called Yums for each booking that you complete. Once you reach 1000 Yums, you earn a €10 loyalty discount that can be used at partner restaurants that accept Yums points for a discount off your bill.
7. Google Translate
Most of Bordeaux's best restaurants have chalkboard menus because the menu changes regularly showcasing fresh, local ingredients in season. Getting a menu with English translations is rare, and though younger people are speaking more and more English, it's still not prevalent outside of Paris.
Google Translate can help. Did you know that you can take a photo and translate the text in the photo from French to English? That means you can quickly and easily snap a photo of the menu to translate it.
8. Vivino
If you're visiting Bordeaux, it's pretty likely that you enjoy wine. Bordeaux is, after all, the Wine Capital of the World. Easily keep track of all of your favorite wines that you've tried on your trip to Bordeaux with Vivino.
You can snap a photo of any label right in the app, and it will pull up tasting notes, average price and you can even purchase it online. You can also add your own personal notes.
We use Vivino to keep track of all the wines we try and the cellar feature to know exactly what we have in our wine fridge. It's handy to have everything in one app, especially if you're at a wine shop back home and looking for a specific bottle or appellation you tried.
9. Météo Bordeaux
Now that you've downloaded TripIt and have your itinerary for your trip to Bordeaux, it's time to start thinking about what to pack. You'll want to check out what the weather's going to be like.
Yes, you could just add Bordeaux to your list of cities in the native iPhone weather app. But I think we all know how inaccurate that app can be.
Méteo Bordeaux is much more accurate with detailed forecasts (in French and Celsius). You can easily see monthly averages for both temperature and precipitation – handy when you're trying to plan ahead for your trip. When you're actually on the ground in Bordeaux, there's live weather tracking right in the app and accurate hourly updates from French meteorologists.
This article contains affiliate links. When you book on Viator and Trainline through our affiliate sites, we earn a small commission at no additional cost to you.